Please select your dates to see prices:
---
Royal Antibes in Antibes, France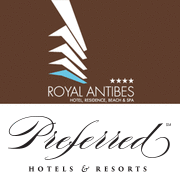 Boasting an enviable locale along the internationally-acclaimed French Riviera, Royal Antibes – part of the Lifestyle collection of Preferred Hotels & Resorts – promises to pamper, please, and provide an unforgettable holiday experience. With just 63 rooms, suites, and apartments, each guest is welcome to choose their level of luxury without sacrificing space or character. Modern architecture permeates each lodging, with crisp, clean lines, and a subtle color palette in nuances of beige. Contemporary furniture complements the expansive spaces while bold bursts of color come courtesy of local art lining the walls. Each room comes complete with preferred amenities such as flat screen televisions, and complementary wireless Internet. The ultramodern lobby and common areas provide comfortable gathering spots for guests to map out the day's activities, or simply sit and be captivated by the surroundings: the stunning architecture and awe-inspiring design and artwork are a site to behold.
The oversize white beach umbrellas dotting the hotel's private beach are the perfect reprieve from the Mediterranean sun, while plush sunbeds are ideal for lying back with a refreshing cocktail. Located at street level, the New York bistro-style atmosphere of Caf&é Royal delights Royal Antibes' guests and locals alike. With a fresh selection of desserts, cocktails, and acclaimed pasta dishes, Café Royal will satisfy every foodie. Experience pure pleasure at Royal Spa, a 150-square-meter sanctuary dedicated to rejuvenation and repose on the hotel's ground floor. If the walk to the adjacent Picasso Museum is not enough exercise, the hotel's state-of-the-art fitness center is ideal for working up a sweat. Situated behind its own private beach, Royal Antibes offers a chance to truly escape, truly unwind, and truly vacation in style.
Location of Royal Antibes
Royal Antibes
16 Boulevard Maréchal Leclerc
06600
Antibes, France
Nearest Airport: NCE
Amenities for Royal Antibes
Dining
Outdoor Dining
2 Restaurants
Room Service
Lounge
On-Site Amenities
Concierge
Spa on Property
Fitness Room
Sauna
Hamam
24-Hour Front Desk
Indoor Jacuzzi
In-Room Amenities
Flat-Screen Televisions
Complimentary WiFi
Reviews for Royal Antibes
---
The sea view rooms we had were fabulous - a small suite, well equipped for self catering and relaxing. The sea views are amazing and the balcony was huge - ours had a full dining table and two sun loungers on it. The spa is small - just a jacuzzi really but very nice. A short stroll along the seafront takes you to the Old Town. Also a short walk across the peninsula to Juan Les-Pins. There are lots of restaurants nearby and small grocery stores. The staff were great for recommendations, taxis, umbrellas etc
535family - Brighton, United Kingdom
---
Stayed here for 5 nights. Very well located, about 10 minutes walk from the main central square, and same to the old town. Nice view from front of hotel to the sea / beach. Spa is good albeit small. It wasn't working on the first day of our stay which was a shame. We had a "superior" room. Well furnished, good bed, shower & bath, mini bar. TV was rather small and poorly located. Drinks making facilities were fairly poor - only left 2 pods of milk each day, and no regular tea bags. Main issue we had was with WiFi. Generally poor - kept having to re-connect and re-type in the password etc.. once on it was OK, but not remembering devices was a pain. Didn't use the restaurant as it was expensive - 15 Euros each for continental breakfast, when local cafes were under half the price. Indeed there's a great bakery about 100 metres from the hotel (come out of hotel and turn right).
Chappers48 - London, United Kingdom
---
Its a shame but this could have been a perfect stay. However during our 4 night stay we had 2 major issues which we reported to reception day 1 and day 2 ............. neither were solved. 1. The heating was clearly not functioning correctly .......... when we arrived the room was 25c so I turned it down to 21c. On returning a few hours later it was 25.5c. Even the hotel 'helper' couldn't fix it & suggested we opened all the windows. Not useful as there was a busy noisy road outside. Never got fixed and I heard 3 other guests having same problem. Must be unusual to complain its too hot & must be costing them money 2. The free WIFI didn't work in my room .... only worked in the hotel lobby. Again never got fixed & as I and my wife use 3 devices it became a real pain. All else was good and a special mention staff in general were outstanding. Shame about the above. I give it a high rating because I am assuming above WILL get fixed before the summer season.
Steve D - Divonne-les-Bains, France
---
There are not many words that sums up just how great perfect this little gem is. Warm welcome and great facilities. The rooms with a view is unaffordable but perfect location for a walk a long the beach
worldtravellerplus77 - London
---
Vey good hotel at a central beachfront location very close to Juan Les Pines and central Antibes. Comfortable rooms, serviceoriented and friendly staff plus all services you need incl garage, restaurant, etc. Do visit !
RobertBergild - London, United Kingdom
---