Please select your dates to see prices:
---
Hotel Villa Michelangelo in Arcugnano, Italy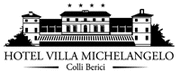 Nestled amidst serene rolling hills, surrounded by the beautiful countryside of Vicenza, Italy, the fabulous Hotel Villa Michelangelo welcomes you to immerse yourself in complete luxury and tranquility. Originally built as a country home in the 1700s, enjoy bright, cozy rooms that are individually styled and embrace you with the relaxing ambiance of the countryside. Each room is elegantly styled with high ceilings and Venetia flooring, while enticing marble bathrooms offer a relaxing sun-filled soak. Gaze out over the emerald vistas through picture windows and glass French doors as you recline on gorgeous antique furniture, and sleep in deeply plush beds each night. Discover the breathtaking natural beauty of Vicenza, sink into complete luxury and comfort, and enjoy every moment at Hotel Villa Michelangelo.
On you first morning in the country, enjoy an early morning round of golf at nearby Golf Club Colli Berici, and play 18 holes under beautiful, sunny skies. Continue exploring the outdoors with a fascinating tour of the Strada of 52 Gallerie, and discover the 52 amazing tunnels carved out of Mount Pasubio during World War I. Venture into the city for a day of sightseeing and visit the Villa Rotunda and Basilica, then continue on to the Palazzo Chiericati to tour the Museo Civico and art gallery. For a wonderfully relaxing day lakeside, take a day trip to Lake Garda to swim, boat, and picnic on the placid shores. At night, return to the city to take in an unforgettable symphony performance at the legendary Teatro Olimpico, which was originally built in 1585 and is the world's first enclosed theatre. With the moonlight painting the countryside in deep purples that night, return to the hotel for a fine meal of classic Italian cuisine at La Loggia restaurant before turning in for a peaceful night's sleep. With your stay at Hotel Villa Michelangelo, each day is this exciting, and each night as magical.
Location of Hotel Villa Michelangelo
Hotel Villa Michelangelo
Via Sacco, 35
36057
Arcugnano, Italy
Nearest Airport: VIC, VCE
Amenities for Hotel Villa Michelangelo
General Information
58 Rooms and Suites
Non-Smoking Property
On-Site Amenities
Pool
Live Entertainment
Garden
Terrace
Valet Parking
Jogging Path
Complimentary WiFi
Helipad
In-Room Amenities
Air Conditioning
Hair Dryers
In-Room Safes
Mini Bar
Satellite Television
Marble Bathrooms
Individually Designed Rooms
Activities
Nature Walks
Sightseeing
Business
Meeting Rooms
Conference Facilities
Business Services
Nearby
Historic Sites
Shopping
Wineries
Museums
Restaurants
Golf
Nightlife
Parks
Vineyards
Interests
Culture & Arts
Golf
Honeymoons & Romance
Reviews for Hotel Villa Michelangelo
---
I had the pleasure of attending a formal ball at this gorgeous hotel situated atop a hill - breathtaking views of the area and an absolutely beautiful hotel! The dinner was delicious, the service tremendous - and the facilities immaculate! I would definitely stay at this lovely property - and would be pleased to return!
multiplicity12 - Fort Knox, Kentucky
---
I would highly recommend this property and will definatley visit again . Very Modern Hotel in a very quiet and peaceful area. Private Parking is available , wifi too . All the hotel & room were very clean. Restaurant was available for dinner and looks very stylish and modern too . (however we had already agreed to roam around the town for dinner) the breakfast room was fully equipped with variety of foods. Our room was over looking the pool area with the view of etna on the side and open views . Room was very clean spacious with ac and heaters.
---
I stay at the Villa M often when visiting Vicenza....a short drive out of the city, up into the hills, I fantasize that this is my country home. It never seems too crowded, and, with the garden setting, there are plenty of places to enjoy the day or evening: poolside overlooking the hills, on the terrace for morning coffee or afternoon prosecco - the dining rooms, the Living Room lounges....the furniture is a bit shabby but that adds to the classic feeling of home. The hotel is not funky, it's not over designed...if anything it's a little old fashion but that feeling draws me back. If anything, the hotel needs a little TLC.....
garyp281 - New York City, New York
---
The 3 nights we spent at this hotel were some of the best time we spent in Vicenza Italy on a whole. It was amazing, easy drive to the malls and local areas, you need a car to get there but its worth every penny.
---
I very much enjoyed our stay here. Was here with family and friends. Hotel is well located quite close to Vicenza, yet you feel far away from the city. The view of the surrounding countryside from its hilltop location is lovely. The staff are very nice with typically warm Italian hospitality. Traditional furnishings with are being renovated. Comfortable beds and quiet. I was upgraded to a junior suite with a large bathroom with Etro products. The food and wine are quite good as well. Will look forward to seeing the improvements Starhotels brings to the property.
NYCBizTraveler - Saugerties, New York
---