Please select your dates to see prices:
---
The Limelight Hotel in Aspen, Colorado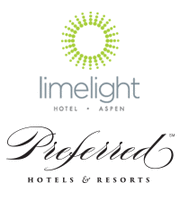 The rugged, sophisticated charm of the mountains is no longer just for nature lovers. Experience all that Colorado has to offer at The Limelight Hotel – part of the Lifestyle collection of Preferred Hotels & Resorts – a chic retreat in the heart of Aspen that brilliantly combines the contemporary comfort of a boutique hotel with the casual, laid-back atmosphere of an old-fashioned ski lodge. Awash in neutral hues of mahogany, cream, and emerald green, with dramatic splashes of red, the Limelight lets the true beauty of nature shine through whether you want to experience a winter wonderland or spring thaw. Since opening its doors over 50 years ago, the Limelight remains committed to refining "the guest experience," offering pet friendly accommodations, complimentary transport to and from the airport (as well as around town!) , and exclusive access to the region's most sought after ski and snowboarding trails.
Accommodations are simple and spacious with high ceilings, granite finishes, and exquisite windows that open to the fresh mountain air. A community style breakfast welcomes early birds and late-risers alike between 7 and 10 AM, and in the winter you may heed the call of the mountains whenever you are ready. Skiers and snowboarders have exclusive access to the four mountains of Aspen's Snowmass. Intermediate and advanced level skiers yearning for the first crack at freshly laid powder may even register for First Tracks, an opportunity to hit the snow before anyone else gets up the mountain. The Limelight's convenient location within walking distance of Aspen's most notable landmarks, shopping centers, and eateries make it an ideal destination for visitors during every season. In the summer, hiking and biking are especially popular, with themed bike rides through town and access to mountain trails. Kayaking, golfing, fly fishing, tennis, and ice skating are just a few of the other activities to experience during your stay. Aprčs at Limelight Lounge completes any daytime adventure with libations, delectable dishes, and good company. It's like happy hour—only better! After aprčs explore Aspen's inspired nightlife, or retreat to your room for a movie and midnight snack courtesy of in-room dining. Choose to do everything or nothing at all, your stay is your time to bask in The Limelight Hotel.
Location of The Limelight Hotel
The Limelight Hotel
355 S. Monarch St.
81611
Aspen, Colorado
Nearest Airport: ASE and DEN
Amenities for The Limelight Hotel
General Information
Pet Amenities
Pet Friendly
Handicap Accessible Rooms
Dining
Room Service
Bar & Lounge
On-Site Amenities
Concierge
Shuttle Service
Fitness Room
WiFi
Bicycle Rental
Outdoor Pool
Rooftop Terrace
Laundry Facilities
Outdoor Whirlpools
Ski Valet
In-Room Amenities
Air Conditioning
Bathrobes
Direct Dial Telephones
Hair Dryers
In-Room Safes
Satellite Television
Wet Bar
iPod Docks
Iron/Ironing Boards
Flat-Screen Televisions
Coffee & Tea Facilities
Kitchenettes
Activities
Bicycling
Hiking
Yoga
Bike Tours
Ice Skating
Cross Country Skiing
Snowshoeing
Snowboarding
Family
Cribs
Rollaway Beds
Nearby
Shopping
Art Galleries
Museums
Restaurants
Golf
Interests
Active & Adventure
Ski & Snow
Reviews for The Limelight Hotel
---
If you like being told one thing and getting another - this one is for you. Checked in to find out our room is adjacent to the elevators and barely has a window. Saw our travel companions room and it was twice as nice... although supposed to be the same "category". When asking the hotel to move us, or explain why our room is unlike the others. Their response was, "well we can put you in the lobby?" Be warned - I'm sure it's a nice place when you get a decent room. Hope your not like us and given the tint of the litter. And trust me the front desk is of NO help...
---
My lovely fiancé and I visited aspen for the first time. I can't sing this property enough praises. Ross makes maybe the finest cocktails on the planet. Colin on the front drive was first class through and through. Can't wait to visit again!
---
Friendly and casual - your home away from home - is the best way to describe The Limelight in Aspen. It is a charming resort that fuses modern, contemporary architecture with the feel of a mountain lodge. The staff is absolutely superb in all respects, and the complimentary breakfast offered each morning in the lounge sets itself far and above the hotel breakfast you're likely to have in any other hotel or resort. I've stayed at The Limelight half a dozen times, and I will be back.
dmajr - Palm Harbor, Florida
---
Our first visit to Aspen, and we were very happy with the Limelight! Wonderful location, walkable to everything in Aspen, with quick & easy transportation to the other ski resorts. The drivers were all super friendly and full of information. Breakfasts were delicious (though one of the breakfast guys is obviously not a morning person and would be better suited in a non-customer-facing job). Wade with reservations did a wonderful job of making sure everything was set, months in advance. Eli at the front desk was super-helpful. Housekeeping was spectacular. Very family-friendly. Also very dog-friendly (as most of Aspen is). If you're not into dogs, I'd recommend a pet-free floor. I'd also recommend the staff monitors the restaurant area a bit more closely, due to those that feel it's acceptable to bring their dog down for breakfast. Each morning, we noticed the hotel was visited by a transient who used the restroom to wash up and then helped himself to the breakfast buffet. If we noticed it over the week we were there, I assume the staff must be aware and okay with it? He also slept in the stairwell one night at the top of the 4th floor, we stepped over him on our way out that morning. We weren't bothered by it, but if I owned the place I'd want to be aware of it. The room was spacious and clean, with amazing views. We heard very little noise, so they must be well sound-proofed. Overall, we were extremely pleased with our stay and hope to return!
KTW2018 - Rochester, New York
---
Have stayed several times in the Winter. It's great, part of SkiCo - rooms are really nice, great location to walk to Ajax, they will take you to Highlands via shuttle or even to Snowmass should want that. Breakfast is included and is incredible spread + early AM coffee. They have heated storage room for your skis. We have also come out for Summer - great as well - central location brought my bike and rode out to Maroon Bells, Ashcroft and the pass. Aspen is a great town - great people watching, great restaurants and great ski terrain between the 4 resorts. Did I mention Veuve? Yeah, they sell a lot of that there - which I endorse!
Pigeye - Charlotte, North Carolina
---