Please select your dates to see prices:
---
Hotel Grande Bretagne in Athens, Greece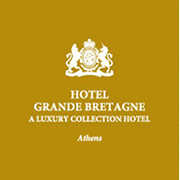 In the birthplace of Western civilization, find an elegant example of contemporary refinement. The Hotel Grande Bretagne in Athens, Greece blends impeccable European service with luxurious accommodations to create a level of comfort and style second to none. Stunning views of the Acropolis and proximity to many of the city's most notable archeological sites makes the Bretagne's location enviable; a full service spa, indoor and outdoor swimming pool, world famous bar and brasserie that is a favorite for locals and visitors alike, make it an institution onto itself. Since 1874 the Grande Bretagne has welcomed discerning travelers into the world of antiquity in grand style.
Luxurious fabrics and restored antiques personalize the spacious rooms and suites, while butlers and staff provide unsurpassed service. Enjoy exploring the monuments, ruins and museums throughout the city, experiencing the history of western culture first hand. Then pamper your body at the GB Spa, an urban retreat where East meets West and contemporary meets classic. Dine at the GB Brasserie where the mood is informal yet sophisticated, and the delicious Mediterranean fare draws diners from around the city and world. Meet for drinks at Alexander's Bar, recently voted best bar in the world, and enjoy the buzz of the Athens nightlife. The very best of Athens, both modern and ancient, awaits guests at the Grande Bretagne.
Location of Hotel Grande Bretagne
Hotel Grande Bretagne
1 Vasileos Georgiou A' str Syntagma Square
105 64
Athens, Greece
Nearest Airport: ATH
Amenities for Hotel Grande Bretagne
General Information
364 Guest Rooms
On-Site Amenities
Beauty Salon
Pool
Spa on Property
Business
Business Center/Services
Interests
City
Culture & Arts
Spa & Wellness
Reviews for Hotel Grande Bretagne
---
Stayed here, for 3 days before heading out to Santorini and Mykonos. It is exceptional, and has withstood the test of time. The rooftop restaurant overlooking the acropolis is breathtaking, they also have a really quaint pool and amazing spa facility. Overlooking the parliament, the entire feel is very magical. I wouldn't stay anywhere else.
YLF2018 - Beirut, Lebanon
---
So, no doubt the place is gorgeous. The rooms are impeccable and the service is always only an ask away. We booked with the visa premium hotel plan because of the perks that came with it. You pay more upfront, but I felt it was worth it for the experience of staying in such a notoriously famous hotel. There was no room upgrade available, the king bed was much smaller than any king bed I have slept in, late check-out was granted - but not until the fourth ask, and I needed to request the 25$ credit for food to be deducted at checkout. All of this together just was not worth the experience or the cost. I am not sure if my disappointment is with my cc because of a weak program, or with the hotel. (I have also contacted the cc with a poor review). It was just a negative experience, not what I was expecting. In the future I will not be using my cc hotel program again nor will I stay at the Bretagne :(
---
The nicest of all the luxury hotels we've seen in Athens. The highlight is the GB Roof Garden restaurant overlooking the Acropolis and the wonderful restaurant manager Michael! If you are an SPG member and having difficulty choosing between this and the King George- choose Hotel Grande Bretagne for sure. They are right next door to each other so the same location. But the restaurant at GB is open on the rooftop and much more elegant. We stayed at both and the King George is lovely but GB is opulent!
---
Hotel Grande Bretagne is undoubtedly beautiful. However, the service is rather horrible, to be honest. My husband and I arrived from Alta Mare - a beautiful hotel in Santorini with impeccable service. I naively expected the service at the Grande Bretagne to be similar. Firstly, the wait staff is horrible at the Roof Garden restaurant. #1 My husband and I had our first breakfast at the Roof Garden restaurant and we loved the view of the Acropolis. Asked a waitress (her name is Olga) to take a picture of us with the view and she SMIRKED and said: "Picture taking is not included in the breakfast service. You can try the lunch service." I thought she was joking. She HAD to be kidding, right? We gave her some time to clear our plates and when she walked past our table, she glanced at us and totally ignored us. So I guess she wasn't kidding after all. Is there some kind of Greek humour we are missing here? (she FINALLY obliged after I FIRMLY reminded her that we wanted a photo taken) (on a sidenote, another lovely waitress, Theodora, offered to help take a picture of my friend and I on another day when she saw us struggling to take selfies ourselves) #2 We can order food from the ala carte menu for breakfast. The same waitress, Olga, took our orders and told us that "most of the food in the ala carte menu is available at the buffet station." So I guess she is too lazy/busy to take more orders then. *cue rolling of eyes* We stayed at this hotel for 6 days and NO OTHER wait staff told us that. Both experiences 1 & 2 took place on the same day, so maybe she was having a bad day or God-knows-what. #3 Another waiter (couldn't catch his name) was stony-faced and obviously displeased when my friend wanted him to help take a photo of us. (We stayed at the hotel for 6 days, so our photo-taking requests were pretty much spread out over the 6 days. We always asked different staff to help) Another waitress 'forgot' to bring me the beverage menu when she was serving practically no one. And smirked when my friend asked if guests are entitled to a discount at the Roof Garden restaurant. (I forgot the waitress' name) Why are the wait staff so uppity here? Is it because they work at a restaurant with a view of the Acropolis? lol. Anyway, I would like to mention that we had a wonderful experience with Katerina, Vicky, Theodora... and a couple of other servers. They were warm, smiley and really nice people. #4. If you dress in a simple manner and walk around the lobby, be prepared to be ignored or given the side eye by the doorman or whichever staff is standing around the lobby. #5. The wait staff at the Roof Garden are always in a hurry to clear your plates and glasses. And even your menu. Basically, anything on your table,really. I find it a tad amusing. Have fun observing them ;) In short, the Grande Bretagne is a beautiful hotel with not-so-great service. I just don't understand the arrogant attitude of some of the staff.
Jennifer850 - Singapore, Singapore
---
We returned to this property again after 11 years and this time with our kids. This property is beautiful and located in Syntagma square which is close to all major sites. The hotel helped us accommodate our children with extra rollaway cot that was setup before we arrived. The spa facilities is amazing. We are looking forward visiting this property again hopefully sooner than 10 years.
---