Please select your dates to see prices:
---
Hotel des Dromonts in Avoriaz, France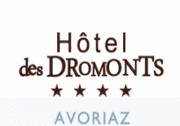 Surrounded by beautiful snowcapped peaks, nestled near the slopes of the Portes du Soleil ski area, this alpine retreat is minutes walk from the stunning Lake Avoriaz, at the heart of the French Alps. Hotel des Dromonts has managed to preserve its original spirit while bringing in new, modern touches with local materials to host only 34 luxury bedrooms. The interiors of the Hotel des Dromonts feature custom-made fabrics with a '60s vibe in shades of mandarin, violet, turquoise, and mauve, as well as slate from a quarry in the nearby village of Morzine. The Pure Altitude Spa is a sensory escape, focusing on the five natural elements – wood, stone, water, fire and plants. The jacuzzi sits beneath the stars outside, where the magical Alps can be enjoyed at night.
As you have the whole of the Portes du Soleil on your doorstep, treat yourself to a ski day. After a day in the mountains what better way to relax in the soft haven of tranquility in one of the three wellness rooms where guests can indulge in relaxing spa treatments. You will end your day with a laid-back dining experience at the exquisitely chic bistro, Les Enfants Terribles, or for a more lively atmosphere, visit the Bar Le Festival and enjoy a variety of traditional fondue.
Location of Hotel des Dromonts
Hotel des Dromonts
40 Place des Dromonts
74110
Avoriaz, France
Nearest Airport: GVA
Amenities for Hotel des Dromonts
Dining
Cafe
Bar
Dining Room
Healthy Cuisine
Restaurants
On-Site Amenities
Concierge
Spa on Property
Spa Services
Fitness Center
WiFi
Ski Concierge
Complimentary WiFi
In-Room Amenities
Air Conditioning
Mini Bar
Work Desks
WiFi
Complimentary WiFi
Activities
Mountain Biking
AlpineSki
Snowmobiling
Rock Climbing
Ice Skating
Cross Country Skiing
Snowshoeing
Sledding
Sleigh Rides
Snowboarding
Sightseeing
Heli-Skiing
Family
Kids Club
Children's Clubs
Interests
Active & Adventure
Family
Group Travel Luxury Vacations
Honeymoons & Romance
Hotels
Ski & Snow
Spa & Wellness
Winter Getaways
Reviews for Hotel des Dromonts
---
Stayed 5 of us in a family suite over Easter for 5 nights. Beautiful rooms and amenities, cuddly toys and Easter eggs for kids were nice touches. Not huge rooms but well laid out. Great bathrooms, bath salts/robes. All very new and clean. Wonderful staff very keen to help and essentially a ski in ski out place, and a few mins walk to the Restaurant strip. Loved the outdoor jacuzzi/sauna. Really enjoyed it, its not a traditional chain hotel but we thought had loads of charms. It is pretty expensive versus the 1000s of self catering apartments in Avoriaz but you get what you pay for and this is doing it in style.
Simon A - Surrey, United Kingdom
---
Overall our stay was great, 4 days skiing over Easter. Avoriaz is pedestrian, so you get dropped at the terminal, we opted to walk to our hotel, having got lost, we wished we'd taken a skidoo or horse drawn sledge. The greeting was warm, welcoming and most efficient. First impressions - Designed & build along with the whole resort in the 1960's, wooden, angular and qwerky. The mostly wooden interior reflects the angular outside, nooks, corners, recesses. From the floor plan rooms vary in size and shape. Our room was at the end of the floor, wedge shaped, narrow at the entrance, widest at the window, with mountain views, it had decent clothes storage, a longer stay may have caused issues. The presence of a bath in the main room was a puzzler. The hotel is home to a futuristic film festival, the bar is full of photos - see review of Festival Bar There are 2 restaurants, down stairs is more everyday, nice enough, no starters, mains from burger to steak to fish, and deserts are a number of mini dishes. Upstairs is the Enfant Terrible more upmarket and with its own reputation - see other review. The spa, small gym, hot tub and outside sauna were ideal. Staff were friendly, helpful and tried with every request we had. Definitely an experience, if we come here skiing again, would go back.
---
From the minute we arrived, the staff were gracious and hospitable. The hotel was striking in character and the quirky nature was very appealing. Although the rooms were a little on the small size, they were well equipped and of a very high standard. The location of the hotel was perfect and the boot-room again was very high quality. The spa was great and the breakfast was tremendous, with the staff once again very attentive The only downside for us was that the bar closed at 1030 and the bar staff were a little less attentive than the high standards provided in the rest of the hotel.
grahamb1237 - Holmes Chapel, United Kingdom
---
We enjoyed our week's skiing in Avoriaz, and our stay aux Dromonts was comfortable. The staff deserve especial mention for their attentiveness and friendliness. There are many things to recommend: ski in/out and proximity to the ski school for little ones. The restaurants are arguably the best in Avoriaz, the Festival being better for cocktails and starters, whereas Les Enfants Terribles is more traditional and has better desserts. Neither were five star choices for us, they both lack consistency and sparkle. We did have very good crunchy prawns served like nems with mint and lettuce leaves, but ordering them a second time they weren't up to the same mark. Equally, one night the cocktails were excellent, the next night not at all right. Full marks to the staff for flexibility with the children's menus: there are four choices for each course for kids (the same for both restaurants) and naturally after a couple of days they wanted to try our options too. This was done well and with no extra charge. Breakfast too is good and the choice of teas (Mariage Freres plus their own blends) very good. Our room was comfortable and spacious enough for five people with ski gear and apres ski stuff, especially as the boot room took care of skis and boots. The spa has two saunas, a steam room and - the only part for children - an outdoor hot tub with jacuzzi. So far, so good. Here is why we can only give our stay four stars however: the hotel suffers from Avoriaz's appallingly inconvenient infrastructure, added to which the noise from motor vehicles in a supposedly car free village is a shame and - even allowing for the faded chic charm - the hotel finish and quality could be improved. Specifically, the outdoor spa area was slippy and not sufficiently monitored. The fundamental issue, however, is the arrival and departure: in the best case scenario (as on our departure when we had good weather and knew what to do) we waited ten minutes for a transport to the parking area, where we unloaded our luggage, one of us waited with the kids and bags and my husband picked up the car to load it in the airport-style loading gate. Even so, the transport driver was impatient and grumpy - the hotel had apparently told him we were three people, not five, and he didn't want to wait to load our skis, eventually ungraciously helping to carry and drop one pair. Compared to loading your car in the hotel car park in other resorts this is extremely inconvenient, and if they want to achieve top ratings, the hotel cannot simply leave guests to navigate this process with the reply, it's always busy on Saturdays. Compared to the worst case scenario (our arrival on a snowy slushy Saturday at 1400), you wonder why anyone would choose this resort: first you unload your luggage at the designated gate for your hotel, you then need someone to wait with your luggage (and family) while you park the car, discovered the waiting time for a sledge or transport was 1.5 hours as they were only using covered sledges, so we decided to use the trolleys and do it ourselves, but even with two adults, the 10 minute walk was almost impossible as the snow conditions were soft and churned up by the transports and snowmobiles. For the sledges it costs 9 € and transports 10 €. If you knew this, you might find it easier to arrive relaxed and ready to ski what is an extensive and snow-filled resort - just bring skis, boots and a rucksack and wear your ski gear to trek to the hotel. Realistically, for families with small kids and luggage, this is a big ask.
---
If it's service that you look for when choosing a hotel stay in, then look no further. This Hotel gave us A1 service from the moment we arrived, to the moment we left. We arrived cold and snow covered. Checking in took all of a minute and in that time the staff made my wife and I a coffee. We then were given a tour of the hotel by the manager and went off to our room. Rooms are adequate but quite small. There is isn't an awful lot of space to hang ski gear. I would suggest a few hooks would help. The room was clean and the maid service was efficient. The hotel has two restaurants, both of which were excellent. The menu's are wide ranging and service was particularly good, especially in the Les Enfant Terrible. A very good wine list and excellent food. You don't really need to venture out too far when the food on your doorstep is so good. You can ski in and out. Getting in involves a bit of pushing on the flat, but not much. Skiing out is easy. I'm not sure how close Ski School was to the hotel. The overall impression that we had, was how happy all the staff seem. I guess this comes from the environment they are working in. I would definitely recommend this hotel to any couple or group of friends. I wouldn't take my young kids there, although I had no reason to assume that children aren't welcome. Hopefully we will go back again next year.
Marshallhazard71 - Shoreham-by-Sea, United Kingdom
---