Please select your dates to see prices:
---
Tivoli Ecoresort Praia do Forte in Bahia, Brazil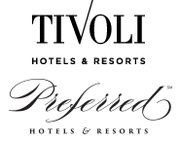 Luxuriate in the harmony of eco-friendly Tivoli Ecoresort Praia do Forte, a Brazilian member of prestigious Preferred Hotels & Resorts. This stunning resort is located north of Salvador in the Bahia region of Brazil, is known for its exotic touches, breathtaking scenery and endless tranquility. Chic guestrooms, housed in low-slung buildings and crowned with thatched roofs, have minimalist and uncluttered design. Warm-wood finishes, cool tile floors, and freestanding tubs add more than a hint of style. Views of swaying palm trees, lush green landscapes, and brilliant Brazilian sunshine spill in through wide windows. Spend a lazy afternoon napping atop a hammock on your private balcony.
The Thalasso Spa boasts an extensive menu of holistic and pampering treatments. Thalassotherapy is one of the oldest and most effective ways to relieve stress, and detoxifies and hydrates the body. Treatments using wine, milk and coconut water add an exotic flair to an afternoon of relaxation. Dining at Tivoli takes you on a culinary sojourn with sustainable ingredients and exotic flavors enjoyed in three restaurants. The beachfront bar puts you in a deeper, more relaxed state. Stress evaporates as you linger poolside at one of eight swimming pools. If you want to stay on task with your workout regimen, the resort offers pilates, yoga, and a fitness facility to use at your leisure. A nearby turtle reserve has helped to bring these creatures back from the brink of extinction. You will find them swimming in natural pools and coming ashore to lay their eggs in the fall. It is no surprise that everyone—and everything—coexists gleefully at Tivoli.
Location of Tivoli Ecoresort Praia do Forte
Tivoli Ecoresort Praia do Forte
Av. Do Farol,S/N - Praia Do Forte Cerqueira Cesar, Mata de Sao Joao
48280
Bahia, Brazil
Nearest Airport: SSA
Amenities for Tivoli Ecoresort Praia do Forte
General Information
287 Guest Rooms
Connecting/Adjoining Rooms
Dining
Poolside Dining
Bar
Room Service
4 Restaurants
Snack Bar
On-Site Amenities
Beauty Salon
Spa on Property
Laundry Service
Fitness Center
Sauna
High-Speed Internet Access
Boutique
Tennis Courts
Gardens
8 Pools
Car Rental
In-Room Amenities
Air Conditioning
Direct Dial Telephones
Hair Dryers
In-Room Safes
Mini Bar
Satellite Television
Activities
Excursions
Fishing
Hiking
Tennis
Windsurfing
Scuba Diving
Yoga
Beach Volleyball
Surfing
Business
Meeting Rooms
Business Center
Conference Facilities
Family
Babysitting
Kids Club
Children's Amenities
Playground
Kids Pools
Children's Menus
Play Area
Arts & Crafts
Nearby
Historic Sites
Shopping
Restaurants
Beaches
Interests
Active & Adventure
Beach
Eco Friendly Luxury Vacations
Family
Reviews for Tivoli Ecoresort Praia do Forte
---
Very pleasant stay We spent nine days at the Tivoli EcoResort in Praia do Forte and enjoyed it very much. We were 5 people, two couples and one child. The resort is beautiful, very large with all the amenities. The efficiency of everything is the most relevant note. Overall, in all aspects, nothing special there is to point out. The beach is good, the pools very good, very beautiful and clean, the gardens and lawns beautiful and very well maintained. The food is very good and did not hurt either of us. The drinks are very well prepared and even the ice is minimally reliable. The Hotel is very orientated to receive families with children and has everything needed to make life easier for parents. From special meals for children, Kids club, with swimming pool and amusements, nurses that can be hired at the time or the day that work very well, etc. All the hotel staff is very professional, efficient, polite, friendly and well dressed in beautiful uniforms. The spa is beautiful and has a great area to enjoy and to do various activities. There is a nice shopping area and several small ballrooms with games, tennis courts and sports activities on the beach, in the pools and even I saw horses for strolling on the beach. The rooms are good, although they are already a few years old and have an eco / rustic philosophy; the bathrooms are modernized; some rooms are far from the central area where are the restaurants the pools and bars. The air conditioning in the rooms is difficult to regulate. There is wifi throughout the hotel and even on the beach although in some places it is weaker. The transfers to and from the airport work very well; the distance is about 55 Kms on a busy road, but in any case, for those who come from another country, that course of one hour is a bit scary mainly done at night, which was our case. We loved to be on the lawns by the beach, swimming in the warm water sea on the beach that ends on one side in a beautiful cove and stretches interminably in the other side; it is a very good way for walking. There are guards who guard the entire resort and there is a toll to get into the property upon arrival by car. It has been a very good and different vacation that we enjoyed very much. A small note for the Hotel if it wants to receive advice from clients who are very used to travel and to stay in good hotels: the room service menus and the one of the bar service on the beach should be renovated and more diversified.. And why not serve fruit dishes at the beach bar, as there are so good fruits at the Hotel?
Aranda.G - Lisbon, Portugal
---
It was our first time in this beach resort and we were extremely surprised and pleased with what we experienced. The beachfront is stunning with warm and clear waters. Facilities spread over a well-groomed garden fully integrated with local lush tropical vegetation. Plenty available staff in all areas of the resort were super friendly, there were activities for all ages, including a separate swimming pool reserved for adults (something more common in boutique hotels). The SPA, gym and tennis facilities are good but are under a renovation plan and the food was delicious. Only one advice: still there are rooms not yet renovated so when you make reservation/check-in ensure you ask for a unit in the areas already renewed (typically in the second floor or closer to the SPA area) - we had to change rooms during our stay which was a little disappointing but Guest Services heard and understood our complaints and tried to compensate for the troubles.
Ronaldo A - Sao Paulo, SP
---
Self contained resort on glorious beach with own swimming pools and restaurants. Deals tend to be all inclusive. Ideal for sun worshippers and children. Also plenty of activities and would recommend eco trail and water sports ( beware strength of sun and keep T Shirt on ) Bit out of town but can walk one kilometre along beach ( tide permitting ) to town and would recommend Tamar turtle project
paulfryan - Glasgow, United Kingdom
---
The Hotel is in a very good shape, great staff from restaurant, beach bar and front desk. The pools are very beautifull and it is highly recommendable for all ages. The only exception or issue (which I believe could be mitigated by hotel) was the SPA orientation and service. My wife made a new massage (called "Touch of India" or something with a similar name) and it was too weak and poor. The therapist seemed to be in such rush and applied a weird technique. My wife told the person in charge for SPA front desk, and again at the reception, and they only said "sorry". It is a Hotel from Anantara group (Minor)!!! At least, the SPA manager (who was contacted by the front desk at the time, as we have been informed) could take the opportunity to show us her concerns about our experience and perhaps offer us something to replace or atenuate the bad experience such a "new massage", or a credit for massage at our next stay, or even not charge us or grant a discount. Unfortunalety nothing was addressed by the SPA manager or SPA staff, which I always believe it is a lack of pro-active procedure in cases like that. We informed that we used to have massage from hotels around the world and that within 2 months we go to Anantara in Abu Dhabi, but nothing persuaded them to atenuate our bad experience, which we ended to pay in full as a gesture of good faith. It is a shame that the same gesture have not been done pro activelly by the SPA manager in order to show her consideration for us and get the chance to avoid the bad perception for the SPA, along a good stay we had at the Hotel.
claudiom2014 - Sao Paulo, SP
---
This is an amazing resort. It is not loud, it is not crowded. It keeps the excellent personal touch it had since it started more than 30years ago. It is not an old place. The rooms are comfortable and large. The food is very good. The service is superb. We met people working there that we still remember from 20 years ago. The resort keeps the soul of its creation. The care with the environment and the development of the people that work there. We will surely continue coming back and bring our families and friends.
---