Please select your dates to see prices:
---
Quinta Real Huatulco in Bahía de Huatulco, Mexico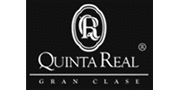 Occupying a gentle slope that trails down towards the placid Pacific waters of Tangolunda Bay, Quinta Real Huatulco offers an idyllic setting along Mexico's unspoiled southwestern coast in the Oaxaca region, an area known for its flavorful cuisine and vibrant indigenous cultures. Beneath a pair of striking Moorish domes lies a soothing color scheme of white-on-white décor with hints of cream. Guestrooms and suites flaunt classic architectural details such as arched entryways, tile floors and domed ceilings. Jutting balconies boast plump seating areas, and many suites are equipped with Jacuzzis, telescopes for stargazing, and private pools.
The hotel's signature restaurant, Las Cupulas, offers breathtaking views and a menu of regional specialties. The adjacent bar also reveals dazzling seascape vistas coupled with umbrella-laden drinks and an inviting ambiance. The beach club, sheltered from the elements by an oversized palapa, further adds to the relaxed mood. The resort neighbors a golf course and is just a short distance from the town of La Crucesita, whose main plaza is flanked by charming restaurants, boutiques and shops displaying local wares.
Location of Quinta Real Huatulco
Quinta Real Huatulco
Paseo Benito Juárez No. 2 Zona Hotelera
70989
Bahía de Huatulco, Mexico
Nearest Airport: HUX
Reviews for Quinta Real Huatulco
---
My wife and I sat on their patio at breakfast on our last morning looking over beautiful Tangolunda Bay and tried to compare Quinta Real to a couple of our other favourite resorts (Anse Chastenet in St. Lucia and Montpelier in Nevis if that helps). Each has something in it's favour, but Quinta Real is right up there. One outstanding feature of Quinta Real is the staff, they were ALL friendly and helpful and genuinely concerned that we were having a good time.
Grant163 - Claremont Ontario
---
I stayed here for a week. I was traveling alone, looking for peace and quiet. Found that and more. My room was large, clean and comfortable. I watched the sunrise each morning from the balcony and then went to breakfast. Not many people in the restaurant, and no one at the Sky Lounge the night I visited. If you are looking for company, this probably isn't the place for you; however, there were never any issues getting a palapa at the beach or at the pool. Food was good, not great. Service was fine, if not prompt. Taxis are cheap and easy and food in town is inexpensive and very good. Will return.
cppence - Peoria, Illinois
---
Took a taxi up to this beauty for happy hour and to watch the super moon rise over Tangolunda Bay. The view was spectacular and one of a kind! The hotel was beautiful and seemed fitting of its higher price. The drinks however were not. We aren't a picky crowd (6 of us) but three of us did not enjoy our drinks and the bottle of wine we ordered next also fell flat. When a mojito and lime margarita aren't made well in Mexico something's not right. We also didn't lay eyes on another person while there. This beauty just isn't thriving.
---
We stayed three nights and are very happy that we upgraded to room with a private pool and view. They are large rooms, with comfortable beds, that are kept very clean. Beach, swimming, palapas, pool, staff all excellent. The grounds are huge and beautiful, but can use more staff to work on them. if you are a birder, room 5 was an excellent room to see them. Pool food and drinks were very good. We dining in one evening and the food was very disappointing. The continental breakfast consists of fruit and wonderful baked goods. Cabs are very easy to get and inexpensive. We dining at Terra Cotta and Terrisina, which is about a 8 minute cab ride (about 450 pesos, one way). Front desk will call a cab for you or a private car, which costs about 600 pesos. The hotel is architectually beautiful, and has antique art throughout. It is an older hotel and it is showing its age. More time must be spent on maintenance (for instance the tile in our pool were coming off and the pool wasn't filtering). They have a beautiful common room with a bar, but is furnished sparingly and is not very inviting. With just a little more TLC this hotel would be perfect.
---
Quinta Real Huatulco is the most luxurious resort on the Oaxacan coast. If there is a better one someone please message me. It is a quiet and romantic place with sprawling grounds. We love the rooms, so spacious and luxurious. The place is beautiful with sweeping views. The service is very good, and the food at the beach/pool is excellent. We ate ceviche to our hearts content. If you book directly with the hotel you should be able to get a continental breakfast included. Cant wait to go back!
---