Please select your dates to see prices:
---
Hanging Gardens of Bali in Bali, Indonesia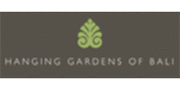 Deep in the heart of Bali's rich rainforest, the enchanting Hanging Gardens of Bali sets the stage for an unforgettable journey into paradise. Granite, bamboo, and further varieties of organic elements adorn the 36 private guest villas and 2 suites, each of which features its own breathtaking infinity pool, rippling into the jungle below. The entire resort is built atop wooden pillars set among the steep rice terraces of Ubud's forest preserves, cradled between lush mountains and the winding Ayung River. Accommodations offer contemporary Balinese appointments, traditional Alang Alang thatched roofs, and unique features like pergolas, zen gardens, and oversize canopied beds. Streamlined design breathes beautiful minimalistic style, and creates thoroughly calming surroundings for your stay. The peaceful views are abundant, peering over the rainforest, river, and Segara Temple, which faces the resort from the opposite hillside.
The stunning and much-lauded twin-level cascading pools at Hanging Gardens of Bali have been deemed the world's best by the likes of Condé Nast Traveler, so take an ultra refreshing dip while looking out over the landscape and coconut palms. Meander throughout the property to enjoy its fertile tropical gardens, which produce ingredients like chocolate, vanilla, cinnamon, lemongrass, and coconut, all used in the resort's restaurant. To pamper the mind and body, Ayung Spa offers revitalizing treatments taken in the privacy of your own villa, or by the main pool or riverside. Dining is a multi-faceted experience at Ubud Hanging Gardens. The Restaurant features international cuisine showcasing local ingredients, in a serene setting of pure tranquility. The chef uses a modern and innovative cooking approach that combines global flavors with a strong focus on quality ingredients, all infused with creativity and originality. The casual River Café overlooks the Ayung River and serves up healthy salads and fresh wraps, and private dining or picnic baskets stashed with an array of edibles are additional options for meals. The sublime bar and lounge, near the main pool, features living room-style seating plus a wall of doors that push to the side blending the outdoors with the interiors. Refreshing drinks and cocktails help to put you in a deeper mode of bliss. Hanging Gardens Ubud offers supreme luxury and ultimate privacy combined with premium services, set in the abundant and breathtaking Bali countryside.
Location of Hanging Gardens of Bali
Hanging Gardens of Bali
Desa Buahan Payangan
80571
Bali, Indonesia
Nearest Airport: DPS
Amenities for Hanging Gardens of Bali
General Information
38 Villas and Suites
Dining
Private Dining
Restaurant
Cafe
Lounge
On-Site Amenities
Concierge
Pool
Shuttle Service
Spa on Property
Library
Boutique
Gardens
Infinity Pools
Wedding Planning Services
In-Room Amenities
Bathrobes
DVD Players
In-Room Safes
Mini Bar
Outdoor Showers
Private Pools
Bottled Water
Private Terraces
Work Desks
Activities
Bicycling
Cooking Classes
Excursions
Mountain Biking
Yoga
River Rafting
Meditation
Nearby
Historic Sites
Shopping
Art Galleries
Museums
Parks
Monuments
Market
Interests
Cool Pools
Honeymoons & Romance
Spa & Wellness
Reviews for Hanging Gardens of Bali
---
Best hotel I've ever been , villas are amazing and you have your own private pool, workers are the most kind people I've ever meet in a hotel. Breakfast are amazing with a buffet full of fresh fruit and they also have carte dishes, dont worry about coffee or ice cubes, everything is prepared with bottled water Of course dont miss the infinite pool , relaxing in the middle of the jungle in such a pool is a one in a life experience.
Conetrip - Province of Zaragoza, Spain
---
It is undoubtfully that the two swimming pools are taking my breath away. I was quite surprise when I walked down to the second pool as it was quite a massive stone wall that you never realize how tall the first pool is. Amazingly design and claimed as the only unique resort in the world and it is in Bali. I am so proud of it. The individual villa is located down the hill and it is reachable either with steps or the outdoor basket lift. It was a quite different experience to stay in this Hanging Garden. One suggestion is if you go there just stay there enjoy the river and Pura walk and the magnificent pool.
Jenny D - Jakarta, Indonesia
---
This was a surprise from my partner and while there were some areas for improvement, overall the experience was absolutely mindblowing. I've gone and read many of the one star reviews and I have to say that many of these people need to realise this hotel is in the jungle.... yes, there are ants and bugs can get in if you leave the door open. I'm usually horribly susceptible to insect bites so maybe my extra cautionary methods meant my two night stay resulted in not a single bite. The staff were extremely friendly and helpful. We booked in for the 3 hour couple spa treatment. It was so lovely and though expensive, was worth it for the privacy and professionalism of the staff. We also booked in for a private yoga session and this was one of the highlights of my stay. My partner is useless at yoga while I'm somewhere between beginner and intermediate level. Our lovely instructor managed both of us beautifully. We had our lesson next to a beautiful waterfall and bridge. It was amazing having butterflies and birds flying around you while you stretched. The food. What can I say... the duck was perfect as was the creme brulee. We also ordered a lot of cocktails and wine during our few days there and they were all awesome. Even the room service food was good!! Yes, be aware some people will spend a fair bit of time having mini photoshoots at the pool but most take a couple of snaps and leave. The pool is wonderful and your private pools are clean and beautiful. I do agree with one reviewer's comment about the privacy of rooms. I was nude sunbathing and a guy crawled up on the roof next to me to repair it. We could also see into another room's deck and into the windows of the one above us from our deck. It was a small thing and one of the only negative pieces of feedback I could provide. I'd love to come and stay here again.
---
We stayed for three nights, but wish it had been longer. The location is absolutely beautiful among the forest. The facilities and staff were wonderful, they become familiar with us and greeted us by name. The room was special we were by the river which was quite loud at night, but having our own pool and day bed was great. The food was excellent and a good variety.
---
We stayed here for one night while travelling around Bali but it was definitely one of the highlights. The welcome at the hotel was excellent. We arrived early and our room wasn't quite ready so we first had a drink by the incredible pool. The funicular carriage that takes you around the resort is fantastic. We soon went to our room. It was a great layout and our own private infinity pool over looking the forest and valley was amazing. We loved the outdoor kitchen/living area. It felt very close to nature, especially when the monkeys came onto the roof of our pagoda and jumped into our pool! We were offered a free afternoon tea at the spa and this was a nice relaxing experience. We then spent most of the afternoon enjoying the fantastic main pool. In the evening we had some drinks at the main bar but then ordered room service. This was delivered quickly and we had a lovely meal in our room. The next day breakfast had a great variety and also some items cooked to order. We spent the rest of the morning enjoying the pool before we moved on. All the staff couldn't do enough for us and the whole hotel was beautiful and felt far more like it was part of the forest than others we stayed at. Overall we had a fabulous stay and I would definitely recommend staying here.
---