Please select your dates to see prices:
---
Hanging Gardens of Bali in Bali, Indonesia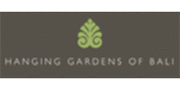 Deep in the heart of Bali's rich rainforest, the enchanting Hanging Gardens of Bali sets the stage for an unforgettable journey into paradise. Granite, bamboo, and further varieties of organic elements adorn the 36 private guest villas and 2 suites, each of which features its own breathtaking infinity pool, rippling into the jungle below. The entire resort is built atop wooden pillars set among the steep rice terraces of Ubud's forest preserves, cradled between lush mountains and the winding Ayung River. Accommodations offer contemporary Balinese appointments, traditional Alang Alang thatched roofs, and unique features like pergolas, zen gardens, and oversize canopied beds. Streamlined design breathes beautiful minimalistic style, and creates thoroughly calming surroundings for your stay. The peaceful views are abundant, peering over the rainforest, river, and Segara Temple, which faces the resort from the opposite hillside.
The stunning and much-lauded twin-level cascading pools at Hanging Gardens of Bali have been deemed the world's best by the likes of Condé Nast Traveler, so take an ultra refreshing dip while looking out over the landscape and coconut palms. Meander throughout the property to enjoy its fertile tropical gardens, which produce ingredients like chocolate, vanilla, cinnamon, lemongrass, and coconut, all used in the resort's restaurant. To pamper the mind and body, Ayung Spa offers revitalizing treatments taken in the privacy of your own villa, or by the main pool or riverside. Dining is a multi-faceted experience at Ubud Hanging Gardens. The Restaurant features international cuisine showcasing local ingredients, in a serene setting of pure tranquility. The chef uses a modern and innovative cooking approach that combines global flavors with a strong focus on quality ingredients, all infused with creativity and originality. The casual River Café overlooks the Ayung River and serves up healthy salads and fresh wraps, and private dining or picnic baskets stashed with an array of edibles are additional options for meals. The sublime bar and lounge, near the main pool, features living room-style seating plus a wall of doors that push to the side blending the outdoors with the interiors. Refreshing drinks and cocktails help to put you in a deeper mode of bliss. Hanging Gardens Ubud offers supreme luxury and ultimate privacy combined with premium services, set in the abundant and breathtaking Bali countryside.
Location of Hanging Gardens of Bali
Hanging Gardens of Bali
Desa Buahan Payangan
80571
Bali, Indonesia
Nearest Airport: DPS
Amenities for Hanging Gardens of Bali
General Information
38 Villas and Suites
Dining
Private Dining
Restaurant
Cafe
Lounge
On-Site Amenities
Concierge
Pool
Shuttle Service
Spa on Property
Library
Boutique
Gardens
Infinity Pools
Wedding Planning Services
In-Room Amenities
Bathrobes
DVD Players
In-Room Safes
Mini Bar
Outdoor Showers
Private Pools
Bottled Water
Private Terraces
Work Desks
Activities
Bicycling
Cooking Classes
Excursions
Mountain Biking
Yoga
River Rafting
Meditation
Nearby
Historic Sites
Shopping
Art Galleries
Museums
Parks
Monuments
Market
Interests
Cool Pools
Honeymoons & Romance
Spa & Wellness
Reviews for Hanging Gardens of Bali
---
Unique experiences stayed to this jungle resort in Bali,you and your friend would belive,Don"t forget Bring anty mosquito, surrounds by jungle and local villages.litle long from Ubud city,they provide local car to city
---
Visited the Hanging Gardens of bali in the woods in Ubud Bali. Didnt stay but wanted to see the property with a most photographed pool. They allow you to see the property upon paying a fee of 600000 IDR PP. So since I was accompanied by family. We decided against paying a huge sum. Managed to click few pics which I am Posting.
SukhwantLamba - Orlando, Florida
---
So we just got back from honeymoon, earlier then expected after being dissatisfied with our stay at the hanging gardens. Keep in mind we stayed at 3 other Bali hotels before staying here. We arrive at the time we had told them via email, get to the hotel lobby to see the most outdated looking one of the lot (other then plenty of awards displayed). Once our room was prepared we were showed to our room, which on first glimpse looked fantastic, but after not to long our opinions changed. After going out to relax and have a dip in our villa's pool we opened the mini bar. Over $10 for a Bintang after the 22% tax (which is 11% everywhere else). Not the end of the world so I had 1, jumped in the water to see ants and spiders coming from the decking everywhere and all over the day beds. We were told the pool was warm, it wasn't. Again, not the end of the world but all the small things were adding up, especially when you're paying such a premium for this all. We looked at the menu for the spa treatments thinking a massage would ease our minds. 3 hrs was nearly $1500 aud, so there went that plan. Off to dinner, other then being molested by mosquitos dinner was fantastic!!! Top notch meals, so delicious!!! Think it cost roughly $350 aud for the two of us and drinks which I was happy to pay due to the quality! Unfortunately we felt no love for the place and decided we would leave the next day. There were still two more nights of our stay left and really hoped for a chance at a refund of some sort. Not a chance as I'd expected anyway but had to try. Then to be told that we'd be charged $55 usd for airport transfers was pretty annoying, after saying I'd catch the free Ubud transfer vehicle and find my own taxi service they said they'd ask their manager as he had left for the night. (Shouldn't there always be a manager?) anyway at least in the morning he gave us the transfer free of charge. So we hung around, had a shower, the bath tub filled up as I did so they clearly also had drainage issues. Bath tub always stained brown, as were the sinks, we packed our bags and went for a coffee before leaving. Over $10 aud for 1 flat white in a small cup. WOW! That's more expensive then a Perth city coffee!!!!. Anyways, that was it for us. A stay that we'd left till last as we thought from all the photos on the net would be the best thing ever! (The pools not as big as it looks in photos!) I don't suggest you go here unless you love wasting good money on below average (for the price) accomodation hence the title "beer on a champagne budget". I could go on longer but I think I've gotten my point across. If you love Ubud, I suggest the Padma! It was fantastic.
---
We stayed as a couple for 4 nights in February and to be blunt, the hotel, the staff and the experience was excellent. Hanging Gardens is not cheap but you get what you pay for. Delivering a hotel in these surrounds is no easy feat, impressive engineering. Our intention in staying in Hanging Gardens (HG), Ubud was to get away in the jungle, in a nice hotel, away from Ubud town. My girlfriend made the final decision to stay at HG as she was smitten by the pool which is obviously quite the feature! I just wanted to be in the jungle (in relative luxury) away from the town with nothing but the sounds of the river and the sounds of the jungle, Hanging Gardens certainly delivered that. It was sooo good. I have been fortunate to stay in some wonderful (and not so wonderful) hotels across the world on both business and pleasure, the class of a hotel, the ultimate differentiator in my opinion, (assuming the facilities are as per expectations, clean etc) comes down to the staff. I'm not overly painful (I hope) but I know what I want and like and can deal with disruptions, nothing is perfect. The staff and management at Hanging Gardens were fantastic and truly went out of their way for us, nothing was ever a chore and they indeed went above and beyond. What I found was that as the staff got to know us after the first day, they knew when we needed something, when to be left alone, if they weren't there at the minute, they weren't far away, we never were left wanting. It was clear the Resort Manager really cares about her staff and they are one big family, it shows in their service. Big shout out to Darini from the front office, she was just so helpful, happy, professional and warm - an asset to the hotel. Darini even went out of her way, in her own time, to get us some rarer white mangoes and other fruits for the next leg of our journey, down to the coast for some surfing. Thank you so much Darini, they were great â˜ș We stayed in a villa in the Hidden Palace and it was just superb, the villa was simply amazing, the bed was as big as a house, the inclusions were A-grade, everything was spot on. The Hidden Palace has its own infinity pool, separate lounge and staff. Taeja and Mous were just awesome, happy, helpful, friendly and knowledgeable, thanks guys, absolute legends! Note the Hidden Palace is down closer to the river and not high in the trees, perfect in my opinion. So we relaxed, listened to the river and the birds, watched the butterflies and monkeys, took some time out for some yoga on an awesome yoga platform in the trees by the river, some mediation, ate delicious food and fruits, read books, swam, slept - all no more than 100-200m from the villaâ˜ș I want to go back already. Activities, (apart from the above), well we went to town once, HG provides a car to get you there and back, once we bought the one thing we wanted to buy we couldn't wait to get back to the hotel away from this crazy town. Note Ubud is a nice town, it really is, but it can be busy and the last thing I wanted to do was hang out dodging, bikes, cars and tourists whilst looking at shops so distance from town was a positive for us as we have been to Ubud before. The hotel can also organise bike rides, walking tours and whatever else takes your fancy. We went on a bike ride with Gustul (hope I got that right) who was great, even graciously inviting us into his home for coffee and snacks, nice touch. We also had an awesome massage at the hotel spa, Dewa from the spa was just amazing, facilities are A grade. Food was fine, not cheap but we were fed very well! Breakfast was so good (included), A-La Carte for your main, buffets for your breads, fruits etc. Fortunately for us we had our food delivered to the lounge in the Palace, so we didn't even have to leave villa / lounge. I want more fresh tangerine juice while I write this. Dinner was good, ate from two menus, scallops were delicious, steak was good, deserts were great, (and I cant remember what else we had but it was all delicious). You can't please everyone all the time and I think the hotel managed the menu well, perhaps some more local Indonesian dishes could be integrated but hey they do well given the international clientele and no doubt insatiable demands from guests. Wiwik and the rest of the team from the restaurant looked after us very well. If you prefer to stay in a sterile environment away from lush green jungle with butterflies, birds, monkeys, lizards etc, then Hanging Gardens may not be for you. Note we were never bothered by any insects, reptiles, primates or etc, they were there but they never bothered us. Please don't ruin it by feeding the wild monkeys which I've heard some ignorami choose to do, seriously people go to the monkey forest if you want your precious monkey selfie. Anyway I will stop raving, we simply had a great time and left recharged. The hotel was relaxing, luxurious, good food, great staff, would I return? you bet!
adamhalvo - Bondi, Australia
---
The price is not cheap, but life is all about having unique and once in a life time experiences you're not sure you can have next time. So head to this jungle resort in Bali and take photos of you and your family dipped in one of the world's most photographed pools. Dont come here at night because the forested path going to the resort is so dark. Bring anti allergy medications and insect repellent lotions with you because you may never know if you'll get bitten by some bug and the city center is around 30 minutes away. Remember, the forested jungle surrounds you. You may try eating at their own restaurant but other options are plenty in the city center.
---