Please select your dates to see prices:
---
Hanging Gardens of Bali in Bali, Indonesia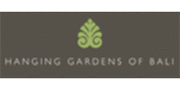 Deep in the heart of Bali's rich rainforest, the enchanting Hanging Gardens of Bali sets the stage for an unforgettable journey into paradise. Granite, bamboo, and further varieties of organic elements adorn the 36 private guest villas and 2 suites, each of which features its own breathtaking infinity pool, rippling into the jungle below. The entire resort is built atop wooden pillars set among the steep rice terraces of Ubud's forest preserves, cradled between lush mountains and the winding Ayung River. Accommodations offer contemporary Balinese appointments, traditional Alang Alang thatched roofs, and unique features like pergolas, zen gardens, and oversize canopied beds. Streamlined design breathes beautiful minimalistic style, and creates thoroughly calming surroundings for your stay. The peaceful views are abundant, peering over the rainforest, river, and Segara Temple, which faces the resort from the opposite hillside.
The stunning and much-lauded twin-level cascading pools at Hanging Gardens of Bali have been deemed the world's best by the likes of Condé Nast Traveler, so take an ultra refreshing dip while looking out over the landscape and coconut palms. Meander throughout the property to enjoy its fertile tropical gardens, which produce ingredients like chocolate, vanilla, cinnamon, lemongrass, and coconut, all used in the resort's restaurant. To pamper the mind and body, Ayung Spa offers revitalizing treatments taken in the privacy of your own villa, or by the main pool or riverside. Dining is a multi-faceted experience at Ubud Hanging Gardens. The Restaurant features international cuisine showcasing local ingredients, in a serene setting of pure tranquility. The chef uses a modern and innovative cooking approach that combines global flavors with a strong focus on quality ingredients, all infused with creativity and originality. The casual River Café overlooks the Ayung River and serves up healthy salads and fresh wraps, and private dining or picnic baskets stashed with an array of edibles are additional options for meals. The sublime bar and lounge, near the main pool, features living room-style seating plus a wall of doors that push to the side blending the outdoors with the interiors. Refreshing drinks and cocktails help to put you in a deeper mode of bliss. Hanging Gardens Ubud offers supreme luxury and ultimate privacy combined with premium services, set in the abundant and breathtaking Bali countryside.
Location of Hanging Gardens of Bali
Hanging Gardens of Bali
Desa Buahan Payangan
80571
Bali, Indonesia
Nearest Airport: DPS
Amenities for Hanging Gardens of Bali
General Information
38 Villas and Suites
Dining
Private Dining
Restaurant
Cafe
Lounge
On-Site Amenities
Concierge
Pool
Shuttle Service
Spa on Property
Library
Boutique
Gardens
Infinity Pools
Wedding Planning Services
In-Room Amenities
Bathrobes
DVD Players
In-Room Safes
Mini Bar
Outdoor Showers
Private Pools
Bottled Water
Private Terraces
Work Desks
Activities
Bicycling
Cooking Classes
Excursions
Mountain Biking
Yoga
River Rafting
Meditation
Nearby
Historic Sites
Shopping
Art Galleries
Museums
Parks
Monuments
Market
Interests
Cool Pools
Honeymoons & Romance
Spa & Wellness
Reviews for Hanging Gardens of Bali
---
This hotel is simply stunning. The private pool and the view is breathtaking. The main pool is set against the backdrop of the jungle and the staff and service is second to none. The restaurant is equal to the all of the above and the wagu beef spot on! You get what you pay for at this hotel. Luxary and to die for views.
Martin M - London, United Kingdom
---
I just wana start by saying wow I travel frequently I stay in many hotels around the world and this really was glorious, not just the hotel, not just the staff, but also the atmosphere and even the air you breath. The views amazing I would highly recommend staying in a panoramic villa. For the first time in my life I woke up for sunrise everyday for 3 days yes maybe down to jet lag but so worth it there with a view like that. Morning hikes to the old temple were glorious and Therapeutic, lovely food. I won't call these negatives because there wasn't one. But defiantly get a gym apparently one is coming in 2019 but I would say do it sooner. And second thing maybe consider 24 hour room service but again not a big deal. The hotel is in such an amazing location away from the hustle of Ubud centre but you can still easily access it. I would recommend and will recommend this to everyone I know and everyone who cares to check this review on trip advisor, ignore any negative reviews because they are nothing but drivel. Great place. And great country. Ps the views from the pool and restaurant are mentally insane. Great food! Great staff! GREAT GREAT GREAT. Not sure if I mentioned it but it's GREAT. You won't wana leave once you check in but onto another part of Bali for me. In the words of the Terminator "I'll be back" Thanks
---
3 nights at this hotel for the first leg of a Bali honeymoon. I had no prior expectations or knowledge of this place, so here's my experience: Pros: -Forget about the outside world, the views around you are spectacular, with your eyes always resting on that 1800 year old temple nestled on that wall of green -A family of monkeys came to our private terrace to say g'day. -That private infinitey pool is DIVINE! Together with the rest of the terrace -Toiletries were of a good quality, considering they carried the hotel brand name -Food was very affordable at the restaurant and room service -Hotel grounds are beautifully landscaped with incredible flora -The signature pool. It truly is unique, and looking at photos I don't think they do it justice. Loose yourself in crystal clear waters and lush greenery as far as the eye can see whilst listening to the sounds of the forest Cons: This might be me being a pedantic snob, however the hotel lacked that little bit of extra that would comfortably hit the 5 star mark -Music by the pool was just remixed radio hits. There's a whole genre of pool music. Look into it -The mattress and pillows were simply not luxuriously comfortable. Invest in a mattress topper perhaps -The villa felt outdated. I was told that the hotel was 14 years old, I think it's never been refurbished. The bathtub was spacious, but an outdated yellow granite with old plumbing.... Again takes a away from the luxury feels. Especially for the price. -One would expect an espresso machine as opposed to plunger coffee? -Food was good. Not ok and not excellent. Overall? I can still remember the greenery and vastness of the rainforest, the scent of the candles in the bath and the sounds of the jungle whilst wading through my own pool/balcony into heaven
The_Egyptian_Pharaoh - Australia
---
Having been allured here by the many pictures of Instagram it lives up to the hype. But at a cost. Rooms and facilities are well kept but are showing signs of age. The restaurant producing some outstanding food but again like everything here is on the higher end of the $ Having a private pool was great to relax with out having everyone pose to get there special pictures. Loved staying here and would certainly come back
---
Amazing 1 night stay at this beautiful location with stunning views and infinity pools. The rooms are gorgeous and well designed with nice touches such as candles and they also have us a honeymoon gift. The villa pools are wonderful with amazing view of the rainforest. The walk to the hidden temple is hard but worth it for the views. Tasty food for breakfast and dinner. The staff seemed a bit confused by my dietary requirements of no lactose and had to keep telling them, even though they had asked in advance....would expect a hotel of this price to cater better for food allergies. The tangerine juice and breakfast bowl were great. They ran us a flower bath on arrival. The funicular car was super cute and made it easy to get up and down. Def recommend for a special occasion - was a perfect honeymoon spot!
Roxy-Edamame - London, United Kingdom
---