Please select your dates to see prices:
---
Nusa Dua Beach Hotel & Spa in Bali, Indonesia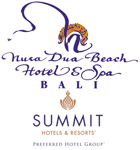 Envelop your senses in the warm tropical atmosphere of the beach, the spice-tinged air of Bali drifting over golden sands and through the lush rainforest, and find your escape at Nusa Dua Beach Hotel & Spa—a Summit Hotels & Resorts property. On the southeast shores where the Bali Sea meets the Indian Ocean, this fabulous member of the Preferred Hotel Group invites you to explore Indonesia's natural splendor. All 382 rooms are crafted in traditional Balinese style, with a warm, airy ambiance and the quiet serenity of the coast. Rich wood accents and furniture abound, seamlessly transitioning from indoors to out, with large sliding doors opening onto your spacious terrace. Stretch out under the tropical sun and gaze out over the verdant world of Nusa Dua, and sleep in deeply plush beds each night, preparing for another amazing day at Nusa Dua Beach Hotel & Spa.
As the sun rises over the forest, warming the ocean just for you, make your way to Nusa Dua Spa to melt under the hands of a practiced masseuse, refreshing and rejuvenating yourself for a Balinese adventure. With the sun up, stroll down to the beach and find the perfect place to stretch out and relax. Take a dip in the azure waters to cool off, and enjoy some surfing lessons before hitting the waves on your own. Take a glass bottom boat ride over vibrant reefs or canoe along the coast for a relaxing afternoon. Head out on an amazing scuba diving tour for a full day of excitement, or enjoy some fine Balinese fishing. In the evening tee off at nearby Bali Golf and Country Club, then take in a cultural performance at Bali Nusa Dua Theatre. Follow the show with the perfect dinner and return to the hotel for international cuisine at Wedang Jahe, traditional Balinese at Raja's, or the pan-Asian menu of Maguro. Mind and body completely satisfied and relaxed, sip a cocktail into the evening, watch the sun set over the beach, and sink into the lap of luxury at Nusa Dua Beach Hotel & Spa.
Location of Nusa Dua Beach Hotel & Spa
Nusa Dua Beach Hotel & Spa
Kawasan Pariwisata Nusa Dua North 4
80363
Bali, Indonesia
Nearest Airport: DPS
Reviews for Nusa Dua Beach Hotel & Spa
---
we stayed for a week,we loved the rooms I stayed in each time, the beautiful resturant in the garden, the Resturant by the beach,we have stayed at many 5 star hotels around the world and many times you can't tell where you are but in this special hotel you know you are in Bali/paradise with a big garden,front beach,friendly staff,just walkd down to big shoping place around 10minuts, highly recommend
lilian g - Singapore, Singapore
---
We just got back from another beautiful trip to Bali. This is the third time we have stayed at the Nusa Dua Beach Hotel and Spa. We have stayed in the Palace Club each time as the experience is wonderful. Our room facing the garden is beautiful and the attention to detail and each day the staff do an amazing job cleaning and replacing water and fresh towels. We have our meals in the Palace Club in a private garden restaurant and the food is just fabulous. The staff that work in this area of the hotel are the most beautiful, professional, warm and caring people. They are our second family away from home. The service is the best in all of Nusa Dua. This year my brother and his wife joined us, their first time to Bali and they also has a wonderful time and were so pleased with the beautiful people in the Palace Club, this really made our holiday very special. The staff around the pool and towel hut are so happy, greeting you with smiles and are super fun.. This is an amazing resort with a traditional Bali experience. We hope to see you all again next year..
KimNovakX - Canberra, Australia
---
It was my first time in Bali so we asked for recommendations from family and they recommended Nusa Dua Beach Hotel and Spa. This resort is fantastic. Set amongst beautiful trees and garden, this resort has it all- beachfront, pools, bars, restaurants and exceptional service. Nusa Dua was safe, well protected and this resort provided the best cool shade on the beach of all resort beachfronts. Lots of grass which kept our feet cool, free water and fruit delivered to our room everyday. The staff were so pleasant, kind and genuine. Loved every second thankyou.
kristynovak - Canberra, Australia
---
Just spent five days here celebrating my big birthday. I love Nusa Dua and especially this hotel. Gorgeous lobby in a very traditional balinese hotel, unlike the posher hotels on the other side. We had two premium rooms which overlooked the gardens. Such a comfortable bed and great bathroom. Two beautiful pools at the front of the hotel and a small one near the spa for adults only. The beach was amazing, so calm. Although the tide does go out every afternoon and comes slowly back in the following morning. Breakfast was also amazing with such a variety of fruits and different kinds of bread every day. We also ate in all the other restaurants and all were very good. The staff and service throughout the hotel were exceptional. On my birthday they sent flowers and a cake to the room. Bali Collection is actually within walking distance - around 20 minutes - although there is a shuttle bus every hour. Here you will find many restaurants and massage parlours and also shops and chemists. I would definitely go back to this hotel.
---
I had a short 3-night stay, but wish it had been longer! My Palace Club Lagoon Pool Room was lovely, and having the pool at your terrace was wonderful! It was quiet, peaceful, and relaxing..I truly enjoyed it. The Palace Club Team is, as always, the best! Friendly, helpful, gracious, and always going the extra mile to help. My favorite restaurant is Tamarind, food is excellent, and the setting is beautiful...with a lovely breeze as you gaze at the gorgeous Bali Sea. Can't wait for my next visit!
RettaJit - Los Angeles, California
---