Please select your dates to see prices:
---
The Royal Pita Maha in Bali, Indonesia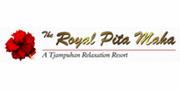 If Royal Pita Maha feels unusually regal, there is good reason. This divine retreat is owned and managed by the royal family of Ubud, in Southeast Bali. With their lush landscaping, the Royal House, Royal Villas and Pool Villas are gracefully integrated into the setting of sweeping rice terraces, river gorges and tropical woodlands. Fodor's declares the accommodations "tastefully luxurious," and you will agree as you relish your own pool with views of the Ayung River and an overwhelming oneness with nature in this place of reflection, healing and serenity.
Since the entire purpose of your stay is relaxation, enjoy a treatment at Royal Kirana Spa & Wellness, terrace dining and the marvelous freeform pool overlooking the valley. Discover local artisans at the open-air stage or in-house gallery, and learn more about the playful yet sacred spirit of Ubud with a bareback ride at the Elephant Safari Park or a visit with the mischievous characters at the Monkey Forest. Make sure to take advantage of privileged access to the Royal Palace, the site of an enchanting evening dance performance.
Location of The Royal Pita Maha
The Royal Pita Maha
Kedewatan PO Box 198
80571
Bali, Indonesia
Nearest Airport: DPS
Amenities for The Royal Pita Maha
General Information
92 Guest Rooms
Dining
2 Restaurants
Pool Bar
24-Hour Room Service
On-Site Amenities
Concierge
Pool
Spa on Property
Laundry Service
Library
Live Entertainment
Wellness Center
Boutique
Gardens
In-Room Amenities
Air Conditioning
Hair Dryers
Mini Bar
Satellite Television
Private Pools
Private Decks
Activities
Bicycling
Cooking Classes
Cultural Classes
Hiking
Yoga
River Rafting
Art Classes
Business
Business Center/Services
Meeting Rooms
Interests
Honeymoons & Romance
Spa & Wellness
Reviews for The Royal Pita Maha
---
We stayed 02 nights at The Royal Pitamaha Resort for our honeymoon. we had an amazing experience and memories for a lifetime at the resort. The villa it self a huge part of journey : it was very relaxing, surrounded by natural beauty, Atmosphere was superb, friendly staff and the view - Most beautiful i ever witnessed. From the beginning when we arrived at the resort, every one is welcoming us with the smiling faces. Front desk is making sure that we are comfortable and proceed the checkin easily. Room boy who escort us to the villa explain each and every facilities about the villa and the resort. Villa size is huge. We stayed at AYU VILLA 142 and it has breathtaking view of Valley and River. Private pool is large. Breakfast has also have vast variety to choose from. (but no indian cuisine). we explored the whole resort on day 1, it is so gigantic and beautiful that it will took us 2 hours from top (our villa) to bottom (Ayung river). Whenever we came back from sightseeing or outside, No matter how much we tired or exhausted the smile on face of the resort staff make us fresh again.
JayminB2098 - Ahmedabad, India
---
The hotel is a dream come true, looks even better in reality than on pictures! The Deluxe Pool Villa was so beautiful,clean and commodious. From the pool you have a wonderful view into the valley, it is a private space because from neighboring villas it cannot be seen. The staff is very friendly and helpful. We enjoyed our stay very much. When you are there, don't plan to many trips to have time to enjoy the hotel.The restaurant is also great and not expensive compared to other hotels!
sandrak21257 - Halle (Saale), Germany
---
I visited the Royal Pita Maha in February 2018. This was my 3rd visit to this beautiful and luxurious resort. There are multiple reasons why I keep coming back. The location on the mountain sloping down to the Ayung River creates unique views. The vastness of the valley can be seen from many places including villas bedrooms and infinity private pools in every villa. From the top of the mountain, down to bottom of the valley, gardens are beautifully maintained with tranquil pools, streams and exotic plants. Just a walk through these gardens is an experience in itself. I shared the villa with my elderly mother. This was a surprise holiday for her and I wanted to make it a very special one. Everything exceeded our expectations. The villa was immaculate with the bedding changed daily, fresh fruit and flowers and on few occasions we found swans and elephants made out of the towels. Such a lovely surprise on top of the already perfect service. Politeness and professional approach of staff demonstrated itself all the time. Special thanks to Ms Dewi Andeni for her time and effort to make sure my mother and I were comfortable and well looked after. Ms Andeni provided us with her lovely personal touch and Balinese hospitality. Here is the summary of the facilities which may be helpful for travellers wanting to consider their stay in the Royal Pita Maha. Location: great views from every site of the resort, free shuttle to Ubud town few times a day. Facilities: several restaurants providing a large variety of very tasty dishes, large pool accessible to everyone, spa and massage facilities, daily yoga classes. Villa: spacious with 3 different areas, large infinity private pool surrounded by a manicured garden. Services: attentive staff servicing villas every day and on demand, very clean. Few points to consider: For elderly or mobility restricted people: this place hasn't got a wheel chair access. There are steps throughout the resort and not everywhere the rails are installed. For small children: they need to be closely supervised around the infinity pools at the villas. We stayed on the top of the mountain where the drop from the pool was high, but maybe villas at the bottom, near the river would be more suitable for families with smaller children.
---
Beautiful scenery, waterfall forest and organic food, villas are really nice Shuttle bus service to ubud city center is a plus Main disadvantage two Resturant plus room service same menu, many items not available and normal to wait an hour for your order!
---
we stayed in Royal pita maha for 3 nights.After i arrived there it took me few hours for adapting to the mesmerizing view of the Hotel! (i took so many pictures! ;) ) For make it short and precise i will itemized each and every possible aspect of this Hotel. 1. Staffs are informative, polite and nice (welcoming drinks and wet towel are amazing with such amount of heat and humidity of air). 2.architecture and view (with the lake and beautiful waterfall) is breathtaking. 3.Rooms ... i should say Villas are spacious, beautiful and clean( they offer cleaning twice aday!) with nice Sarongs and fruit basket as gift! 4. Shuttle bus is right on schedule fast and comfortable. 5.We requested a bike and bicycles (with fairly good quality) and they provided it really fast. 6.Restuarant ... i can say the only place it expected to be better! Breakfast was good with pretty good variety of items to choose.However i find it weird when they asked me how much i need bacons after i requested for refill of it's bowl becuase it was empty at first place. We ate lunch there the price was a bit high regarding portion of the food and i had better nasi goreng in other local restaurant. 7. Sheets and Blankets ... I really dont care about being old or new As far as they are clean and they were but i would be nice if they provide new ones for guests. 8. another positive aspect of the hotel is its classes about local cooking and culture.(Although i couldnt took part in any). Overall, I recommend anyone who is visiting Ubud to spend sometime there becuase of it's calm and soothing atmosphere.
---