Please select your dates to see prices:
---
The Royal Pita Maha in Bali, Indonesia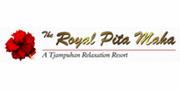 If Royal Pita Maha feels unusually regal, there is good reason. This divine retreat is owned and managed by the royal family of Ubud, in Southeast Bali. With their lush landscaping, the Royal House, Royal Villas and Pool Villas are gracefully integrated into the setting of sweeping rice terraces, river gorges and tropical woodlands. Fodor's declares the accommodations "tastefully luxurious," and you will agree as you relish your own pool with views of the Ayung River and an overwhelming oneness with nature in this place of reflection, healing and serenity.
Since the entire purpose of your stay is relaxation, enjoy a treatment at Royal Kirana Spa & Wellness, terrace dining and the marvelous freeform pool overlooking the valley. Discover local artisans at the open-air stage or in-house gallery, and learn more about the playful yet sacred spirit of Ubud with a bareback ride at the Elephant Safari Park or a visit with the mischievous characters at the Monkey Forest. Make sure to take advantage of privileged access to the Royal Palace, the site of an enchanting evening dance performance.
Location of The Royal Pita Maha
The Royal Pita Maha
Kedewatan PO Box 198
80571
Bali, Indonesia
Nearest Airport: DPS
Amenities for The Royal Pita Maha
General Information
92 Guest Rooms
Dining
2 Restaurants
Pool Bar
24-Hour Room Service
On-Site Amenities
Concierge
Pool
Spa on Property
Laundry Service
Library
Live Entertainment
Wellness Center
Boutique
Gardens
In-Room Amenities
Air Conditioning
Hair Dryers
Mini Bar
Satellite Television
Private Pools
Private Decks
Activities
Bicycling
Cooking Classes
Cultural Classes
Hiking
Yoga
River Rafting
Art Classes
Business
Business Center/Services
Meeting Rooms
Interests
Honeymoons & Romance
Spa & Wellness
Reviews for The Royal Pita Maha
---
Hands down, the Royal Pita Maha is the prettiest hotel you'll ever seen. The photos don't even do it justice. We stayed 4 nights of our honeymoon here, and overtime we would leave to go sight see, we would ask ourselves why we left the hotel.... it's that magical. Set against the landscape of the jungle, with the river running right through your backyard, you have free yoga to start your day, fresh organic breakfast to fill your soul & the when you book the healing villas you received complimentary massages at the gorgeous award winning spa. This resort is one of a kind!
---
If you want to feel luxuriously relaxed and utterly at ease, you couldn't do better than this hotel. Our villa was wonderfully spacious - the bathroom alone was bigger than most hotel rooms I've stayed in - the view down across the gorge was glorious, and our own private swimming pool a delight. (And I do mean 'private' - we could skinny-dip without the least risk of being overlooked.) We had our own resident gecko, too, to deal with the mosquitoes. The staff were all charming, without exception gentle and friendly, always ready to be of service. A wonderful stay. Only one small disappointment - the dinners. There are three dinner restaurants: one, the organic restaurant down by the river, we didn't try, as we were warned it was rather expensive. In the other two the food was ok, but a little too bland for our tastes. The breakfasts, though, were lavish and delicious.
---
From start to finish we have loved everything about this hotel. The views are to die for, we were so overwhelmed by the views when we arrived we were literally speechless! The staff are lovely and can't do enough for you. We were given villa 104 which has out of this world, uniterupted views of the beautiful valley and Ayung River. The bed was huge and super comfy! The heart shaped bath was gorgeous and when we arrived had been filled for us and topped with rose petals. The pool was the main attraction for us. We were lucky to be given a villa with such a large pool as they did say that not the pools are as large as ours was. The breakfast is great and dinner was nice but not amazing for the price you pay. The hotel offers a free shuttle bus to Ubud centre, which we used and got a lovely meal for less than half of what we paid at the hotel the night before. All in all, this is a beautiful resort that will blow you away. It is so peaceful and relaxing, a perfect honeymoon destination!
Nicky W - Basingstoke, United Kingdom
---
Another visit to RPM and another fantastic holiday. We are never ceased to be amazed here. All the staff are fantastic. They are so friendly and helpful. All they want to do is make sure you have the best of times here. Dewi and Dewa thanks you two are fantastic. We always stay in villa 104 and it has the best views of the valley and sound of the Ayung river. The rooms are so comfortable and nothing is lacking. Breakfast and dinner are great, the food always fresh and well prepared. A visit to the resort spa is nothing short of sensational - also has amazing views. Should you want to find peace and tranquility then come here for an experience you want forget. We came here 10 years ago for our 1st anniversary and back this time for our 10th. They surprised us with a bottle of wine and the most magnificent cake you could imagine. It's the little things that count. Thanks Can't wait to go back
TheLaskers - Sydney, Australia
---
well from the start while trying to book the hotel we actually had to call them several times cause they were unable to confirm the booking. But i would advise travellers to be more careful cause MY HUSBAND FORGOT HIS IPHONE IN THE ROOM and we checked out . After several emalls there were no reply from the royal pita maha and till now nothing.We are quite sure he forgot it there and nothing. The rooms have breath taking views the bed is nice too but the swimming pools arent well cleaned we had algaes in it while some other villas have normal ones. Beverage at the restaurants are more expensive than venice and the food is a disappointment. My review is not only based on the fact that my husband lost his iphone but the hotels had some nice views and nice architecture but FOR ME HUGE DECEPTION.
Jess201090 - Madrid, Spain
---