Please select your dates to see prices:
---
Villa Semana in Bali, Indonesia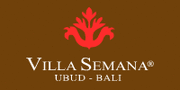 Guests in search of exotic serenity and natural beauty will discover an earthly paradise at Villa Semana on the Indonesian island of Bali. Each of the property's ten private villas, tucked in the mountains of Ubud, offers traditional Balinese styling with thatched roofs and open-air living spaces. All of the graceful accommodations, named for indigenous flowers, provide sweeping vistas of the surrounding lush valleys. At night, the gentle strains of splashing water from the nearby Ayung River will lull you into restful slumber.
You'll be immediately struck by the pervasive calm emanating from the property's peaceful gardens. More adventurous guests will enjoy uniquely Balinese activities that include a trek through a monkey forest, an excursion to Kintamani volcano, white water rafting, and visits to nearby temples. At day's end relax and refresh in the villa's secluded riverfront spa or partake of regional delicacies at Pondok, serving exquisite Asian cuisine created from its own organic garden produce.
Location of Villa Semana
Villa Semana
Banjar Semana, Desa Singakerta
Bali, Indonesia
Nearest Airport: DPS
Amenities for Villa Semana
General Information
10 Guest Rooms
On-Site Amenities
Pool
Spa on Property
Spa Services
Nearby
Historic Sites
Shopping
Interests
Active & Adventure
Honeymoons & Romance
Spa & Wellness
Summer Getaways
Reviews for Villa Semana
---
This place was absolutely perfect. The villas are beautiful and the view of the rice fields is stunning. The pool is perfect especially during the afternoon when it's really hot. I liked that there is no "lobby" and if you had any questions planning your day the staff would come help you in the sitting room of the villa. We really felt like the only ones there even though I'm pretty sure they were fully booked. The breakfast was delicious and they deliver it to your room for no extra charge. Some nights we took the shuttle into town for dinner but other lazy nights we ate in our villa and watched the sunset over the rice fields. Ubud is really cool to walk around but it's super busy and loud so it was perfect to have our villa at the end of each day.
ejs4265 - New York City, New York
---
My wife and I had an absolutely wonderful time at Villa Semana. The staff couldn't be more friendly and accommodating. Our villa was beautiful, comfortable and very romantic. The food at the hotel restaurant was delicious. Seriously, I have nothing but nice things to say about our stay at Villa Semana. Two enthusiastic thumbs up!!
jasontuttle - Los Angeles, California
---
We had a lovely stay at Semana Villas from the moment we arrived. Beautiful & serene setting overlooking rice paddies, jungle & the Agung river. Breakfast were delicious & with variety and nothing was too much trouble for the wonderful staff. They were always friendly & smiling and nothing was ever a problem. The beds were very comfortable and spacious, big bathroom with bathtub & outdoor shower. We would definitely go back to Semana villas.
helengoodyear - Sydney, Australia
---
I loved everything about this place and can't fault it Amazing grounds, stunning jungle, river and rice paddy views, beautiful suites with private plunge pools, absolutely delicious food, a rustic feel to the place For me this beats the big 5* resorts hands down Just perfect. We will be back for sure!
---
Just when I thought I'd seen the best hotels in Bali, Villa Semana came along and one-upped them. This resort is a hidden gem that I strongly encourage every visitor to Ubud to discover. Pros and cons below: PROS 1. Simply amazing villas. We stayed in the "Vanda" villa, which is one of the most basic villas with garden access. If I didn't know any better, I'd have thought this is one of their best villas — but apparently it's one of the simplest! We had an incredible view of a rice paddy, an immaculate private pool (the water was pretty cold, but you get used to it), a semi-outdoor lounge area, a decadent bathroom, and a bedroom. We even had our own private fish pond! We enjoyed feeding the fish our breakfast scraps. 2. Supreme calm and peace. These villas don't have TVs, and that's exactly what we wanted. The WiFi connection wasn't perfect, but it gave us what we needed to post envy-invoking Instagram photos. We felt like we were the only people staying at the hotel, and that the entire grounds were intended for us and us alone. I've never felt so serene. 3. Beautiful, breathtaking views and grounds. Villa Semana is located in the middle of a jungle, right on the river. We felt completely at one with nature. It was soothing to hear the critters come alive at night — we fell asleep to frogs croaking, dragonflies buzzing, and birds chirping, and we woke up to roosters crowing. 4. Delicious food. I ate the mie goreng (egg noodles with seafood) every morning because it was just so good that I didn't feel the need to branch out. Breakfast comes with freshly baked bread, a plate of fruit or juice, and a main dish. There's no buffet, but that was okay with us. 5. Free transport to Ubud. The resort offers a free shuttle ride into Ubud every half hour — it felt like we had a private chauffeur! The ride takes about 15 minutes both ways. 6. Incredible service. The staff waited on us hand and foot. They were always kind and solicitous. Sometimes it felt like there were more staff members than actual guests, which was a little weird — but good for us! 7. Private pool. OMG I loved this private pool! I practically lived in it! CONS (I don't view these as cons so much as notes for other guests who might consider them drawbacks. They didn't detract from my stay at all!) 1. No TV. If TV-watching is an integral part of your idea of a good vacation, don't stay here! 2. Not in Ubud. Villa Semana is a 15-minute car ride from the city. If you want shopping and eating right at your feet at all hours of the day, this isn't the hotel for you. That being said, there's a free shuttle every half hour to and from Villa Semana, so this really isn't a problem. Overall, Villa Semana gave me one of the best (if not THE best) hotel experiences of my life. I'd absolutely go back there and live if I could!
ebagot - San Francisco, California
---