Please select your dates to see prices:
---
Fairmont Banff Springs in Banff, Canada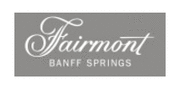 A symbol of Rocky Mountain splendor for more than a century, Fairmont Banff Springs embodies peace of mind. This secluded escape in Banff National Park in the Canadian Rockies is styled after a Scottish baronial castle. From cozy guest rooms tucked into castle corners to spacious suites with sweeping views, you'll marvel at the level of luxury. Roaming elk, the Willow Stream spa and a wealth of fine dining make this a fascinatingly diverse escape.
Although known as home to some of the world's best skiing, as well as canyon ice walks, sleigh rides and dog-sledding, Banff is a year-round playground. The resort has its own championship golf course, and when you're not teeing off, you can head out for mountain biking, canoeing the Bow River, whitewater rafting the Kicking Horse River or a leisurely interpretive walk. No matter when you come, the Lake Louise Panorama Gondola is a must.
Location of Fairmont Banff Springs
Fairmont Banff Springs
405 Spray Avenue Alberta
T1L1J4
Banff, Canada
Nearest Airport: YYC
Amenities for Fairmont Banff Springs
General Information
770 Guest Rooms
On-Site Amenities
Beauty Salon
Spa on Property
Spa Services
Activities
Fishing
Hiking
Reviews for Fairmont Banff Springs
---
Somehow you want this fairy tale place to have some flaws showing but frankly I couldn't find one. Maybe the room was a bit on the small side but you can't quibble about that when you're looking at a three-window view that's as jaw dropping as the tariff. Talking about money, it's expensive but what do you expect? Our room was on the Gold level which meant a knockout lounge with food and an honour bar but again everything is dominated by the 5th floor views. Didn't really eat there but you kind of know it won't kill you. It's a great experience -go on, you owe yourself!
Andrew W - Melbourne, Australia
---
I was a child when we first visited the Banff Springs Hotel. It was way beyond my parents means to stay there so we only wandered through the shops and then headed off to camp in the mountains. (This was a cool adventure too.) However this did establish a dream for me that one day I would get to stay here. This dream was finally realized for the first time when in 1991 I married my wife in a small ceremony in the Banff Springs. Since then I have had the fortune of staying here a number of times usually work related. Each time has been a pleasure and my most recent visit was no exception. This hotel remains a classic and I will anticipate with pleasure when I once again have the pleasure of returning. It is beyond my reach to stay as a guest without employer assistance, however at least this way I do get to visit from time to time. It was a pleasure to see the "waiter" who helped make our wedding day special still working to ensure your guests have a pleasant and memorable stay… twenty seven years after our first visit.
---
My partner and I stayed for a 5 day 'workation' in May of 2018. I had stayed previously several years ago over Christmas, and am happy to say that there are places that you can return to and not be disappointed. The hotel and staff have only improved over the past few years to the point that neither of us wanted to leave, and after a week of being back in Florida have decided to return for another week stay next week - a vacation instead of a 'workation'. We had room 531 on the Fairmont Gold Floor the view into the valley was incredible. The Fairmont Gold Lounge proved the perfect place to work from all the while looking out the expansive windows at views that almost seem surreal. The breakfast was wonderful- great food, espresso and the menu was constantly changing. Maxime Lapalme, the Fairmont Gold Supervisor, and the rest of the 5th floor staff were professional, welcoming and did everything possible to help - consummate professionals. The Porterhouse in the restaurant 1888 was perfection and I can't wait to go back and tackle another one !!!
---
We stayed here as part of our APT tour of Canada and Alaska as soon as we saw it it made a big impression old style castle like Hotel very grand absolutely loved our stay here walking distance to town.
j0nses - Rockingham, Australia
---
Was nice place, signage difficult to get around. Rooms need update. Beautiful outdoor pool. Nice Keurig coffee makers in room with lots of pods to make coffee. Outdoor pool is beautiful and warm. Restaurants are really expensive and difficult to find. Could only find kid food at Rundle lounge on Saturday afternoon. But food in Banff town is great.
DingoLethbridge - Lethbridge
---