Please select your dates to see prices:
---
Shangri-La Hotel Bangkok in Bangkok, Thailand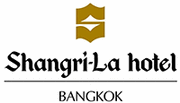 If the Chao Phraya River is Bangkok's lifeblood, the Shangri-La Hotel Bangkok is its pulse. Located directly on the banks of the "River of Kings," and set in a landscape of lush tropical gardens, this graceful and exotic property offers convenient access to the central business and shopping hubs and a superb range of recreation and leisure facilities. Consistently voted as one of the best hotels in the world, this deluxe five-star property is a preferred destination for both leisure and business travelers.
Start your Thai explorations with a tour in a long-tail boat of the river and canals, whose stops include the impressive Temple of Dawn and the Royal Barge Museum. In the heart of the city, the Grand Palace houses the Temple of the Emerald Buddha, the most sacred image in the Kingdom. Be sure and see the Jim Thompson Museum, the former home of the legendary American who helped revive the silk industry in Thailand then mysteriously disappeared. A day spent at the National Museum yields a stunning collection of Thai art, which includes ancient Buddha images, furniture, paintings, puppets and musical instruments.
Location of Shangri-La Hotel Bangkok
Shangri-La Hotel Bangkok
89 Soi Wat Suan Plu
10500
Bangkok, Thailand
Nearest Airport: BKK
Amenities for Shangri-La Hotel Bangkok
General Information
850 Guest Rooms
On-Site Amenities
Beauty Salon
Pool
Spa Services
Reviews for Shangri-La Hotel Bangkok
---
I stayed at this hotel during the Songkran period over the weekend. Being a Shangri-La brand it truly delivers. This hotel has 2 wings. From the moment you arrive at the hotel driveway, the hotel doorman and other staffs will politely greet you with a warm welcome. Even during check in and check out process was also smooth. Front desk staffs are always smiling with their beautiful uniforms. I'm impressed! Ohh yes not forgetting all guests have to go thru a metal detector before entering the hotel. I believed this is for security reasons. This hotel which is located in front of the Chao Praya river has all the facilities of a 5* hotel. The rooms are big, clean, has a bathtub and has an amazing view of the Chao Praya river and Bangkok city skyline. It has a spa, swimming pool, boutiques, gym, Italian restaurant, a bar and even an ATM machine. The breakfast spread is wonderful serving Western, Asian and even local Thai cuisine. Another good point about this hotel is that there's a free shuttle boat that hotel guests can take. I took this boat ride to travel to Asiatique The Riverfront which is an open air mall in front of the Chao Praya river. It is a must to go here it has everything! This hotel is located at the end of a small road. Along this road you can find shops, massage parlours, boutiques, restaurants , a temple and other small hotels. Just put on your slippers or comfortable shoes and explore Bangkok. I had a wonderful stay at this hotel with no complaints at all only that I'm not so uncomfortable with all the mainland Chinese tourists that are staying there. Probably it's because of Songkran. They are loud, rowdy and rude. I remembered one nite coming back to the hotel and saw them at the lobby which was noisy. I saw one Chinese lady sitting down with both her feet without any shoes on top of the manager's table (I think) which is right across the front desk! She was on her mobile phone. I find this very rude! I was about to take a picture luckily a front desk staff came over to her and told her to put both her feet down. Kudos to this front desk staff. In a nutshell, Shangri-La Bangkok is a great hotel to stay with amazing service from its staffs whom are friendly and always smiling. This hotel is highly recommended and I'll definitely come back in the future.
---
Visited some friends staying at this hotel Wondering where we where going to eat I noticed the hotel had a dinner cruise So went to find out if they had and tables left with only 10 min left before boarding The staff where fantastic booked me in within 5 min and escorted us to the boat We where so happy with the excellent table we where given big open space window to see the sites of the river The buffet was fantastic wonderful selection including endless supply of freshwater prawns very yummy the staff on the boat where so nice and helpful Great service even came and took photos for us inside and outside the whole experience was perfect if you want to have a dinner cruise in Bangkok then use this one it's by far the best I have had many dinner cruises in Bangkok tried so many other boats entertaining friends and customers Every time ended up being dissatisfied Form now on the Shangri-la will be the one for me In fact I went the following week for a friends birthday another excellent experience Thanking you to all the staff on the boat Mike cobb
---
We spent our last night in Thailand at the Shangri-La and it was lovely. We had a room with a balcony on the 15th floor so the views over the city were fabulous, especially at night. The staff were lovely, especially Nitish, who was very helpful. The pool area is fabulous with at least 2 lifeguards on duty all the time. The breakfast buffet is amazing with so much choice that its difficult to decide where to start! We also paid a visit to the hotels chocolate shop which has an amazing choice of cakes and chocolates.
---
The Riverside Lounge was a highlight ! We stayed a few days at the ShangriLa Hotel and were so lovely served by the whole team, specially "Oui & Bas". The Food is very Good, Nice presentation, Daily diversity. The drinks are magnific. We will return. Cheer Daniel & Taís
---
I would like to Thank you Khun Tapakorn and his Manager Khun Sumrit for a very warm welcome during checking in and a special room set up for our anniversary. The service at the front desk is a perfection of Thai hospitality from arrival till departure. I also had dinner at Volti and also Lunch at Shang Palace which serve excellent food. Thank you Shangri-La Bangkok
Offie29 - Amsterdam, The Netherlands
---