Welcome!
The lowest advertised price for this hotel right now is x. We think you can do better with us.
If you would like to save some money, enter your email address and an opening offer. Let's get started!
Your offer was low but close!
Would you be willing to pay $ per night?
You already made an offer on this hotel which was accepted. If you want to make another offer for this hotel, you may do so after 24 hours. If you have questions, please visit our support area here.
What you get
Siam Suite
Included:

17% Tax, Complimentary Breakfast and Wi-Fi.

Not Included:

Any additional applicable taxes, surcharges and fees are payable to the hotel directly.
Total for nights:
You would save: ?

Terms
Hotel stay is for single/double occupancy, subject to specific inventory availability for stated room category and valid for room-only accommodations (unless otherwise noted).
Valid Travel Dates: Apr 12, 2018 - Dec 29, 2018. Travel must be completed by

Dec 29, 2018

or will be forfeited. No extensions will be offered.
Minimum of 2 consecutive nights
Based on availability, reservations will be made through Preferred Hotels & Resorts on your behalf. There is no need to contact the hotel directly.
Reservations are not guaranteed until a confirmation number has been issued by Preferred Hotels & Resorts.
Auction hotel stay is non-refundable and cannot be combined with any other offers.
Or book now on one of these sites:
Please select your dates to see prices:
---
The Siam Hotel in Bangkok, Thailand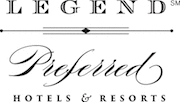 Board a private speedboat bound for The Siam Hotel at Saphan Taksin central pier and leave Bangkok's chaos behind. This urban retreat, part of the Legend collection of Preferred Hotels & Resorts, is a one-of-a-kind marriage of traditional Thai culture and delicious Art Deco ornamentation designed by "Architectural Digest's Top 100" recipient Bill Bensley and overseen by Krissada Sukosol Clapp, a Thai pop singer and actor who won the country's equivalent of a Best Actor Oscar. The resort sits on three acres of riverfront land in the royal Dusit district and draws inspiration from Paris's Musée d'Orsay. Guests are blanketed in tranquility in oversized suites teeming with antiques.
Rise early and call your butler for breakfast to be delivered to your suite. Take a walk along the Chao Phraya River. Join the resort's guest practitioner for some breezy vinyasas on the outdoor yoga deck. Recline by the riverside infinity pool. Order a traditional Thai whiskey soda to sip poolside. And dine on homemade curries in a former private residence that entertained glitterati including Jackie Kennedy and John Rockefeller.
Location of The Siam Hotel
The Siam Hotel
3/2 Thanon Khao Vachirapayabal, Dusit
10300
Bangkok, Thailand
Nearest Airport: BKK
Amenities for The Siam Hotel
General Information
39 Guest Rooms
Dining
Pool Bar
24-Hour Room Service
Cafe
Bar & Lounge
Restaurants
On-Site Amenities
Beauty Salon
Spa on Property
Laundry Service
Library
Fitness Center
Sauna
Butler Service
Outdoor Pool
24-Hour Front Desk
Marina
Complimentary WiFi
In-Room Amenities
Turndown Service
Air Conditioning
Hair Dryers
Mini Bar
Flat-Screen Televisions
Luxury Bath Amenities
Individually Designed Rooms
Bathrobes & Slippers
WiFi
Business
Meeting Room
Business Center
Conference Facilities
Family
Cribs
Babysitting
Kids Pool
Rollaway Beds
Reviews for The Siam Hotel
---
Our family of four book two rooms for three nights. The hotel grounds, public areas and rooms are architecturally exceptional, well thought out, and beautifully decorated with antiques and art. Our adjacent rooms, #306 and #307 are on the top floor with views of the river. Room #307 is slightly larger, has a large sitting area with seating for 6, stocked mini-fridge, coffee maker with capsules, exquisitely comfortable bed, very large desk work area, plenty of outlets for device charging, huge double sink area, lots of storage space for luggage and clothing, a huge free standing tub, separate shower with great water pressure and a large toilet area. Air conditioning works well and fans are available if needed. TV offers many English speaking channels. Areas within the room and bathroom can be separated with curtains to afford privacy and total darkness and they also aid in keeping the sleeping area very cool at night. The rooms are quiet and the construction taking place next door does not present any issues while in the rooms. Everything physically speaks to quality, is top notch and one of the visually best and most comfortable of my travel experiences. Staff hospitality is outstanding, but we experience ongoing issues with communication with many staff that contrasts sharply with their intention and our expectations. Even before our arrival, I attempt to contact the hotel via their website communication link. That communication occurs more the 36 hours in advance of our arrival and is not acknowledged or completely acted upon. Most of my complaints regarding communication result directly from food service issues during 11 separate dining/room-service encounters. We have breakfast onsite daily, room service multiple times daily, dinner one evening and lunch the following day. There is a limited room service menu. Lunch and dinner share the same menu. In general, food orders are taken timely, but delivery of food is slow in all cases and is often not delivered as ordered. There are options to dine outside and at inside dining areas. We choose the inside dining area to avoid the loud noises of jack hammers and bulldozers working on the adjacent property from 9am to 9pm. On our night of arrival we order room service. One in our group orders a quinoa and roast vegetable salad and as a result suffers from severe diarrhea for our entire stay and is not able to attend activities we booked and paid for. There are ongoing issues with getting orders correct, such as requesting "crisp bacon" or getting bread "toasted" adequately. Bacon still comes partially cooked and bread barely toasted. With one room service order of a club sandwich that comes with bacon, we request the bacon extra crispy. When the food arrives the bacon on the sandwich is barely cooked, but there is an additional order of bacon on the side that is cooked crispy, and, at additional cost. One morning we order room service for a pot of coffee for two people. It takes almost 30 minutes to arrive and there is only enough coffee for 2.5 small cups! We call to explain the issue and it takes an additional 20 minutes to get more coffee. During breakfast, it takes close to 15 minutes to receive hot beverages, and if you fail to order your breakfast when placing the order for coffee, it will make for a lengthy process that can interfere with meeting schedules for the day. The same can be said for ordering lunch, then taking 15 to 20 minutes to receive bread and wine. Though there are plenty of staff onsite and not that many patrons, after a meal is served, no one comes to make certain the food is acceptable unless you initiate the communication. During breakfast on our final day, the bread and fruit buffet becomes depleted and remains that way during our time in the dining area until just before we leave. Service is consistently very disappointing. We don't mind spending what it takes for a highly rated 5 star property at an international destination, but we do so with the expectation of exceptional accommodations and service. For this expectation to manifest requires having a staff with strong linguistic and customer service skills. Hospitality is one thing, but it does not ensure good service. For this reason I give the property 3 stars. There were many ques that attentive staff should have recognized and brought to management's attention on our behalf. It is very disappointing one of us got sick from hotel food and had to miss scheduled activities. We realize there is not absolute certainty the food poising resulted from hotel food, but all signs point to that being the case. Though I would not stay here again, if reviews by others don't mention similar complaints, consideration should be given to at least having a short stay here.
Mark_Thebaut - Atlanta, Georgia
---
We just wrapped up a two night stay at The Siam on our way home from Bhutan. What an absolutely amazing property. You feel as if you're staying in someone's house given how private it feels and the amazing art and artifacts everywhere. Our Riverview Suite was huge and very well laid out. Drinks on their private pier was wonderful and the food served at all meals was delicious (especially loved our Thai lunch). We also used the spa which was one of the best ever (great Thai massage to work out stiff muscles from hiking). We even bought a couple items in their well curated shop. So that's the physical aspects but what really makes The Siam special is Nick and his amazing team. Every staff member was friendly and did everything the could to make the guests comfortable. Our assigned butler, Kuhn Net, was great on setting things up for us and follow through on requests. He even had a personalized printed agenda left in our room to ensure we knew when to be where. The hotel has BMW house cars with drivers you can use for a small fee which we greatly appreciated just to avoid the hassle of the taxis / meter negotiations. Highly recommend this property for its service and comfort but also because it has a sense of place. When we travel abroad we love luxury hotel properties that match the location versus some of the more generic properties.
NapaTJ - Yountville, California
---
We spent three nights at The Siam to celebrate my husband's birthday. We live in Bangkok, so we know that the city is not short on wonderful options, but when I read about The Siam, the passion behind its creation and saw its stunning photos, I knew the place has to be special. And The Siam managed to exceed all our expectations, with its warmth, elegance, comfort and the pampering! It wowed us at every corner, with its exquisite attention to details, the hospitality and the intimacy. It is truly unique, incomparable. Our experience at The Siam made every other luxury hotel we have ever stayed at seem mundane. I am looking for any special occasion to return!
hnin2pyne - Washington DC, District of Columbia
---
My husband and I enjoyed two brief nights in the splendor of The Siam at the beginning of our trek through Thailand. Going to keep this short because there isn't more to say than what has already been said - this is a truly unique and remarkable urban boutique hotel: an oasis in the city. Gorgeous grounds and locale, world-class service and spacious luxury suites. Coming from the US, we have access to many of the same top Bangkok hotel brands so wanted something with more local and independent flavor. The Siam did not disappoint. Only "flaw" during our stay was having to wait in our taxi a few minutes around the block from the hotel as a member of the Thai Royal family was finishing up an afternoon visit and her security caravan was blocking the street. Hardly a fault because it makes for a cool story. Thanks for your warmth and hospitality.
EdgarB184 - Chicago, Illinois
---
There ought to be a picture of this place in the dictionary under "Hidden Gem." It's a locally owned beautiful property with spectacular rooms, beautiful views of the river and attentive, friendly service. We stayed for two nights and I wished we could just move in. Breakfast, included with the room, was amazing and included a variety of both Thai and western offerings. Room was large and beautifully appointed with Thai antiques. The bathrooms can only be described as spacious and luxurious. Literally no detail missed. A feast for the eyes. The staff remembers you from the moment you check in and will do anything to make your stay more comfortable and accommodate your needs, always with a smile. If there is better service at a hotel anywhere in the world I'd be surprised. On, in the lobby where other hotels sell travel sized toothpaste there's a curio shop full of Thai antiques and crafts. It's awesome. We picked up a couple of decorative items that we're delighted with. Only downside, be warned - in a city where you can stay at an international luxury brand like the Peninsula for $200, the Siam is not cheap. But if you want an amazing stay, I've never been anywhere like it.
Michael T - Chicago, Illinois
---