Please select your dates to see prices:
---
Claris Hotel in Barcelona, Spain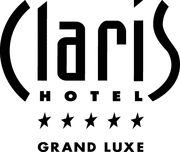 It's afterhours, you're sipping a cocktail, and a Roman mosaic from the second century is begging closer study – Claris Hotel makes a museum experience available 24 hours a day, thanks to an expansive art collection that ranges from Victorian furniture to Turkish kilims to etchings by modern Catalan painter Josep Guinovart. The ground floor museum showcases pieces from Jordi Clos Archaeological Foundation's private collection, while Napoleon leaves his mark with several drawings he commissioned. Another way this hotel channels a museum: Peace and quiet pervades the hallways, which guarantees a good night's sleep.
Reward a leisurely morning with lunch from La Terraza del Claris's three-course Factory Menu: Duck magret with truffled potato terrine follows a crab salad garnished with fresh fruit. You'll have a great vantage point to survey the city and plan an afternoon walking tour of Gaudí's iconic architecture. End the day with an orange caipirinha made from CachaÇa Sagatiba, lime, sugar and Grand Marnier Rojo that matches the sunset.
Location of Claris Hotel
Claris Hotel
Pau Claris 150
8009
Barcelona, Spain
Nearest Airport: BCN
Amenities for Claris Hotel
General Information
124 Rooms and Suites
Non-Smoking Rooms
Dining
2 Restaurants
24-Hour Room Service
Rooftop Bar
Room Service
On-Site Amenities
Pool
Laundry Service
Fitness Center
Sauna
Solarium
Art Collection
Outdoor Pool
Complimentary WiFi
In-Room Amenities
Air Conditioning
Direct Dial Telephones
Hair Dryers
In-Room Safes
Mini Bar
Satellite Television
iPod Docks
Flat-Screen Televisions
Business
Meeting Rooms
Business Center
Interests
Spring Getaways
Reviews for Claris Hotel
---
very nice welcome ! service to go to the room , luggage care,... and a super restaurant ! with beautiful wines ,...... and a greaaaat breakfast ,.... big congrats and big thank you all !! and last but not least I love the DerbyHotels philosophy to showcase pieces of Arts , I had the experience at the Urban hotel in MAdrid , and now this one at Claris !! keep it up !!
---
Loved staying at the Hotel Claris. The rooms were comfortable, with plenty of room. Location was fabulous - centrally located. Breakfast was great - lots of options and the restaurant staff was very accommodating. Concierge was nice and knowledgeable, but front desk staff could have been a little friendlier at check-in.
---
I spent two nights at Hotel Claris on a solo trip to Barcelona. Positives: -Attentive staff. Not overly friendly, but immediately addressed any requests or concerns. -Great rooftop pool -Very clean and in a great location near some popular restaurants (try tapas at Vinitus but either get there early or prepare to wait) Negatives: -The walls are PAPER thin. I am not a light sleeper, and I have slept in noisy group dorms just fine. However, on my second night at the hotel my neighbors arrived back at the room around 12:30 am and proceeded to blast music and talk so loudly I was woken up and could no longer sleep. I could hear every single word of their conversation, even with silicon ear plugs in (usually I can sleep through anything with them on), which is disconcerting. I called the front desk to complain and within a minute heard a knock on my neighbors' door and the hotel staff asked them to keep the noise down. I appreciated the urgency, however, despite turning down the music the walls were so thin I could still hear their entire conversation (which was amplified due to alcohol consumption). -The room I originally received faced an internal courtyard and didn't have a window outside at all. I was extremely disappointed and asked for a change and the staff was able to work out a new room which had a good city view. Overall, while it was a decent experience I would not stay at the Hotel Claris again. Shoutout to the staff who is very professional; however, for a 5-star resort I had too many problems to consider staying again (namely had to change rooms from a poor room assignment initially and was unable to sleep the night before a long international flight due to thin walls in the hotel and noisy neighbors). If you do decide to stay at Hotel Claris bring ear plugs and ask for an exterior facing room.
travelbug_ca_5 - Los Angeles, California
---
We recently stayed at the Hotel Claris and had a terrific experience. All of the staff were very friendly, helpful and professional. We actually stayed for a few days, traveled and then returned and both of our rooms were beautiful and more than comfortable. The breakfasts were great too! Hotel Claris is the only hotel we will be recommending to your friends.
Mitchell P - Northbrook, Illinois, United States
---
This has been undoubtedly the best hotel stay I've ever experienced! Part from my tastefully decorated room the service has been professionally on point! If you have a little extra to spend then this is would definitely be worth it.
witzansky - Copenhagen, Denmark
---