Please select your dates to see prices:
---
Charming Luxury Lodge & Private Spa in Bariloche, Argentina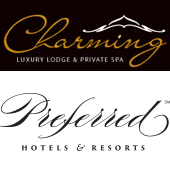 Surrounded by lush mountains and the tranquil atmosphere of Lake Nahuel Huapi in Patagonia, Charming Luxury Lodge & Private Spa overlooks Playa Bonita, near the city of Bariloche in beautiful Argentina. With view of the snowcapped Cerro Catedral, this amazing mountain resort is a peaceful escape from the ordinary. Open and inviting rooms are warmed with soothing earth tones and radiant floor heating, while a large whirlpool tub is perfect for soaking away your stresses. Gaze out of large picture windows at the breathtaking panoramas, or enjoy a glass of wine on your private deck. At Charming Luxury Lodge & Private Spa, you will enjoy the comforts of modern living, while the pure and natural beauty of Patagonia beckons for you to explore.
Indulge yourself with a trip to Charming Spa and luxuriate under the practiced hands of a masseuse before adventuring out into the surrounding woodland wonderland. Swim and dive in the placid lakes, or enjoy a guided tour by boat complete with a delightful lunch. Kayak to secluded beaches only accessible by the water, or for some excitement raft down the white water rapids of the Limay or Manco Rivers. For the truly adventurous, paragliding high above Bariloche may be just the thing, or enjoy a day of zip-lining through the Patagonia Andean forest. Ski or snowboard down fabulous runs on nearby Cerro Catedral before returning to the lodge to warm yourself by the fire. Dine on classic Patagonian cuisine at Stag Restó while you relax next to the lake and countryside, and sip a cocktail as the sun sets majestically over Argentina.
Location of Charming Luxury Lodge & Private Spa
Charming Luxury Lodge & Private Spa
Avenida Bustillo Km 7500 Costa de Lago Nahuel Huapi
8400
Bariloche, Argentina
Nearest Airport: BRC
Amenities for Charming Luxury Lodge & Private Spa
General Information
13 Guest Rooms
Dining
Restaurant
Room Service
On-Site Amenities
Concierge
Shoe Shine Service
Spa on Property
Laundry Service
Fitness Center
WiFi
Music & Movie Library
Outdoor Heated Pool
In-Room Spa Services
In-Room Amenities
Direct Dial Telephones
DVD Players
Hair Dryers
In-Room Safes
Mini Bar
Satellite Television
Iron/Ironing Boards
Flat-Screen Televisions
Whirlpool Bathtubs
Luxury Linens
Radio & CD Players
Heated Floors
Kitchenettes
Fully-Equipped Kitchens
Activities
Excursions
Fishing
Hiking
Kayaking
Scuba Diving
Yoga
Fly Fishing
AlpineSki
ATV Tours
Hunting
Bird Watching
Snowboarding
Zip-Lining
Business
Business Services
Family
Playground
Rollaway Beds
Interests
15 Days of Deals
Active & Adventure
Holiday Hotel Deals
Ski & Snow
Reviews for Charming Luxury Lodge & Private Spa
---
what a great place! very cool place in low season! our room had it's own sauna, steam room and large jetted tub to fit 2 people comfortably. The service and front desk were outstanding. We either walked everywhere or they got a driver for us. The breakfast was hot and wonderful. They have a black dog with white socks and chest . He runs around the place and is very friendly with a unique personality. One day we decided to walk to Cerro Campanario ( about a 6 mile walk with final steep hike up small mountain for amazing 360 degree view). The dog decided to go with us. She walked behind us, in front of us and then up the mountain trail. She was our guide and security! We had decided to take the chair lift down. We saw her 2 days later back at the hotel. She must have waited for us and then figured we had gone back without her. We hiked to Refugio Frey( a must). Only downside, you have to get a special card to use the bus system( you reload it). Without it you can not board the bus. We were able to walk or Charming arranged a driver. We travel a lot and this place is definitely a keeper. The rooms had large windows with a view of the lake and sunrise(amazing). In the evening we did our steam room, sauna and cool down on our private terrace. Later , wonderful Argentina Malbec on the private terrace and watching the night stars.
kathleen e - San Antonio, Texas
---
If you like inspiration and dreaming , Charming is the place .... if you like natural beauty and peace , chances are , you won't find better .... If you like to stay in an idyllic place , there is no doubt Charming will not disappoint you . For honeymooners : Charming sets a fabulous start and unforgettable honeymoon ... the same is true for those who like to experience the bliss of a new moon.... Boutiques hotels, by definition include certain expectations that are met well beyond standards at Charming! So ... what makes Charming so special???? I think Charming offers the perfect blend between nature and nurture ... it's unique architectural style ( Bariloche style) blends with the spectacular view of the Cordillera de Los Andes and the majesty of the Nahuel Huapy lake........the spacious gardens , mixture of wilderness and selected plant species, and the songs of the teros and bandurrias ( regional birds) . The combination of a warm outside swimming pool and for the more adventurous ones, the chance to take a fresh dip in the lake, the choice of a pampering spa ....Of course , meals and services are part of the exquisite nurturing ... This is why we keep coming here ...Charming is simply one of a kind that does not allow for comparison ... You can enjoy the entire stay at the site without leaving. If you wish to connect with the world , it's only a few minutes away from Bariloche and accessible to all surrounding excursions ... True .... it is far away in the Southern Hemisphere but certainly , not at the end of the world : there are direct connections from everywhere. THE CHALLENGE OF CHARMING: THE DEPARTURE DAY! THE REWARD......THE RETURN!!!!!!!
---
This hotel is charming as the title suggests but it's most relevant feature is the location and it's views. The room was fine and had an area for the fridge etc. It has everything you would expect in a hotel room but I personally felt that it was overpriced. However having said that it was the roundabout rate for the area. Dinner and Breakfast were good. I certainly felt that there was a tourist rate for the taxi we took rather than the local rate from the hotel to the airport. However it was within a short taxi distance to the town.
Eve S - Shrewsbury, United Kingdom
---
To say i am obsessed with this place is an understatement. My husband and I stayed at Charming 4 nights on part of our Argentine Honeymoon. Out of the 5 hotels on this trip, Charming was by far our favorite. The entire property is romantic and exquisite. My husband and I had booked one of their standard rooms because we planned on being super active in the area and only planned on using the room to pass out in at the end of the day. However, we were impressed by all of the amenities this place had to offer. The breakfast was delicious and my husband particularly enjoyed the breakfast empanadas and getting to try the yerba mate tea drink. The concierge was friendly enough to show him how to properly pour and drink the beverage. The views from the dining room were breathtaking. The concierge instantly felt like a best friend and was able to give us excellent hiking, fly fishing, and dining recommendations. Upon learning that we were on our honeymoon, the concierge upgraded us at no extra cost to the spa apartment with lake views. We felt like royalty having access to our own private house with spa shower, jacuzzi tub, and sauna. If it was possible to move into Charming permanently, I would! If you are planning a trip to San Carlos de Bariloche, be sure to stay here. You won't be disappointed.
---
We travel all over the world and this was one of the best hotel experiences we've ever had. We were stressed from a horrible Andes Airlines flight (I'll never fly them again) and a terrible Hertz car rental experience to get a car we reserved via Expedia. Roberto got us a nice Malbec wine on the house while we sat by the fire and looking at the amazing view. The stress not only melted away but the experience kept getting better. We had a huge room #19, comfy bed, kitchen area, dining table, spa tub and a view that didn't end. The breakfast was fantastic. After a day of hiking or walking the town we came back to enjoy a heated pool, hot tub, and a sauna that had the best view. The lake view side had a glass wall and you just relaxed in the sauna looking at this incredible view. The two dinners we ate at the Stag were world class. We liked them better than some Michelin star restaurants we've been to. In fact, we spent more at Llao Llao for drinks and appetizers than we spent for dinner and a bottle of wine at the Stag. And we enjoyed the Stag lots more. Then we came back to our room with the delicious Bariloche chocolate on the pillow. Our only complaint is the road into and out of the hotel. This was off the property but it really needed grading. We had to shift to first gear to drive through those two sections. Other than that, we give this 5 stars and a huge kudos to the staff. The were some of the friendliest, gracious and most hospitable people on earth.
---