Please select your dates to see prices:
---
Heritage Le Telfair Golf & Spa Resort in Bel Ombre, Mauritius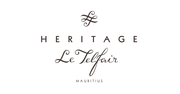 Named for famed 19th century naturalist, Charles Telfair, Heritage Le Telfair Golf & Spa Resort, Mauritius embodies beauty and elegance while celebrating its natural, unspoiled backdrop adrift in the Indian Ocean. Stretched across 15 acres atop the sandy shores of Bel Ombre Beach, Heritage Le Telfair's intimate village design includes 20 villas, each with 6-8 rooms that enjoy breathtaking beach views, private balconies, and floor-to-ceiling windows that permit abundant natural light to flow into the expansive living quarters. With design inspired by the French Colonial period on the island, rooms are outfitted with dark wood, over sized four-poster beds, lavish drapery and textiles, and a soft palette of light blue, green, and brown hues. En-suite bathrooms include claw-foot tubs in suites, walk-in showers, spacious dressing facilities, and plush bathrobes. At Heritage Le Telfair the smallest details are handled with the greatest care, because your comfort, pleasure, and experience are top priority.
Heritage Le Telfair's prime location on Bel Ombre Beach, surrounded by golf clubs, resorts, and the sparkling ocean, means there is always something new to do and see. Not only does the resort include three on-site restaurants and a bar, but with eight surrounding eateries nearby guests can enjoy everything from local favorites to international delights. The resort's spa provides a complete catalogue of treatments that integrate traditional and modern spa therapies, as well as a comprehensive wellness program that focuses on rejuvenating the mind and body. Guests may indulge in a manicure/pedicure combination while pondering a new look ŕ la the on-site hair stylist, or unwind in the vitality pool while troubles drift away amidst the soothing vibration of a bubble bed. Whatever your pleasure, you will find it at Heritage Le Telfair, where nature is valued just as it is, and you are always welcome.
Location of Heritage Le Telfair Golf & Spa Resort
Heritage Le Telfair Golf & Spa Resort
B9 Coastal Road
Bel Ombre, Mauritius
Nearest Airport: MRU
Amenities for Heritage Le Telfair Golf & Spa Resort
General Information
158 Guest Rooms and Suites
Non-Smoking Property
Connecting/Adjoining Rooms
Ecologically Sustainable Practices
Dining
Poolside Dining
Pool Bar
2 Bars
Bar & Lounge
11 Restaurants
Ice Cream Bar
Open-Seating Dining
Oceanfront Dining
Waterfront Dining
Seasonal Restaurant
On-Site Amenities
Beauty Salon
Concierge
Shuttle Service
Spa on Property
Billiards Table
Helicopter Transfers
Library
Fitness Center
WiFi
Currency Exchange Service
Sauna
Garden
Wellness Center
Butler Service
2 Pools and a Children's Pool
Terrace
Hamam
Boutique
Tennis Courts
Limousine Service
Personal Trainers
Beach Club
Car Rental
Lounge
Outdoor Heated Pool
9-Hole Golf Course
Outdoor Whirlpools
Nutrition Programs
18-Hole Golf Course
Pitch & Putt Golf Course
Tennis Academy
In-Room Amenities
Air Conditioning
Bathrobes
Ceiling Fans
Direct Dial Telephones
In-Room Safes
Mini Bar
Satellite Television
iPod Docks
Flat-Screen Televisions
Coffee & Tea Facilities
En-Suite Bathrooms
Espresso Machine
Activities
Bicycling
Cooking Classes
Excursions
Hiking
Sailing
Tennis
Water Skiing
Windsurfing
Wine Tasting
Mountain Biking
Cooking Demonstrations
Scuba Diving
Canoeing
Nature Walks
Tai Chi
Yoga
Boat Excursions
Billiards
Golf Lessons
Wildlife Viewing
Cultural Tours
Table Tennis
Bird Watching
Badminton
Wellness Programs
Kite Surfing
Horseback Riding
Paddleboating
Golf
Beach Soccer
Aqua Fitness
Nature Hikes
Water Sports Programs
Business
Business Center/Services
Meeting Rooms
Conference Facilities
Family
Children's Programs
Cribs
Babysitting
Kids Pool
Kids Club
Highchairs
Teen Center
Children's Amenities
Children's Menus
Teen Activities
Baby Bath Amenities
Strollers
Beach & Pool Toys
Play Area
Arts & Crafts
Baby Amenities
Baby Bathtub
Nearby
Restaurants
Beaches
Public Transportation
Nature Reserve
Interests
Active & Adventure
Beach
Family
Golf
Honeymoons & Romance
Spa & Wellness
Reviews for Heritage Le Telfair Golf & Spa Resort
---
We had a really great celebration of our 25th wedding anniversary. The way all the staff took care was excellent, including room service and restaurants. Everything was in line with our expectation. Thanks to the whole team
SusiAustria67 - Ebreichsdorf, Austria
---
The food wasn't very good, the service was poor, the rooms had a musty smell, the staff were not interested when you had a complain to make. The setting was very nice, the baby sitting was quite efficient.
Marina C - Johannesburg, South Africa
---
I have read some of the other reviews and was so surprised by some of the comments! Someone complained about mozzies and coral on the beach - really? It is Mauritius! This is my second trip to Heritage Le Telfair. I have stayed at 6 other five star hotels in Mauritius on many occasions before I discovered Heritage Le Telfair and I would find it hard to go back to any of the other hotels (which are situated all over the island) as I received service incomparable to the other hotels. I am a vegetarian with a difficult food allergy and every meal was perfectly catered for me. The staff remembered my likes such as having cappuccino after my meal or having fresh lemon with my pancakes and after requesting these sort of things once they automatically supplied this personal service. The standard rooms are large (five of the other five star hotels I have stayed in, standard rooms are a lot smaller). The hotel is very pretty and is on a lovely side of the island. If you are a Kite Surfer this is a good side of the island to be or if you a cyclist like me this corner of the island is perfect as the roads are not that busy and there are lots of options of where you can ride on road and off road. Extras are really expensive (I was on half board) but this is no different at any of the luxury hotels on the island. Yes I could find faults but I can list faults in every hotel I have ever stayed in but my overall impression of this hotel is bliss and I would easily elect to stay at Heritage again.
blakeshelly - Sandton, South Africa
---
We have over 10 years visited 4 times and the last 2 visits within 6 months. We love this hotel as they have got the brand just right. The staff are one of their key best selling points wherever you visit the resort, be it the welcome which is heartfelt and genuine, to the bar & restaurant staff right through to little ladies who weed the golf courses. The 'Gourmet Bliss' package for All Inclusive is absolutely worth it for access to better menus, room mini-bar, branded drinks and buggy with the golf which we play every day we are there. ....you won't be disappointed but you WILL be miffed if you don't do the Gourmet Bliss. We explained it to many travellers who hadn't taken up this option and all wished they had. We travel alot and love a fabulous hotel and the choice of restaurants here is excellent-as is all the range of food they offer. Sports facilities are varied -as much or as little as you want. If you want to go for walks outside the grounds you can do so feeling safe and happy. There is such a huge choice of entertainment, array of facilities, big area for sunbathing- you won't be disappointed. The golf course is absolutely superb- it's a tough course and you WILL loose balls! Greens staff very accommodating. TIP: Book Tee times ahead by email direct to Pro (don't use online option as mine didn't arrive). Le Telfair have got a beautiful hotel....you won't be disappointed! (Alan the butler looked after us superbly, & enjoys a big THANKS from us for his never ending cheerfulness and desire to make our holiday totally without concerns and to ensure maximum enjoyment from our stay!)
Vicki E - North Yorkshire
---
I hate to write a less than glowing review but I this place didn't hit the mark my husband and I and when its such a long trip not cheap I feel i should share our experience for other travellers. The pros: - The place was VERY beautiful; the rooms, the buildings and the pool were all stunning, clean and tidy. - The nearby nature reserve was awesome. We did a quad bike trip to the waterfall and this was our best day at the resort. - Some of the live music in the evening was great - One barry white style guy sang Hallelujah and Tears in heaven with a friend and a guitar and blew us away! - However also some very pitchy singers that made us have to leave the bar. - The cavandish bar was lovely in the evenings. - Some of the staff were very friendly (particularly the Annabellas and cavandish staff and the transfer driver we had was great) - The sea was warm and lovely. - Tennis coach was very good - with half an hour session I felt I had really improved my shots. - The breakfast was very good....but should have soy milk option - so many people are dairy free these days!! The cons: - Beach towels were kept in your rooms so when you went to the pool or beach you had to carry your own large beach towels with you and take them back to the room and place in the bath to be washed. This also meant that if you had a dip in the pool you were then lying on a soggy towel for the rest of the day as there were no new ones to take! A 5 *star accommodation should provide them at the pool or beach. - Not good for vegetarians/vegans. As vegans we literally had no options for us at every restaurant. So as not to be difficult we said we would eat vegetarian but they even struggled to do vegetarian food particular in evening (as there were some salads and pizzas in the day.) They did offer to cook us tomato pasta and then asked us what we wanted them to cook but this made me feel like I was at home having to think up meal ideas etc. I go away to get away from that! - My husband ate some fish some evenings (due to lack of vegan/veggie options) and every time he said it was overcooked and tasteless. Food was generally not great. - The service was very hit and miss in fact some of the staff were a little rude. They didn't seem to know much about any of the activities on offer at concierge, a couple of waiters rolled their eyes when we asked if there were any vegetarian options and at C beach and le palmier restaurant they were also much less friendly than at Annabellas and cavandish. - The food was expensive! When you are paying in rupees you expect it to be cheaper than the UK but it was not. Similar to London prices if not more which adds up when your eating every day. - The butler service was a little random. Our guy was very sweet but painfully shy. Trying to make him smile was like getting blood from a stone and didn't recommend any activities or dining places for us. He visited us every day asking if we were ok when we told him about things that weren't quite right he just looked awkward, so we stopped telling him. - We also had to plead with him for so long to be able to see the menus for the restaurants. Apparently, this was not normally done… so you have to go to dinner not knowing if there will be anything on the menu that you wanted to eat. For us there usually wasn't!! They would do much better having the menus for the restaurant displayed somewhere so we can make an informed choice. The sister hotel next door had much better food but unfortunately these restaurants were often all booked up which was a shame. On the last two days of our 10 day break the head chef prepared special vegetarian meals for us at Annabellas which was very good and high quality (which made me think the food issues were not his fault but his staffs) but we felt rather difficult/uncomfortable having to have this done for us and really there should have more veggie and vegan options at a 5*. - A maid walked in on me in just a towel in my room as she entered the room without knocking. - The majority of the beach was covered in coral so hard to walk bare foot anywhere. - We saw a rat running around in the evening around the restaurant and bar. - We ate at the poolside kitchen area of the restaurant one day and watched as bird relieved himself in the uncovered box of lettuce, that was then serves to costumers. We also saw birds picking food on customers plates before they were sent out…not hygienic enough! - The activities list had no explanations -for example the meditation in nature reserve sounded great but it was 3 hours long and we wanted to know if this was all meditation or if there was a walk too or something (as I am not sure I am at the 3 hours of meditation in one go stage) but no one seemed to know so we didn't go in the end. - Pool service was hit and miss and there are really missing a trick here as our bill would have doubled if they had asked us what drinks we wanted more. You were lucky to get one visit a day from pool side waiters. - We had a couples massage which was a little unprofessional (giving us not long with the 'towel up' privacy to lay down topless etc) and the towels were dirty. - Every evening when we came back to the room it was full of mozzies! My husband got eaten alive every night. We then noticed when cleaning staff were cleaning they left the doors open which is probably the reason the room filled with mozzies. When we told our butler, he suggested that turn on a spray plug in our room but I wasn't keen on spraying in an enclosed space…felt a little toxic! I felt a little annoyed that he couldn't just ask the cleaning staff to shut the room door when servicing the room. - The C beach area feels tacky and not fitting to the rest of the hotel (maybe the service, maybe the blue colour or the amount of sunbeds on the beach…?... anyway it felt a little cheap) - They had sand round half the pool. When I said sand it was actually more like grit! It was painful to walk on and if you are a pool person it if often cos you don't like the sand so I felt this was an error! We travelled to see our friends in the Lux Bel Mare one night and we felt this place was had got it right. It was beautiful but also they had great extras like a beach cinema, fireworks in evening , no mozzies anywhere (as apparently they spray every night), the staff that were so helpful and went above and beyond for us and our friends and the food was fantastic (a full vegetarian and even vegan menu!) so I would recommend this to anyone looking for a holiday in Mauritius until the Heritage work on consistency and a few other things. Overall the service and food at Heritage Le Telfair didn't feel like a 5 star. However, I do feel with a few tweaks in management of staff and the service this place could be very special, as it is so pretty! I should also mention that we didn't use the golf area (which did look fabulous) so if you're going for good golf courses this may still be the place for you.
katieemmadavison - London, United Kingdom
---