Please select your dates to see prices:
---
The Sagamore Resort in Bolton Landing, New York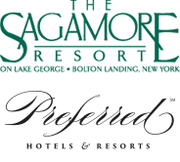 Over one hundred years of notable hospitality has beckoned travelers to the Victorian era walls of The Sagamore Resort, perched on Bolton Landing in New York. While the lodgings may be historic, everything about your destination is modern and unique. Unobstructed views of Lake George offer luscious comforts, surrounded by beauty in a truly serene environment. Venture to the Adirondack Mountains for a breath of fresh air, and endless opportunities for active pursuits. A game of tennis, jet ski on the lake, or complimentary fitness class will keep you in check. There are over 20 beautiful lakes in this vacation paradise, with The Sagamore Resort at the center of it all.
A tantalizing collection of 6 restaurants are scattered throughout the resort. Superb options are a staple at this Preferred Hotels & Resorts property, part of the Preferred Hotel Group. From fine dining to the classic pub, everything can be enjoyed lakeside, making your vacation that much sweeter. During the day, a beautiful hillside golf course is yours to explore. Honored by Golf Magazine as one of its Silver Medal Resorts, a recent $75 million restoration enhanced the legendary blueprint of each hole. Enjoy the classics, on a truly innovative escape to The Sagamore Resort.
Location of The Sagamore Resort
The Sagamore Resort
110 Sagamore Road
12814
Bolton Landing, New York
Nearest Airport: ALB
Amenities for The Sagamore Resort
General Information
350 Guest Rooms
Dining
Poolside Dining
Pool Bar
6 Restaurants
Room Service
Bar & Lounge
On-Site Amenities
Beauty Salon
Concierge
Spa on Property
Hiking Trails
Gift Shop
Walking Trails
Fitness Center
Private Beach
WiFi
Game Room
Garden
Terrace
Indoor Pool
Valet Parking
Complimentary Parking
Outdoor Pool
Tennis Courts
Clubhouse
18-Hole Golf Course
Health Club
In-Room Amenities
Turndown Service
Air Conditioning
Bathrobes
CD Players
Direct Dial Telephones
Hair Dryers
In-Room Safes
Televisions
Iron/Ironing Boards
Coffee & Tea Facilities
Activities
Bicycling
Croquet
Fishing
Hiking
Kayaking
Tennis
Water Skiing
Mountain Biking
Canoeing
Nature Walks
Boat Excursions
White Water River Rafting
Golf Lessons
Basketball
Fitness Classes
Table Tennis
Mini Golf
Cross Country Skiing
Volleyball
Boating
Business
Meeting Rooms
Business Center
Conference Facilities
Family
Children's Programs
Cribs
Babysitting
Kids Pool
Kids Club
Playground
Arts & Crafts
Nearby
Shopping
Train Station
Beach
Golf
Marina
Amusement Parks
Interests
Active & Adventure
Family
Golf
Reviews for The Sagamore Resort
---
I was putting off writing this review because I filled out their survey and gave negative marks but wasn't contacted except by the Sales department so they could send me a brochure. So I'll put it up here. We booked 2 nights last week for 2 adults and 1 child, 9 years old. This is our 3rd visit to the Sagamore. The most recent being 2 Christmas' ago. When we arrived on Thursday, we were greeted by the Valet, Scott, who was very friendly. We checked in rather quickly and found our room fine. The room was great. Separate living area and bedroom. I had a spa treatment that was wonderful!! That's where the positives end unfortunately. We went to the pool where there was not a single other person. Ok fine. We got dressed for dinner and went to Mr. Brown's Pub. We were the only ones in the place. The waitress seemed annoyed that she had to come over and greet us. She gave us a limited menu with 5 items on it. When we asked for a kids menu we were told there wasn't one and that they were mainly open for a conference. We knew there was a conference but didn't know they would only be catering to them. The waitress said she would check if they could make our son some chicken nuggets. My husband went to the front desk to talk to a manager. After 10 minutes the waitress didn't come back so I went up to find my husband. He was still waiting for a manager. Kerry came to talk to him soon after that. I approached as well and my husband said to me "The Rec is closed and the pool wasn't technically open". This was the deal breaker for us!! We were headed to the Rec after dinner. I told Kerry we would not being staying Friday night, we were not told you were only open for the conferences. She understood and said they would credit us for the night. Let me back up a bit and say I had booked a sitter for Friday night earlier in the week. When I inquired on what the sitter was allowed to do with my son, I was told they could go to the pool or The Rec!! How was that supposed to happen if they were closed?? The shuttle did take us into town to eat dinner and picked us up. We had breakfast the next morning in the main restaurant and it was generally good except it took 3 tries to get a hot cup of coffee. The waiter was very accommodating. At check out, I was told there would be a credit to my debit card within 7-10 days for the Friday night we didn't stay (it hit within 3 days) but I was not offered any other apology or credit. The front desk person knew I was going to the Spa. In the end, I don't think we'll return to The Sagamore. It was a Birthday Celebration for me that didn't turn into any Celebration, just packing up to move again on Friday. My hope is that management will advise their staff to let people know that they are open for conferences and not the general public.
melissa c - Hartford, Connecticut
---
TomG and his staff are under pressure to deliver service with as much class and style as the property itself, and they really come through. This is a resort oasis away from the village of LG, providing a little breathing space and luxury from it's whimsical neighbor. With plenty of restaurant and pool options on-property (along with a great golf course) ... the Sagamore is a must visit if you're in the area.
---
My wife and I chose to spend the weekend following our wedding at The Sagamore due to its on site amenities and close proximity to home. We purchased a spa package that included a breakfast buffet both morning of our stay, and two massages at their spa on site.I will start with the good: The spa was excellent. The staff were unbelievably kind and professional. Our massages were amazing and enjoying the sauna and steam room afterwords was incredible. Our king bed room was comfortable and nice, the thermostat was very responsive which is always nice! Now the not so good: We were not surprised when we arrived to be one of the few regular guests on sit. There was a large conference group using the conference center. Because of this group is seemed our stay was impacted negatively. We were told when we arrived that the Rec Room which was a major attraction when we booked, wouldnt be available all weekend as the conference was using it. We had specifically asked when booking on the phone about this and were assured it'd be available. Second, our breakfast buffet that came with our stay, not available, we were instructed to order a la carte and enjoy!......but then were slapped with overage charges at checkout. Eventually these were removed but only after i went line by line on our bill. Also we were charged for a restaurant check that was from the day BEFORE we checked in, at first they told us, "well it had your name on it", eventually after we reminded them we werent at the hotel until 24 hrs later, they removed it. The pool area was dirty when we visited with towels on almost every chair, Mister Brown's was closed all weekend, another misinformation bit we got from the reservations folks. And last but certainly not least, we were treated to the loud blaring sounds of a delivery truck almost on the hour all weekend, but most notably at hours around 11-11:30pm, 7:00am, etc. it woke us multiple times. We expressed some of our dissatisfaction to the front desk on saturday night. There was no follow up, and our check out was a 20 minute process disputing all the extra charges. No follow up on our saturday evening conversation with the front desk. All in all, this was not the experience we thought we'd encounter when staying at the premier resort on Lake George.
William S - Albany, New York
---
Ok so I am giving the sagamore resort 5 stars. Not because of its new fancy digs, superior accommodations, or it's trendiness. The best way to describe this resort is something right out of dirty dancing. Located in the adirondaks, the quaint village, beautiful scenery and old fashioned accommodations bring you back to a simpler time. Ditch the cell phones and revel in a Norman Rockwell experience. Visiting from NYC it was such a beautiful reminder of how life used to be and should be. It's a vacation not about things, but about an experience. I will be going back with my family in the future. Enjoy!
camwow - New York City, New York
---
My Husband and I try to get here once a year for a getaway- We love this Resort. There is so much to do, the view of the lake is incredible the food is great. The rooms are nice and clean and the staff is wonderful -- we have never had a bad experience here
CACE232 - Cranford, New Jersey
---