Please select your dates to see prices:
---
Tulip House Boutique Hotel in Bratislava, Slovakia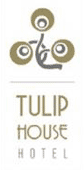 Follow along the beautiful banks of the Danube River to find a profoundly wonderful confluence of the Medieval and the modern in Bratislava and the Tulip House Boutique Hotel. Like the Slovakian capital city itself this stunning hotel has a refined elegance that gives way to contemporary sophistication. Enter into spacious apartment-style suites, complete with full kitchens and bathrooms with heated floors, and relax in a space that is bright and warm with a simple, uncluttered form. Dark wood furniture contrasts brilliantly with flowing white walls and earth toned accents, while banks of picture windows brighten each room with natural light. Plush stylish beds and couches move with the shape of the room, and are as elegant as the gleaming wood floor they are set on. Right between the historic center and new wonders of the city, both literally and figuratively, the Tulip House Boutique Hotel is a true gem in the gorgeous city of Bratislava.
Start the day out with an invigorating workout at the fitness center or a relaxing massage and turkish bath at the Tulip Spa. Venture out to explore the historic side of the city, stopping at Bratislava Castle, built in the 16th century and housing fascinating exhibitions. See where the Kingdom of Hungary held coronations at the Cathedral of St. Martin, and browse the vibrant collection of tapestries at the 18th century Primates Palace. Stroll across the Nový Most, or New Bridge, and stop in for lunch at the saucer-shaped UFO Restaurant, soaring 90 meters overhead, then stop in at the Bratislava City Museum to marvel at the art, archaeology, and culture of Slovakia. In the afternoon take a relaxing canoe trip on the branches of the Danube, or head out for a thrilling whitewater rafting safari starting in nearby Cunovo. Play an evening round at the Golf and Country Club Bratislava, with fabulous mountain vistas from the Park and Black River courses, before returning to the hotel for an elegant evening. Enthrall your palate with masterfully crafted French cuisine and traditional Slovakian favorites at Rhapsody City Restaurant, with a sommelier paired glass of wine, and relax into the night, imagining your next fabulous day at the Tulip House Boutique Hotel.
Location of Tulip House Boutique Hotel
Tulip House Boutique Hotel
Sturova 10
Bratislava, Slovakia
Nearest Airport: BTS
Amenities for Tulip House Boutique Hotel
General Information
28 Suites
On-Site Amenities
Shoe Shine Service
Fitness Center
Sauna
High-Speed Internet Access
Terrace
Hamam
In-Room Amenities
Turndown Service
Air Conditioning
Bathrobes
Direct Dial Telephones
Hair Dryers
In-Room Safes
Mini Bar
Flat-Screen Televisions
Coffee & Tea Facilities
Pillow Menu
Heated Floors
Business
Meeting Rooms
Business Center
Nearby
Historic Sites
Shopping
Restaurants
Theatres
Interests
Culture & Arts
Holiday Hotel Deals
Reviews for Tulip House Boutique Hotel
---
Lovely hotel right in the heart off the capital. Booked the executive suite which was massive, all the usual things you'd expect, slippers, dressing gown and so forth. Spa area only had the sauna working and the jacuzzi was broke but at the extra cost off €20 for 2hrs private hire I gave it a miss. The gym was a reasonable gym with 2 treadmills and a couple of other cardio machines, good weight machines and a bench press also a free standing bench that could incline and a good selection of free weights, I was in there at 5:30 am as it's 24hr open, quite small,don't think more then 3 people in there would be comfortable, the room temperature was way to hot for a gym though, and the bench press is under a bright light so not to good when you've finished your reps and can't see. Breakfast looks good but is only alright which is a shame as the breakfast room is a really nice place to sit.
---
Very nice furnished hotel with very spacious rooms. The staff throughout the hotel is very friendly and keen to enhance your stay. The breakfast which was included in our offer was very good. There is also a small private SPA which we did not use since the Whirlpool is under maintainance at the moment. The rooms are very well isolated. However, I would recommend to ask for the highest possible floor because the street in front of the hotel is quite frequented. The restaurant team is very friendly and the food for dinner delicious. The hotel is very central which enables you to visit all attractions in a few minute. We would definitely return. Best prices in Bratislava!
---
The staff at this hotel was truly exceptional. They were always present, smiling, and willing to answer any questions you had. When I checked in, the gentleman who helped me with my bags made sure I knew how to access the in room safe and get the wifi working before he left. When I asked for directions, the wonderful lady at the front desk not only gave me walking directions, but also directions to a bus stop along with the bus number and made change for me for the fare. When I had a very small breakfast on one morning, the woman working made sure to let me know that they had a menu of more breakfast items in case the buffet wasn't to my liking. Really every member of the staff went above and beyond. The rooms were extremely large and had everything you could possibly need in them. The location was amazing. I could walk everywhere I needed to go and it was right across the street from a tram station. The hotel was perfect, except for the most important thing (in my opinion): the bed. Unfortunately, the bed was extremely uncomfortable and made it rather difficult to get a good night's sleep. My room was also located right over a bar that played loud music until maybe 1AM one night and that paired with the most uncomfortable bed I've ever slept in meant that the hotel didn't really serve it's main purpose for me. Given the choice, I probably wouldn't return. However, as everything else was exceptional, I'm sure there are many other people who would absolutely love a stay at the Roset.
---
I have travelled a lot and this hotel is one of the very best I have been in. From the moment I stepped inside this beautiful hotel I knew it was going to be a perfect break. The hotel was very clean, the room was so spacious and very comfortable and the spa was fabulous. An excellent hotel, top service, and perfect location. Staff was very helpful and friendly. The suite was incredible with a top bathroom. Everything there was perfect. Thank you for treating us so kindly and making our stay one to remember. The champagne and dessert was such a lovely surprise. Thank you for a memorable stay, can't wait to come again. I highly recommend it! Mojca
dreambigneverstop - Maribor, Slovenia
---
We stayed 2 nights in a huge room. Nice welcome but thats all. We found a lot of dust on the door frame and on the desk. The cleanliness shoud improve. Breakfast was average, we expected much more. Bed is not very comfy. Overall its just an average expensive hotel.
Gary H - Bratislava, Slovakia
---