Please select your dates to see prices:
---
Ocean Edge Resort & Golf Club in Brewster, Massachusetts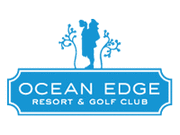 At the turn of the 20th Century, the original mansion of Ocean Edge Resort & Golf Club was home to prominent Brewster businessman Samuel Nickerson and hosted lavish soirées for New England society. Today it's a well-groomed resort for guests who appreciate a country club ambience with historic flair: The carved busts of Shakespearean characters preside over the lobby, while leaded glass windows and terraces overlook the Bay. The mansion rooms are cozy, with a marble fireplace to warm up chilly nights, while spacious one- to three-bedroom villas sidle up to the golf course.
Rent a bike to navigate the 26-mile trail through scrubby beach trees and wild roses to the Cape Cod National Seashore. Listen to the lonesome call of a foghorn at sea while walking along receding tides toward the lighthouse. Dig into a lunchtime plate of buttered lobster and battered flounder. Sip on the peninsula's namesake cranberry-and-vodka cocktail on a breezy mansion terrace.
Location of Ocean Edge Resort & Golf Club
Ocean Edge Resort & Golf Club
2907 Main Street
02631
Brewster, Massachusetts
Nearest Airport: BOS
Amenities for Ocean Edge Resort & Golf Club
338 Rooms & Suites
Pets Not Permitted
Individually Designed Rooms
Private Terraces
Private Beach
2 Indoor Pools
18-hole Golf Course
Golf Academy
Tennis Academy
3 Restaurants
Bicycle Rental
Croquet
Pilates
Yoga
Ecological Excursions
Nature Walks
Basketball
Badminton
Volleyball
Conference Facilities
Catering Services
Children's Programs
Teen Activities
Kids Club
Kids Pool
Wedding Planning Services
Reviews for Ocean Edge Resort & Golf Club
---
This resort should be ashamed about the way they handled a recent hockey tournament cancellation after partnering with the tournament. There was a major noreaster storm and the tournament had to be cancelled. Conditions on Cape Cod were UNSAFE. Yet, when asked to check out early and escape the dangerous storm, the management decided to keep with their cancellation policy and NOT refund anyone. In a sense they are taking money out of our childrens pockets behaving in this fashion. I highly recommend taking your vacation budget to a different provider...
---
If you are looking for a GREAT time at Cape Cod visit the Villages at Ocean Edge. The Mansion with its view of Cape Cod Bay is something you will always remember. Dining is great and the staff is very accommodating.
Joseph A - Torrington, Connecticut
---
Great place for families to stay in the off-season. We stayed in 41C in the Arbor Villas from Thursday to Saturday for a local hockey tournament. Was great for what we needed that wkend - family of 4, 2 adults, 2 kids (8 and 11 yrs old). Small kitchen with a small coffeemaker. Sofa bed in the living area for the kids to sleep. Queen bed in the 1 bedroom with a big closet. Bathroom had a hair dryer and a few small toiletries - shampoo, bar soap, conditioner and lotion. The back deck has a nice view of the golf course and had stairs in the back to also exit down. We had families below us and next to us and it was still quiet. Couldn't really hear them with our door closed. We also used the Fletcher pool. Great size pool with a hot tub, but only 16 and older guests can use the hot tub, FYI!
Stephanie F - Boston, Massachusetts
---
We ferried across from Boston to Provincetown for a short break before heading to New York . We got the bus at the end of the pier and were taken to ocean village . On arrival the staff were attentive , booked us in efficiently to our lodge and arranged a transfer bus to take us across the site ( which is sizeable ! ) . The bus drivers were friendly and told us all about the village and where to visit . The accommodation was spotless ! So clean, spacious and well maintained - perfect for a few days away . The first day was a little windy but we managed to get to the beach bar and admire the vast ocean - a must to see ! Day 2 we enjoyed one if the pools and the September sunshine - a great place to chill . Day 3 brought rain, but this did not dampen our spirits ! We enjoyed a stroll and a glass of wine at the Manor House with our first try of local oysters ... delicious . The restaurants are offer great choice from snacks to a la carte dining . Perfect oasis before heading off to NYC
annemariej730 - Liverpool, United Kingdom
---
We had booked this via a travel agent and did not have a high expectation, but we were pleasantly surprised. We saw the niggles about the resort fee but ours was included within the cost. The location is great, the service is good and the facilities are excellent. The condo was very nice and well equipped (bar the kitchen which could have had a few more utensils). The tennis pros were very good, running trails excellent and the local restaurants and coffee shops were excellent. getting the Brewster beach passes was also easy from the front desk. The kids loved it and we would go again.
---