Please select your dates to see prices:
---
Ocean Edge Resort & Golf Club in Brewster, Massachusetts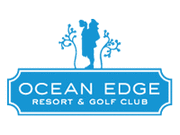 At the turn of the 20th Century, the original mansion of Ocean Edge Resort & Golf Club was home to prominent Brewster businessman Samuel Nickerson and hosted lavish soirées for New England society. Today it's a well-groomed resort for guests who appreciate a country club ambience with historic flair: The carved busts of Shakespearean characters preside over the lobby, while leaded glass windows and terraces overlook the Bay. The mansion rooms are cozy, with a marble fireplace to warm up chilly nights, while spacious one- to three-bedroom villas sidle up to the golf course.
Rent a bike to navigate the 26-mile trail through scrubby beach trees and wild roses to the Cape Cod National Seashore. Listen to the lonesome call of a foghorn at sea while walking along receding tides toward the lighthouse. Dig into a lunchtime plate of buttered lobster and battered flounder. Sip on the peninsula's namesake cranberry-and-vodka cocktail on a breezy mansion terrace.
Location of Ocean Edge Resort & Golf Club
Ocean Edge Resort & Golf Club
2907 Main Street
02631
Brewster, Massachusetts
Nearest Airport: BOS
Amenities for Ocean Edge Resort & Golf Club
338 Rooms & Suites
Pets Not Permitted
Individually Designed Rooms
Private Terraces
Private Beach
2 Indoor Pools
18-hole Golf Course
Golf Academy
Tennis Academy
3 Restaurants
Bicycle Rental
Croquet
Pilates
Yoga
Ecological Excursions
Nature Walks
Basketball
Badminton
Volleyball
Conference Facilities
Catering Services
Children's Programs
Teen Activities
Kids Club
Kids Pool
Wedding Planning Services
Reviews for Ocean Edge Resort & Golf Club
---
Took my wife and 11 month old for a weekend getaway and had a great time. Friendly staff, clean rooms, and beautiful resort. Would absolutely recommend to anyone looking for a relaxing, quiet getaway even with a family. I only wish I had more time to experience more of the amenities available to us.
---
I purchased a Groupon voucher for $103 to stay for one night at The Villages at Ocean Edge. When checking in on May 13, 2018 (Mother's Day) at The Mansion, we were pointed to drive just up the road (6A) and across the street to a one bedroom room at Britterige Village. Our room was nice. The bedroom had a Queen bed and was located just off the living room. The living room had a pullout sofa that could sleep another 2 persons, but there were only two of us. The suite had a kitchen including a full size refrigerator, microwave oven, and stove top. We did not take advantage of the onsite amenities or eat at any of the restaurants on site. We were busy out about the town for most of the day. Had we wanted to, we could have taken the time to enjoy the pools, beach, golfing, sports club, bike path, etc... We enjoyed our stay and would stay here again. We were charged at $27.93 resort fee on check out day.
William E - Boston, Massachusetts
---
Purchased through Groupon. Good size room. Hairdryer did not work. Kitchen utensils/cookware limited. Beautiful grounds and friendly, helpful staff. Rented 3 speed bicycles which are very very slow. Mansion is beautiful and charge $25/day resort fee which includes parking. Would stay again, especially with private access to beach!
JTharnish - Buffalo, New York
---
I came here for a business conference. The staff was friendly, polite an professional. The accommodations were spacious and clean and there is a shuttle that runs to the beaches and between the main location and village. The bike path is right on the property. Very convenient. It was too early in the season to kayak or paddle board,but there seem to be limitless activities. I'd love to come back in the summer with my family.
lisa newport w - Newport, Rhode Island
---
Stayed in the Britterige Village last week with my family, the resort is absolutely beautiful. The private beach is gorgeous, the room is nice and clean, and so does the food as well. Staffs were friendly, speaking Chinese with Sun at the desk made us felt like we were home. He also help us with direction, recommended us where to go in this area which was very helpful. It was a pity that we came off season and the weather was good enough so there are not many activities that we can do at the resort. Will definitely come back around summer time!
YY-Mai - Boston, Massachusetts
---