Please select your dates to see prices:
---
St. George Residence in Budapest, Hungary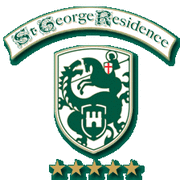 Built on medieval foundations in the heart of Budapest's UNESCO World Heritage district, St. George Residence captures the romance to days of gone by. This Hungarian treasure boasts just 26 extravagant suites, and public spaces whose stunning frescoed décor enhances the beautifully reconstructed Baroque architecture. Experience exclusive tranquility at the Blue Bird Restaurant and Café where their chef, a three time Oscar Prize winner, offers original cuisine enriched with international cooking and local Hungarian traditions. At the exceptional St. George Residence, you'll discover a hotel that revives the fine art of hospitality.
Tucked within the Budavar District, which contains the Royal Palace, Old Town and Castle Hill, this historic lodging enjoys a sublime location. You can stroll along cobbled streets to antique shops, cafés and restaurants, as well as the House of Hungarian Wines. Explore the natural water-carved caverns of the Labyrinth that runs beneath the Castle District, or climb to Toth Arpad Promenade for breathtaking views. Following a day trip to swim in Europe's largest thermal lake, take some time to explore the Wine Cellar and reflect on the Budapest experience that only St. George Residence can give you.
Location of St. George Residence
St. George Residence
Fortuna Street 4
1014
Budapest, Hungary
Nearest Airport: BUD
Amenities for St. George Residence
General Information
26 Suites
Dining
Restaurant
24-Hour Room Service
Cafe
Bar
On-Site Amenities
Concierge
High-Speed Internet Access
Multilingual Staff
In-Room Amenities
Turndown Service
Air Conditioning
Hair Dryers
In-Room Safes
Mini Bar
Flat-Screen Televisions
Fully-Equipped Kitchens
Nearby
Historic Sites
Museums
Restaurants
Hot Springs
Interests
City
Summer Getaways
Reviews for St. George Residence
---
Listed with five stars, this location would not get more than 3 in my opinion. Yes, only suits are offered, clean and specious. Yes, the building is about 700 years old. But that is it. Every single peace of "antiques" is fake. And every piece of furniture is overdone, apparently manufactured in some Arabien, Muslim country without any knowledge of the European heritage. Same crap in the restaurant, which serves cold food and overpriced local wines. The worst is breakfast. No chance for a decent coffee, nor tea! No variety of some kind. Noisy from refrigerators and a lousy coffee machine. No amenities, whatsoever; no pool, no sauna, no bar no lounge.
Hans-Eckart - Berlin, Germany
---
Stayed for two nights on a business trip. Located in the historical buda side of the city and the hotel itself certainly wreaks culture and history. They are all suites for their rooms and mine was fantastic, perhaps too big and also lacked a sofa in the living areas. The hotel is certainly 5 star and has so much potential but breakfast, service and amenities are at most a 3 star hotel. The staff were lovely but personally, simple requests where a burden and not something you would expect in a five star hotel ( deliver an iron, replenish coffee, breakfast was appalling)
---
Our first visit to Budapest and have throughly enjoyed our stay at this lovely hotel. Although just a little a few things which could have been better. Breakfast was very basic and not enough choice of different breads, fruits and not even English tea bags which I always expect in a 5 star hotel. The room we were in was absolutely lovely very spacious and clean with daily maid service. We were in the Buda area which is a little quiet in the evenings and only few restaurants at walking distance. Need to get a taxi to go to Pest on the other side of the Danube. All in all a very pleasant stay and would definitely come back. Fairly cheap to eat out and cheaper taxi service than London and public transport also easy to follow. No Uber service available in Budapest.
pr2701 - London, United Kingdom
---
Historic building in a great location on the Buda side. Many fine public room features, including a cannon ball wedged in a wall, but as a hotel needs refreshing. Room/suite enormous but huge bathroom and no shower. Camp beds. Breakfast very poor with nothing suitable for the careful eater.
ranger12017 - London, United Kingdom
---
We had our travel agent book a room for us in Budapest as we unexpectedly had to return home after completing the river cruise portion of our vacation. What a lovely choice she made. This is a 700+ year old building that has been restored but retained it's old world charm of marble floors in the hall and stairway (no elevator) spacious rooms with high ceilings, Chippendale (?) furniture. The daytime concierge/reception was an amazing lady that went above and beyond for us. The day before we were to check in our cruise tour took us up to the castle district in Buda and we were able to check out the hotel. We asked how we could organize for transportation to the airport an she she advised she could arrange that for us with a shuttle service they use. When we checked in the next morning she greeted us by name and the transportation was all arranged. I had technical difficulties with getting our boarding passes done on-line and went downstairs to see if she could assist. Even when I was ready to give up she said no I think we can still figure this out and she did. We felt that staying at this hotel was a wonderful experience that you don't get with our modern ones. I was so taken with it architecturally that I did a walking video through the halls and our room to capture it. There is also a lovely courtyard that in the summer would be a lovely place sit and enjoy a drink and relax.
_daltonmain - Kelowna, Canada
---