Please select your dates to see prices:
---
Kimberley Sands Resort & Spa in Cable Beach, Australia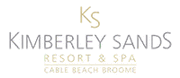 Brilliant skies stretch over sugar white sands, azure waters of the Indian Ocean lap at the shores of Broome, and Kimberley Sands Resort & Spa offers a private oasis in picturesque Western Australia. Along gorgeous Cable Beach, this hotel invites you to soak in the sunshine, experience authentic Australian luxury, and enjoy the natural splendor of the coast. Gorgeous rooms are crafted with simple elegance, blending beachside tranquility with modern amenities. Take in the breathtaking view from your private balcony, enjoy the romantic marble bathroom and shower for two, and dream in deeply plush king-sized beds each night. Bright, airy and possessing a spectacular ambiance, Pinctada Cable Beach Resort and Spa will sweep you off your feet and introduce you to the wonders of Australia's western coast.
As the sun warms the sea, make your way to Pinctada Spa for an amazing massage that will leave you refreshed and ready to seize the day. Stroll down to pristine Cable Beach and stretch out on sun-kissed sands. When it comes time to cool off, dip into the ocean, kayak along the coast, or take some surfing or kite-surfing lessons. Take a dive trip to Rowley Shoals where vibrant coral gardens captivate the imagination, or tour pearl farms to learn about harvesting some of the world's finest natural gems. In the evening, enjoy wine tasting at nearby vineyards—where wine is crafted from mangoes—and savor a true taste of Western Australia. As the sun sets magically over the coast, dine at Selene Brasserie, where flavors from around the globe inspire the palate and delight the mind. As the stars sparkle over the Indian Ocean, enjoy a nightcap at Nyx Bar, and sink into the supreme comfort of Kimberley Sands Resort & Spa.
Location of Kimberley Sands Resort & Spa
Kimberley Sands Resort & Spa
10 Murray Road
6725
Cable Beach, Australia
Nearest Airport: BME
Amenities for Kimberley Sands Resort & Spa
General Information
72 Guest Rooms
Dining
Outdoor Dining
2 Restaurants
Pool Bar
Bar
On-Site Amenities
Spa on Property
Fitness Center
Outdoor Pool
Gardens
In-Room Amenities
Turndown Service
Air Conditioning
Ceiling Fans
Direct Dial Telephones
Hair Dryers
In-Room Safes
Satellite Television
iPod Docks
Iron/Ironing Boards
Marble Bathrooms
Flat-Screen Televisions
Coffee & Tea Facilities
Nearby
Shopping
National Parks
Art Galleries
Beach
Interests
Active & Adventure
Beach
Educational
Reviews for Kimberley Sands Resort & Spa
---
All in all I had a comfortable stay and got a good deal, however advertising the Kimberley Sands as a five star resort really borders on false advertisement… They might have achieved this status at some point, but they are certainly not keeping it up. I feel really sorry for guests who pay over $300 to stay here for a night expecting a five star experience, they must get really disappointed... I also would like to mention first up that the responses to previous reviews here are ridiculous and dishonest. They pretend to care but they are obviously not changing anything, and all of the issues are known. So please don't even bother responding to this review if you don't have anything productive to say. Some of the main issues include: - The Wifi: It is not working properly (sometimes not at all), and the staff are aware of that. When I asked for the login details I was told by a girl at reception "it drops in and out, it's not the best, but I can give you the password". I understand if connectivity at Cable Beach is a challenge, however, don't advertise free WiFi if it is so unreliable. I needed to work online and it took me way too long because I constantly had to wait for the internet to work. Moreover others have complained about this on TripAdvisor before, and the Kimberley Sands responded that the issue has been fixed. Clearly not! - Tired facilities/ maintenance: The premises including pool and gardens look tired and neglected, dust and leaves are everywhere, and the outside furniture looks filthy. Half of the washing machines in the laundry are out of service, and the others don't look very trustworthy (that's at $5 per wash). I also couldn't leave my balcony doors open during the entire duration of my stay (5 nights), because the screen doors were broken and there was a gap that would have left all the mosquitoes and sand flies in, which were horrendous at the time. I told Shana at reception about this issue, and she said she would send someone to fix it in the morning, of course that never happened! The treadmill at the gym didn't seem to work either and there was no staff to be found to help. - Air conditioners: The air conditioners in the rooms are constantly failing, and so did mine. The maintenance staff told me that it is a constant issue because the resort doesn't invest in them when they should. Again it's obvious from previous reviews that it keeps happening. When my air conditioner failed, I had maintenance staff in and out of my room all day long up until 5pm, hardly a relaxing resort experience. No one told me what was going on and they just kept knocking on my door. At one point someone even came in while I was in the shower with a do not disturb sign on the door! I paid for my room and should be able to use it on privacy. - Customer service: The reception by Shana was rather cold and matter of factly, a bit more like you would expect when paying for your fuel than checking in at a 5 star resort. She showed me where my room was on a map, however did not mention that it was on the second floor or that there was an elevator. I searched for my room for a while until I figured out where it was, and then carried my heavy bag up the stairs with a knee injury. During my stay I also saw other guests walking around the property searching for their rooms. When this resort was still managed by Pinctada, we were shown to our room and our luggage was carried for us. - Pool: When the resort is busy the pool area is too small and there aren't enough sun beds, the area is not appropriate for the number of rooms. You can only use the pool until 6pm which I think is a bit early, and I assume it is because they do not want their dinner guests at the Deck Bar/ Restaurant to be disturbed. I think the resort guests should come first. Restaurant guests seem to be able to use the pool during the day. When I was there a family with four children who were obviously locals were using the pool and the children were basically taking over the whole area and making a heap of noise without any staff saying anything. In summary, this is a nice place to crash if you are mostly out during the day and if you get a good deal. However if you wish to relax at a resort, I would recommend other options. I stayed at the Bali Hai next door a few times, and the Billie once, and would recommend them over the Kimberley Sands by far. It certainly does not come close to fulfilling the expectation of a five star resort, it's more like a three star hotel.
SonjaAlina - Darwin, Australia
---
We spoilt ourselves for my husband's 40th to stay in a 5 star hotel. It was not cheap. A lovely looking resort and fantastic food. However room full of dust and cobwebs, advised them about this on the first day, second day and third day and nothing was done about it - even though I advised them I am highly allergic to dust. Balcony door did not lock and aircon kept switching off with error. Really not acceptable for 5 star and for the price you are paying. Interesting reading previous reviews this seems to be ongoing and clearly they do not care too much to fix these problems - a shame really.
DeidreHattingh - Geraldton, Australia
---
Nice resort with a peasant vibe and friendly staff. Good pool with room to swim laps. Large comfortable rooms. There was plenty of space for parking and an easy drive to the beach or town centre in our hire car. It would be difficult without your own vehicle as too far to walk. We would have appreciated a toaster in the room. The air conditioning was too cold and the lights a bit dim.
isbi2014 - Blackheath, Australia
---
Arrived at the hotel everything seemed good until the day progressed; doors banging hard which was really annoying also my balcony door would not lock. By 19:30pm I went down to reception and explained to Shane the situation which he totally understood and came up to my room to see if he could lock it which he was unable to do as well; so he agreed to move me to another room. As he entered the room he realised it was already occupied even thou the computer system showed him it was vacant so then I waited for another room which took about 10 minutes. I went into the room and realised the balcony door was not locked and the lever to lock it was broken; yet again I contacted Shane and got moved again into a disability room; not impressed considering the phone wasn't working; Shane explained he will communicate to his manager Sangeeta whom was on the morning shift and to go and see her in the morning to be put in yet another room; bare in mind this all happened on my 1st day! The next morning I went to reception and Sangeeta made out she was unaware of my situation; I got No Apology from her and she seemed annoyed that I had approached her as well as calling her by her name!!! She asked how I knew her name in a very rude way! Told her Shane told me because I asked for the managers name. Sangeeta told me to wait until a room became available considering the hotel was not at its peak. I waited almost 5 hours. I was then given my next room which by now I was totally fed up. The door banged loud every time I opened or closed it but I just gave up on going to the reception due to Sangeeta's attitude. For the rest of my stay I didn't have much to do with reception apart from when I needed assistance but I only went when Sangeeta wasn't around. The staff in the restaurant were very welcoming I couldn't fault them at all they were all awesome very friendly and made me very comfortable. The washing machines really do need replacing; I put a wash in and food stains still on my clothing after a cycle what a waste of money. I wouldn't recommend this accommodation to anyone especially after no apology from the so called manager and her attitude; very fake!!!!!!! Also to top it of No Internet Access during my stay and Lift broke 2 days before my departure.
travelers147 - Hamilton Island, Australia
---
We stayed for 2 nights in a deluxe room and enjoyed our time here. The staff is very warm and friendly, the setting is extremely relaxed. We sampled the dinner menu and had their degustation paired with wines which we were very impressed by and was comparable in value and quality to that in Perth where we live. Breakfast continental buffet is quite limited but the food was fresh and coffee delicious. The second morning we opted for something off the menu and it was very nice, better value than the buffet I believe- however, would be nice if the buffet was included with an off the menu item as adding an extra $15 per person is a bit steep. The day spa- was A-M-A-Z-I-N-G, I have had massages all over the world and very few have relaxed me the way that this did.. girls my husband and I raved about your awesome magical hands all the way home! Pool, it is very nice temperature for the humidity, cool but not cold.. there is some maintenance that needs to be done, and the spa was out of order- not a great look seeing taped off areas but not enough to stop me from swimming. Probably visually the only let down in the place. Was just a walk down from the Divers Tavern which was nice for a Sunday bite and a couple of quiet ones, we went on Friday afternoon which was packed but the beach bar was nice and subdued for an alternative. All up- great location, good service and we definitely would return again. Value for money I say
Ozzietravella - Perth, Australia
---