Please select your dates to see prices:
---
The Cape, a Thompson Hotel in Cabo San Lucas, Mexico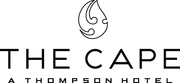 The Cape, a Thompson Hotel, is redefining the coastline of Los Cabos. Open in June 2015, there's no trace of the traditional Mexican beach resort. Sleek architectural lines eschew Spanish tile, and the rooftop bar channels New York City with a tropical vibe. The hotel is still distinctly Mexico – ceramicist José Noé Suro contributed contemporary art pieces, and hand-painted tile appears throughout the property. Arrive to a room dressed in bespoke Latin American furniture and accessorized with special touches – there's a tequila welcome gift and a set of binoculars for spying on whales, which frequent the waters surrounding the Baja Peninsula.
Lounge in the Los Cabos sun by one of the property's pair of pools – there's a saltwater lagoon built into a natural rock formation and an infinity pool with a swim-up bar. Make use of your butterfly strokes to order a raspberry mojito. Indulge in an oceanside massage. Dine on fresh fish ceviche, then head up to the rooftop Skygarden Terrace to sip champagne with views stretching to downtown Cabo.
Location of The Cape, a Thompson Hotel
The Cape, a Thompson Hotel
5.5 Transpeninsular Highway El Paraje, Baja California Sur
Cabo San Lucas, Mexico
Nearest Airport: CSL
Reviews for The Cape, a Thompson Hotel
---
My family and I did a girls trip about two weeks ago and we stayed a The Cape and it was the best experience of our lives! The resort is beautiful and I could tell that attention was paid to every last detail. Being that it is a boutique hotel, all the rooms face the ocean, which is an amazing view in itself. The staff was also amazing! The pool area has their own staff and we were lucky to have Alex working everyday! He was great and very attentive. The staff that worked at The Ledge was also great!. We had the pleasure of meeting Diana, Mauricio, and Vincent during our stay and they were also very helpful while we were dining for breakfast. My favorite place at the resort was the Glass Box, which is a coffee shop, and the barista, Julio, was one of a kind. He didn't work from a menu, but you would tell him what you wanted and he would just make it! Overall, I had a fantastic experience and I have recommended The Cape to everyone that has asked about our trip to Cabo!
---
Me and my girlfriend were scheduled to go to Tulum this past weekend and decided to switch locations to Cabo due to the weather on the east coast of Mexico. While given 5 days to plan a trip to Cabo, finding a hotel was not a problem as we've seen pictures of The Cape on instagram and other social media platforms and it looked beautiful. The hotel lived up to it's potential in all ways as we had excellent service in all aspects such as the pool, concierge, and room service. We were blown away by the view that The Cape provides its guests as it overlooks the famous arch in the distance with soothing sounds of the waves 24 hours a day. Needless to say we were more than satisfied with our stay at this hotel and have already decided that we will be staying here again on our next visit to Cabo.
kyleoswald - Houston, Texas
---
Its difficult to chose one particular thing that was the most memorable. From the car service from the airport to the car service back to the airport, everything was memorable! Even before we left, Lupita, Gina, and your transportation team were so helpful! When arriving Alfonzo was extremely helpful getting us from the SUV to the check-in and then proceeded to assist us to our room with our bags. He gave us a tour of our room, explained some of the features, and explained how we should enjoy our generous tequila gift. We were able to enjoy the salt water pool that day. Gregory and Alex and the rest of the pool staff were so helpful at our cabana, where we dined, drank, relaxed and enjoyed the lovely pool! Our first night, we weren't able to enjoy the Rooftop due to a private party but we got to enjoy the fireworks and the other lovely gift of chocolate covered strawberries and champagne to help us celebrate our honeymoon! On Sunday, we enjoyed a nice buffet brunch at the Ledge and then proceeded to the pool for our complimentary cabana and some more pool time! That night we enjoyed Manta. We were late and even canceled our reservations due to the many drinks we enjoyed at the pool. But we were able to make it down and they were still able to get us a table outside, right at sunset! When checking out on Monday, Alfonzo was yet again amazing with collecting our bags and getting us into our SUV to sadly say good bye to The Cape. Thank you for everything!
---
The Cape was pricey--but they deliver consistent high levels of customer service and food and beverage. The employees were much better at customer service than what I typically experience in the US--even at places like the Ritz or Mandarin Orient.
hudsonbronner - Atlanta, Georgia
---
Great service. Some of the best service i have ever had and i have traveled a lot. Very pricey food, drink and snacks Music was over the top loud and repetitive at the pool Try mixing it up some.. Would never want to stay below the Roof top bar again and listen to music till 2 am.
johnnydykes - McDonough, Georgia
---