Please select your dates to see prices:
---
Hacienda Beach Club & Residences in Cabo San Lucas, Mexico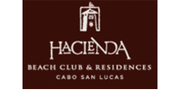 Get away from it all at Cabo San Lucas' original beachfront resort, Hacienda Beach Club & Residences. A legendary family-owned hideaway, Hotel Hacienda surrounds you with extraordinary comforts designed to take full advantage of their breathtaking surroundings. Reminiscent of a classic Mexican-style hacienda, the Beach Resort is a gracious escape of bubbling fountains, sun-filled courtyards, colorful Mexican tile and nearly a mile of private white sand beach. Overlooking the famous Arch of Cabo San Lucas, this majestic location offers the perfect combination of full service luxury and stunning natural beauty.
Just beyond the bay lie some of the world's greatest deep-sea fishing spots, including the teaming currents of "Marlin Alley." Snorkeling and scuba diving opportunities are endless in these warm waters, as are extraordinary displays by the colossal whales that migrate through this region each year. A five-minute walk from your room takes you to the center of bustling Cabo San Lucas, where local delicacies and a thrilling nightlife enchant all who visit. Stroll the beaches beneath starry skies or soak in your Jacuzzi tub as the strains of mariachi music waft over your terrace. Hacienda Beach Club & Residences will transport you to a world of total relaxation.
Location of Hacienda Beach Club & Residences
Hacienda Beach Club & Residences
Gomez Farias S/N Col. El Medano
23543
Cabo San Lucas, Mexico
Nearest Airport: SJD
Reviews for Hacienda Beach Club & Residences
---
We have stayed at Hacienda 4 times now, and have always loved it. The grounds are immaculate and lush. The rooms are luxurious and have an authentic Mexican Hacienda feel, with a wonderful blend of traditional, dark furniture pieces mixed with beachy, modern brights. The service has always been top-notch—until now. Let me explain: My husband loves fine food and several times we have had the hotel arrange for a private chef experience to cook a meal for us in our villa. It has always been amazing both in quality and presentation. We excitedly set up a chef to come in to cook a Belgian waffle breakfast with fresh berries, eggs and bacon with fresh orange juice to drink. Sounds lovely, right? Well, we sat down to breakfast to discover literal EGGO brand, freezer-burned waffles, microwaved cheap thin bacon, and TANG powdered orange drink being served to us. This is a breakfast you serve a 5 year old on a school day. We were so bummed. I have NO IDEA how they thought they were going to get away with that. The time previous, there were 2 people cooking, white linens and fresh flowers scattered on the table. There were hot, homemade waffles, warm syrup and fresh juice. This was not even acceptable for breakfast at ANY hotel, even a Holiday Inn would never serve this. Second, the whole facility seemed a little "off-point." While still beautiful, it was getting faded and worn. Our room's furnishings looked tired—rugs were dirty, the coffee table was cracked and the beds were all dinged up from use. The paint seemed yellowed and dingy. 2 of the tv's were inoperable, and the safe in the room was also broken. One of the telephones would not pick up. Maintenance had to be called for all of those things. It was just not creating a pampered feeling—we were just fixing all the problems. :( Our room (Villa 4402) was in real need of repairs/update. Not a 5 Star unit to be sure. So does the entire resort. The pool area is lovely, but the bright coral umbrellas looked sun-faded. The outdoor restaurant's floors needed refinishing badly, and the bright turquoise and coral pillows on the seats were faded and sagging. Even the elevator interior was dinged up. I didn't like feeling like I was paying tip top dollar for a run-down feel. It was just weird to see it like this. The location is awesome, you can walk into town for restaurants and night life, and the beach is gorgeous, as is the overall design and feel of this place. The last thing that left us with a bad taste was our last day. The concierge told us we could stow our luggage and use the spa showers to get ready for our late flight. When we let the attendant know this, he tried to deny us access, and behaved very rudely. My sweet gentle friend (who had been going to yoga there all week) finally snapped and said to him "No. This is NOT how you treat guests. You should be saying, "absolutely, of course. Right this way." I have no idea why this was so angering to the attendant. We are well-dressed, middle-aged people who he KNEW were staying at the resort! It was all so odd. We enjoyed our stay, because we are just fun people, but if they want to get the extremely high prices they are asking, they are going to need to update and refurbish the place. They are also going to need to address their service providers, and retrain their spa staff. I don't think we will stay here next time we come to Cabo, we will be checking out other properties.
---
My friend and I took our families to Cabo in March, and we loved the Kings View penthouse! Maggie and the friendly staff at Hacienda premier properties took care of all our transportation, grocery shopping and private chef needs. We couldn't have wished for a better vacation! We enjoyed our stay so much that we are already planning our next stay at the kings view penthouse!
rubella16 - Edmonton, Canada
---
We were down for a boys retreat to Cabo for 2 nights so we decided to splurge and get a 4 BR villa. The villa is amazing. 1 BR down and 3 up. All rooms have king bed with ensuite toilet. Villa has a plunge infinity pool. What shocked me was the pricing. Everything was super expensive. New York & London are cheaper. This isn't only in the hotel. We went to this restaurant on the beach and they asked $20 for a margarita! Clearly the entire city is a tourist trap focused on tourists flying south for a break. The funniest incident was that we wanted to go to a rooftop bar at an adjacent hotel. There wasn't anyone down so we assumed upstairs wouldn't be too happening. The door asks us to pay $55 per head as entrance, not cover! So they wanted us to spend $55 per person to enter to buy overpriced drinks! Clearly we didn't go. Overall I think Cabo is both overrated and overpriced.
---
This is my first negative review of any accommodation in which I have stayed. We typically stay at The Resort at Pedegral, but decided to come here instead this time. BIG MISTAKE!! The cost for the accommodation is similar to The Resort at Pedegral, but the difference in service is night and day. Expect to be treated like second hand citizens if you are renting a villa here from one of the owners. You will have much better service at TRP - they actually know all guests' names and greet you by name. Instead, the first words we got at the pool every day from Manny (the pool guy) was "are you a guest here? What is your condo number" (since he did not believe we were actually staying there). No "hello" or "can I help you with anything." Manny did this on a daily basis, even after seeing us for a week. The worst was when they apply different rules and regulations to renters vs owners, particularly in the pool and beach area. On a day that no one was at the pool, except my family, my 9 year old son was told not to throw a ball in the pool. The next day, when the pool was crowded, owners had their kids throw a ball, but were not reprimanded. When I sought clarification from the manager about the rules, no one came to speak to me for almost 3 hours. This is a poor attempt at luxury. Ghetto rooms that need updating. Noise from construction next door (but they do not use this as a sales opportunity to sell the numerous villas that they are trying to sell right now in both the current Hacienda buildings and the new ones being built by the pool (which is why there is a lot of noise)). I would never stay here again. You are so much better off at The Resort at Pedegral.
aliciaandnick - Silicon Valley, CA
---
After getting royally mistreated at Villa del Arco, we searched for an alternative destination, and were lucky enough to find the Hacienda. The accommodations, food and pool setting are amazing, and the health club and other amenities are second to none, compared to all other places we have been in the world. I would highly recommend trying this resort, as it provides close proximity to the beaches and party activities, as well as the city proper, all within easy walking distance, but if you choose to stay in the resort, you feel completely secluded, as if you were miles outside Cabo San Lucas.
---