Please select your dates to see prices:
---
Hacienda Beach Club & Residences in Cabo San Lucas, Mexico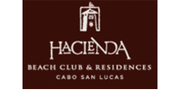 Get away from it all at Cabo San Lucas' original beachfront resort, Hacienda Beach Club & Residences. A legendary family-owned hideaway, Hotel Hacienda surrounds you with extraordinary comforts designed to take full advantage of their breathtaking surroundings. Reminiscent of a classic Mexican-style hacienda, the Beach Resort is a gracious escape of bubbling fountains, sun-filled courtyards, colorful Mexican tile and nearly a mile of private white sand beach. Overlooking the famous Arch of Cabo San Lucas, this majestic location offers the perfect combination of full service luxury and stunning natural beauty.
Just beyond the bay lie some of the world's greatest deep-sea fishing spots, including the teaming currents of "Marlin Alley." Snorkeling and scuba diving opportunities are endless in these warm waters, as are extraordinary displays by the colossal whales that migrate through this region each year. A five-minute walk from your room takes you to the center of bustling Cabo San Lucas, where local delicacies and a thrilling nightlife enchant all who visit. Stroll the beaches beneath starry skies or soak in your Jacuzzi tub as the strains of mariachi music waft over your terrace. Hacienda Beach Club & Residences will transport you to a world of total relaxation.
Location of Hacienda Beach Club & Residences
Hacienda Beach Club & Residences
Gomez Farias S/N Col. El Medano
23543
Cabo San Lucas, Mexico
Nearest Airport: SJD
Reviews for Hacienda Beach Club & Residences
---
We were down for a boys retreat to Cabo for 2 nights so we decided to splurge and get a 4 BR villa. The villa is amazing. 1 BR down and 3 up. All rooms have king bed with ensuite toilet. Villa has a plunge infinity pool. What shocked me was the pricing. Everything was super expensive. New York & London are cheaper. This isn't only in the hotel. We went to this restaurant on the beach and they asked $20 for a margarita! Clearly the entire city is a tourist trap focused on tourists flying south for a break. The funniest incident was that we wanted to go to a rooftop bar at an adjacent hotel. There wasn't anyone down so we assumed upstairs wouldn't be too happening. The door asks us to pay $55 per head as entrance, not cover! So they wanted us to spend $55 per person to enter to buy overpriced drinks! Clearly we didn't go. Overall I think Cabo is both overrated and overpriced.
---
This is my first negative review of any accommodation in which I have stayed. We typically stay at The Resort at Pedegral, but decided to come here instead this time. BIG MISTAKE!! The cost for the accommodation is similar to The Resort at Pedegral, but the difference in service is night and day. Expect to be treated like second hand citizens if you are renting a villa here from one of the owners. You will have much better service at TRP - they actually know all guests' names and greet you by name. Instead, the first words we got at the pool every day from Manny (the pool guy) was "are you a guest here? What is your condo number" (since he did not believe we were actually staying there). No "hello" or "can I help you with anything." Manny did this on a daily basis, even after seeing us for a week. The worst was when they apply different rules and regulations to renters vs owners, particularly in the pool and beach area. On a day that no one was at the pool, except my family, my 9 year old son was told not to throw a ball in the pool. The next day, when the pool was crowded, owners had their kids throw a ball, but were not reprimanded. When I sought clarification from the manager about the rules, no one came to speak to me for almost 3 hours. This is a poor attempt at luxury. Ghetto rooms that need updating. Noise from construction next door (but they do not use this as a sales opportunity to sell the numerous villas that they are trying to sell right now in both the current Hacienda buildings and the new ones being built by the pool (which is why there is a lot of noise)). I would never stay here again. You are so much better off at The Resort at Pedegral.
aliciaandnick - Silicon Valley, CA
---
After getting royally mistreated at Villa del Arco, we searched for an alternative destination, and were lucky enough to find the Hacienda. The accommodations, food and pool setting are amazing, and the health club and other amenities are second to none, compared to all other places we have been in the world. I would highly recommend trying this resort, as it provides close proximity to the beaches and party activities, as well as the city proper, all within easy walking distance, but if you choose to stay in the resort, you feel completely secluded, as if you were miles outside Cabo San Lucas.
---
This place is perfect - has everything. About Hacienda - I can't say enough good things. It's beautiful and it's quiet. The pools and pool area are beautiful and comfortable with 2 infinity pools and three hot tubs, all overlooking the Sea. The staff were amazing. There was almost a one to one ratio it seemed at times. They were always willing and ready to get you anything you want. The food and drinks were so good, it was hard to want to leave the place. There are lots of complimentary activities including snorkeling gear, sea kayaks, stand up paddle boards - all quality equipment. My friend went the to spa and she loved it. They have a full gym and exercise classes daily. The concierge arranged a deep sea fishing trip for us that was great. The boat was nice and big. We caught some Mahi Mahi and the crew filleted it. We went to Fisherman's restaurant at the marina where they prepared it six ways for us! Delicious. This must be the best place to stay in Cabo! We rented directly from some owners on VRBO. I don't know how our villa compares to the others, but I imagine it's comparable. The place is designed so that basically every condo has a view and most have patios. Our villa was on the 4th floor of building four. Unit 4403. The wrap around Patio has s beautiful view of the Sea of Cortez.Each morning, we enjoyed our coffee and a cool morning breeze. It has many amenities including Apple TV so you can play your own music. Sonos also, but we were a bit challenged in getting it to pair but the staff at hacienda came right up to help. They provide a service to order groceries, drinks, etc. in advance, but wait until you get to the villa to see what you need. Previous guests often leave coffee, alcohol, etc. The bar was fully stocked (not a guarantee). The villa comes with a Nespresso machine and pods. The owners were wonderful. They live nearby so we had a chance to meet them at the pool. They were very helpful. And, since it was our 25th anniversary, we arrived to an iced bottle of Veuve Clicquot and snacks waiting for us as a gift. Both bedrooms in the villa open to the patio. The only thing that I will let you know (and this is a very small thing) is while the master bedroom and bathroom are palatial, the second bedroom and bathroom are much smaller and there isn't a bathtub (if that is important to you). And, that room doesn't get as much sunlight. Keep that in mind if you are going with 2 couples and maybe the couple that gets the master can pay a tile more.
AnneSchmitt - Charlotte, North Carolina
---
Misery. Only way to describe our trip that started today. War zone of incessant jackhammering on three sides. Flew in today....flying back home tomorrow. It would literally be more relaxing staying next to the airport...or on the actual tarmac. Do yourself a favor and stay away or book somewhere else. We sadly learned this the hard way. Unbelievably disappointing- like flushing money down the toilet.
Colotep - Denver, Colorado
---