Please select your dates to see prices:
---
Mena House Hotel in Cairo, Egypt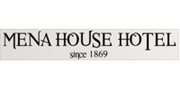 Cutting through the vast golden deserts of Egypt, the vein of life that is the Nile leads to the majestic and historic city of Cairo, and to your luxurious stay at Mena House Hotel. Surrounded by 40 acres of lush gardens, with the breathtaking Great Pyramids of Giza standing proudly as they have for thousands of years, you will enjoy all the comforts of the modern world with the ancient wonders just outside your door. Step into your room and relax in splendor in the spacious open design, with high ceilings and sliding glass doors letting in abundant natural light. With a rich contemporary style, plush furnishings, and beautiful wood floors, each room is like an elegant home away from home, inviting you to immerse yourself in the beauty of your surroundings. At Mena House Oberoi, explore all that Cairo has to offer, and rest in luxuries pharaohs could only dream of.
Begin your trip with a visit to the nearby Sphinx and Great Pyramids. Standing for over 5,000 years, these monoliths are of such staggering size that one must see them in person to truly understand. Lose yourself in the halls of the Egyptian Antiquities Museum, marveling over archeological finds, treasures from King Tutankhamun's tomb, and over 120,000 fascinating pieces. Tour Saqqara, near the ancient capital of Memphis, and see the Djoser Step Pyramid, which predates the Great Pyramids, and the Tombs of Apis Bulls. Walk through the streets of Islamic Cairo, taking in the architecture and mosques, and shop at the Khan Ali-Kalili open-air market. After a day in the city soothe yourself with a massage at The Oberoi Spa, or take a dip in the swimming pool. As the sun begins to set, cruise along the Nile in a traditional Felucca sailing boat before enjoying a fabulous dinner. Delight in fine dining at Al Rubayyat, Indian cuisine at The Moghul Room, or Oriental fare at Abu Nawas, before turning in for the night.
Location of Mena House Hotel
Mena House Hotel
P.O. box 12556 Giza
Cairo, Egypt
Nearest Airport: CAI
Amenities for Mena House Hotel
General Information
420 Guest Rooms
Dining
24-Hour Room Service
Bar
5 Restaurants
On-Site Amenities
Beauty Salon
Spa on Property
Spa Services
Laundry Service
Fitness Center
High-Speed Internet Access
Valet Parking
Limousine Service
Lounge
Outdoor Heated Pool
In-Room Amenities
Air Conditioning
Direct Dial Telephones
Hair Dryers
In-Room Safes
Mini Bar
Satellite Television
Coffee & Tea Facilities
Business
24-Hour Business Center
Conference Facilities
Business Services
Nearby
Historic Sites
Shopping
Interests
City
Cruises
Culture & Arts
Reviews for Mena House Hotel
---
This hotel has two parts, the historic old and a slightly newer, but still vintage, part where we stayed. Access to the more expensive is a short walk away, the pool is shared as are the restaurants, except for breakfast. Our arrival in Giza after travelling 13 hours was welcome as was the comfortable hotel and the special view of the pyramids for breakfast. A super historic setting for our first days in Egypt, especially to Giza and the incredible pyramids.
---
It could have been one of our best experiences ever, great location, historical antiques and a good place to take some photoes.. However we had an attitude issues with staff, wherever we're wandering they keep staring at us like we're aliens! They had a problem with me wearing hijab so they kept asking suspiciously if we have a room booked!!! I would never stay there again in my life!!!!!
---
Stayed here for 2 nights in early February to see Pyramids, Sphinx etc; superb location; extensive campus; had room with view of Pyramids; all that excellent and now the Buts. We arrived 9pm; cases from taxi put there to take to room; booked in; then club cart to our room; pointed out to driver our cases stood by cart to go on back of cart and he said no must be taken by someone else; so it took 2 men and 2 carts to do the job what a waste. Then went over to the restaurant/bar for a drink and sat outside on the terrace; sat there over 5 minutes watching 3 white jacketed waiters darting in and out of the door but ignoring us completely even though very few other people there; I went inside to see a group of waiters talking with someone else holding a clip board and asked for someone to come and take our drinks order please; they nodded; 5 minutes later still no one appeared so went inside again and said to group 2 G & Ts required please. Dinner the next evening interesting: lots of staff hovering around; a particular waiter came and effusively introduced himself as the person to look after us but then he not being attentive we eventually gave our orders to someone else and particular waiter got broody we were not dealing with him; they seemed to be competing with each other. Next morning rang at 6.45am for cart at 7.15am to take us to Reception for our taxi; at 7.15am nothing; rang at 7.20am and were told someone would ring us back; no one did but then a baggage cart appeared could not take us so we walked to Reception. There is what looks like a good Italian restaurant by the pool but curiously does not open in the evenings. We gather Marriott has recently taken over so guess sanity in how to run staff will prevail sometime. Or is this just Egypt?
SandavLymngton - Lymington, United Kingdom
---
First off let me say that the sole purpose of my visit (as a travel advisor) was to advertise and promote Mena House as one of the true 5-star luxury hotels in Egypt to my clients. It was our first day in Cairo and my friend and I went to grab cocktails to celebrate her birthday. It was already 9 pm and we were directed to 139 Restaurant by the pool. Since we had already a dinner, we just wanted to get drinks and dessert and to enjoy the beautiful settings. After we were greeted by the maitre d I was told to go to the buffet (it was at the end of the buffet dinner) and to get a plate with desserts and he also added that will charge me for just one dessert. I got a single coffee plate with few strawberries and 3 baklavas, which we shared, and ordered 2 Cosmopolitans. Past 10 30 pm, we were already tired after a long day and ready to go. I tried to get the waiter's attention few times for the bill. When it finally arrived, I made the big mistake and didn't look at it, knowing that 2 Cosmopolitans and small dessert plate shouldn't be more than $30 US or so considering the fact that is a high-end hotel. I was literally Shocked when my CC was charged $48.30 - 240EGPx2 (Cosmopolitan Cocktails) & 190EGPx2 ( we were charged for 2 desserts even though I got only one small plate from the Buffett which we shared). I've traveled extensively around the world and stayed/been to plenty luxury hotels and lounges. Never had such a terrible experience and felt that being scammed as a tourist
Gergana D - Chicago, Illinois
---
A very magic and athentic palace with nice people, beautiful gardens, nice view of the pyramids and good food too.. Many thanks to mister Ahmed Faraj and all the team for their hospitality, professionalism and smile ;-)
---