Please select your dates to see prices:
---
Fairmont Palliser in Calgary, Canada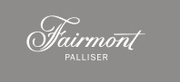 Calgary's small town warmth coupled with the vibrant urban ambience makes it a metropolis of wonderful contrasts. Set in the heart of the city, The Fairmont Palliser is a historical landmark which offers distinctive accommodation in elegant surroundings. Calgary is a spectacular city to visit anytime of year. Stroll, rollerblade or cross country ski along riverside pathways, or visit one of the many area attractions.
Superb culinary adventures await you in the relaxed elegance and casual atmosphere of our dining room. Our magnificent fully-equipped Health Club offers the exercise equipment you need to work out and the facilities you need to relax.
Location of Fairmont Palliser
Fairmont Palliser
133 9th Avenue SW T2P 2M
T2P 2M3
Calgary, Canada
Amenities for Fairmont Palliser
General Information
405 Guest Rooms
Reviews for Fairmont Palliser
---
This is a good old Hotel in the downtown. It is in a great location but overpriced and the parking is totally unreasonable at $8 an hour if you are parked over the hours of 6pm and 6am. In other words park at 6pm and get out by 6am and it is reasonable at $6. Every extra hour or part of an hour before or after is $8
---
The Palliser is a lovely example of a CP Rail Hotel. It has all the elegance and style of the grand hotels of its time. The lobby is architecturally reminiscent of the turn of the 20th century with very high ceilings, indirect lighting and pillars. The rooms are large and well appointed. The bed was comfortable and made for great sleeping. There was a large en suite bath furnished with soap, shampoos and more towels than one person requires. Check in was simple and quick. The desk clerk, Chris, was warm and friendly. Being in the heart of the city it is surrounded by many restaurants and nightlife. The Calgary Towers is less than one block away. It is central to everything which makes it a great base from which to see the city and its sights. I highly recommend this property.
Douglas B - Cambridge, Canada
---
We stayed for my wife's birthday and we thoroughly enjoyed ourselves. We've stayed several times over the years and the most consistent factor is the friendliness and professionalism of the staff. The hotel is beautiful, ornate, and delivers exceptional food and beverage. If you are looking for an excellent experience please visit this hotel. You will not be disappointed.
---
We just came back from Calgary where we had such a great family vacations. The kids loved the pool, great size, bright with a large hot tub. We were able to use the Fairmont Gold (highly recommend!) and the team there was really friendly and helpful: Chaim, Merlin, Jeanette, Harper, Chelsea, Marichu, Corrine. They all ensured that we had a great time. The breakfast buffet of the Fairmont Gold was awesome with huge variety. We will definitely be back!
MarieCecileJ - Toronto, Canada
---
We booked this for my birthday. We are presidents club members and have never had a bad experience. Front desk staff were very friendly at check in. I think there was a bit of a room messup. We had requested champagne and strawberries at time of booking and never recieved those or the welcome amenity that was part of our package we purchased. We ended up having to stay in Calgary a second night. We got to a new room at about 9pm and an hour later they sent up an apple/orange and banana as a welcome amenity. We left a pillow in the room and it was never found or returned. I guess having it been a special occasion I thought they would of gone above and beyond. We booked spa treatments and I wouldn't recommend the spa to anyone. First, the customer service was terrible at the spa desk. Second, the room had a horrible muggy moldy smell and I couldn't relax or think about anything else because it reaked. I guess when you're spending the money and its a special occasion, i'd expect the Fairmont to go above and beyond. I do have to give a shout out to RISSA who served us breakfast. She was amazing. Best customer service I have EVER had.
---