Please select your dates to see prices:
---
Gran Hotel Bahia del Duque in Canary Islands, Spain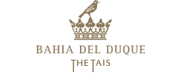 Rising from the site of a grand old Canary Islands estate is the decade-old Gran Hotel Bahia del Duque, situated on the south coast of Tenerife and part of Leading Hotels of the World. Spread across 17 subtropical acres, this Spanish resort resembles a magnificent village, with a collection of nearly two dozen oceanfront buildings housing spacious rooms and suites, many with seaside views. The resort is completely full service, with 6 swimming pools, a trio of tennis courts, two squash courts, a fitness center, massage therapy, putting green and plenty of water activities.
The resort's El Duque Beach is a magnificent place to enjoy the island's amiable weather and tropical breezes. Along the sands you'll find well-tended changing rooms, vibrant umbrellas and comfortable deck chairs, as well as several beachfront bars and restaurants. The resort is well equipped to please every palate, with 10 restaurants serving everything from Spanish and Mexican to Italian and French cuisine. The colonial charm of Tenerife makes for a wonderful outing, as does the island's national volcanic park, casinos and observatory.
Location of Gran Hotel Bahia del Duque
Gran Hotel Bahia del Duque
C/ Alcalde Walter Paetzmann
38660
Canary Islands, Spain
Nearest Airport: TFS
Reviews for Gran Hotel Bahia del Duque
---
It's great to be back for the 20+th time! For us, it's like coming back home. However, it's quite unfortunates ate to see that some bad choices were made to decrease some small costs. For many years, the ambiance has been great everywhere in the hotel. During lunch, there used to be live music in the beach club restaurant. Also, each night there used to be live music until midnight (at least) in the piano bar. Unfortunately they stopped doing this, causing the lunch restaurant to be less cosy and for the hotel, less busy. In the piano bar, we literally witnessed a full bar walking out the minute the musicians finished. For us, it doesn't matter much, but for the hotel it must be quite a financial problem since because of those practices they chase away their guests and miss out on quite some revenue. Hope they will change for the better soon.
justinevanisselmuden - Maastricht
---
Outstanding destination, staff cannot be more helpful and knowledgable, the surroundings are up to the standard you would expect of such a fine establishment (not always the case in Tenerife) but nice to see that all was as claimed in the advertising and possibly better than expected, the food and the dining areas are all immaculate and again the staff are extremely curteous and helpful, our first stay here having been lucky enough to stay in the majority of the best hotels in Adeje over the years but this was without doubt the best alround experience and best 10 days we have spent in tenerife.
AlanMasterton - Monifieth
---
Stayed here 25 feb one week ,the first room was so dark we couldn't see without havin all lights on poor furnishings noisy building work outside, 2 nd room was just as bad it was next too the deliveries entrance ,door wouldn't open / bath didn't work ,internet didn't work the manager of the hotel was useless, eventually was moved 2 a suite 3 days later our holiday was ruined breakfast area very dirty & untidy not enough staff birds 🦅 eating of tables ,
89Taylor1969 - Port de Soller, Spain
---
We are a mature couple who have stayed in many hotels – it is probably true to say that we found this the most pleasant hotel we have ever stayed in. The design is outstanding, making it a pleasure just to wander around. Any readers of Gormenghast will find this vast hotel a Moorish version of the castle (although without the crumbling ruins and neglect of course!) You can explore through endless interconnected corridors and staircases and take pleasure in being lost in a safe environment. You come across wonderful unexpected features and from the higher levels, enjoy spectacular views. The design and architecture are just superb. There are nine different themed restaurants and the only one we didn't enjoy was Las Aguas which was a bit too Haute Cuisine for us. Food quality everywhere was excellent. The pools and beach are great, and we always managed to find a space (although not always in our first choice spot). The hotel asks people not to reserve sunbeds but of course everybody does. The service to your sunbed was once again, superb. The staff really do seem to genuinely care about the quality of your stay. The only change I would make is to make the entire complex no-smoking. It is still permitted to smoke in some outdoor areas (but not the restaurants or children's areas). For excursions we would definitely recommend Teide by Night. You get a good quality 3 course meal with wine and stunning views of the sunset and stars with a guided talk by a very knowledgeable guide. We came back from this holiday very relaxed, and grateful to the hotel for providing such a wonderful experience.
---
Reviewing after visiting twice, neither very recently but compelled to review after a nightmare stay at the nearby Ritz Carlton... and after struggling to find anything to compare within a 4 hour, toddler friendly flight. We visited twice, each time staying in the villas because it's not only a very pretty hotel, but pretty much checks everything on our wish list for a relaxing break.. but mostly because the staff provide such exemplary service. We've enjoyed the company of some of the most wonderful, genuine staff, who have gone far above and beyond any expectation. The villas are gorgeous, with the added bonus of not only your own pool but also a quieter main pool, reserved just for the villas. The restaurants are fantastic, our favourite were two within the pretty village square area: La Brasserie and Alisios market food. Although we also enjoyed beautiful breakfasts at El Bernegal each morning.. with added bonus of a gorgeous view if sat outside.. likewise with the beach club. The spa... is sensational! I'm an extremely picky beauty therapist.. very rarely does any spa impress... a must visit if that's your thing! Truly amazing for kids.. lovely pools, great kids club and the icing on the cake of very sweet, tastefully done kids evening entertainment.. from mini discos to magic. This made our holiday.. so lovely to enjoy this with them rather than being made to feel their not welcome. The beach is just a stones throw outside of the security gates and whilst not quite as stunning as some.. Maldives etc.. admittedly it's really lovely, clean, spacious and well kept. It's also great to have lots of other amenities very close.. from other really good restaurants to mini shopping areas with everything from a pharmacy to clothes stores and mini supermarkets selling pretty much anything you might need. Really can't fault either holiday here and pretty sure we'll return one day.
burnette2017 - Nottingham, United Kingdom
---