Please select your dates to see prices:
---
Gran Meliá Palacio de Isora in Canary Islands, Spain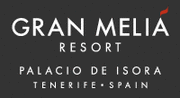 The aquamarine swimming pools of Gran Meliá Palacio de Isora are a stark splash of color against the volcanic peaks of Spain's eternally sunny Canary Islands. In this vast compound, both couples and families find the epitome of a perfect beach holiday. Opting for Red Level Service adds a personalized aspect: Couples enjoy adults-only access to pools and lounges, special rooms with a terrace hydro massage bathtub and VIP access to resort activities. At night, chill out with lounge music on the beach or more lively fare at the disco or piano bar.
Walk along the shoreline in the shadow of Mount Teide. Snuggle into a sandbank – the afternoon sun warms the dark granules into a natural spa treatment. Swim across some of the property's 25,000 square feet of pools. Order a frozen coconut concoction with an extra shot of rum. Reserve a teppanyaki table for a culinary dinner show.
Location of Gran Meliá Palacio de Isora
Gran Meliá Palacio de Isora
Avenida Los Océanos, s/n, Alcalá Tenerife - Guia de Isora
38686
Canary Islands, Spain
Nearest Airport: TCI, TFN
Amenities for Gran Meliá Palacio de Isora
General Information
579 Rooms and Suites
Handicap Accessible Rooms
Handicap Accessible Facilities
Dining
Pool Bar
Cafe
Coffee Shop
Snack Bar
7 Restaurants
8 Bars
Sushi Bar
Deli
On-Site Amenities
Concierge
Spa on Property
Spa Services
Billiards Table
Housekeeping Service
Laundry Service
Gift Shop
Fitness Center
Private Beach
Game Room
Sauna
Boutiques
Garden
Nightclub
Multilingual Staff
Valet Parking
Hamam
Tennis Courts
24-Hour Front Desk
Beach Access
Rooftop Terrace
7 Pools
Laundry Facilities
Beach Amenities
Private Concierge
Barbeque Area
Arcade
Health Club
ATM
Tennis Court
Wedding Planning Services
Elevators
In-Room Amenities
Turndown Service
Air Conditioning
Direct Dial Telephones
Hair Dryers
In-Room Safes
Mini Bar
Satellite Television
iPod Docks
Iron/Ironing Boards
Flat-Screen Televisions
Luxury Linens
Luxury Bath Amenities
Rain Showers
Bathrobes & Slippers
Complimentary WiFi
Activities
Tennis
Pilates
Tai Chi
Yoga
Table Tennis
Archery
Meditation
Aqua Fitness
Business
Meeting Rooms
Conference Facilities
Family
Waterslide
Playground
Kids Pools
Children's Clubs
Nearby
Golf
Beaches
Scuba Diving
Interests
Beach
Honeymoons & Romance
Reviews for Gran Meliá Palacio de Isora
---
As a long standing, loyal Melia customer i know that its just as important to say when things go well as when they don't. Every part of my stay was amazing. From the front desk, to the guy that runs the bar at the Red Level pool (who was extra good, to everyone - not just me). And then there was the food. Definitely my favourite was the Japanese sushi place, but the Italian (in the glass box) was awesome as well. Also they totally entertained my request for Alioli with bread (and went to hunt and find some, even though it was Italian and not on the menu anywhere - but to be honest, not trip to Spain is complete without it, and some pan con tomate! LOL). The spa was amazing (and i used a big chunk of points to get free massages from your amazing staff there, not your typical hotel massage, but professional staff - which is just what i needed to recover from my New Year in Berlin. The only down side was the wind, which i think is normal at that time of year (January) but there was still sun, and being from Scotland cold wind with sunshine aint no issue!
AndrewNation1 - London, United Kingdom
---
Stayed here Feb 2018. We stayed here when it was Gran Melia and then again when it changed to Tui 6 years ago. We were very disappointed this visit. The Hotel ambience is still excellent but the food standard has really gone down. Selection is not what it used to be and the Pangea food whether breakfast or evening meal was always cold. There were not enough staff so we were always chasing to get more wine. We were all inclusive.Silver Band. The other restaurants were better but the menus were not changed and choices were limited. We upgraded to a Bali Bed room. Waste of money as we were on the north side of the hotel. Room was cold and a bit damp. and needed refurbishing.We eventually got a heater as Air Con was useless. Our room was 2053. This hotel is not up to standard of other Sensatori's we have stayed at. Our recommendation is make sure you do not have a North facing room and if you want 5 star standards go to the RED LEVEL or don't go to this hotel..They have even cut out the glass of fizz we used to get on arrival. !!!
iangavine38 - Royston, United Kingdom
---
Travelling with a toddler is not easy, but this hotel enabled us to have a wonderful holiday with our son but also felt that we didn't compromise on luxury and quality. The family facilities are great and there is two pools for families which are heated, one pirate pool which is really shallow and has boxes of toys for the babies, toddlers. There is also a separate family pool which is deeper but really lovely to sit around in the day. There is a separate adult only pool that is also heated and then a massive infinity pool which is un heated saltwater which is beautiful and would be great in the summer when it's boiling hot. The restaurants included in the package are great, the only thing is you have to book them a day or two in advance at a machine in the lobby which often didn't work which was a bit faffy as you had to keep going back all day to check it was working. There are loads of high chairs in all the restaurants and a great selection of food that can accommodate for everyone. There is also adult only seating areas in Restaurants so you don't feel like you are disturbing guests without children if your little one starts playing up. The restaurants are great and you don't need to go to the payable restaurants as you can have lovely meals in the ones that are included in the package. The house wine is great too. The rooms are lovely and spacious and have everything you would need. However the only issue was the lighting as they are quite dark in the evening even with the lights on and the pillows are very hard, but I phoned reception and they brought up a much softer pillow straight away. There are lovely gardens at this hotel you can walk through with large ponds with fish which our little one loved looking at. There are also nice walks along the seafront, with little parks to take the children to play in. There is a cash and carry if you walk out the back of the hotel opposite the sea which is really cheap so get your water, and bits and bobs for the room from here as it is much cheaper than the hotel if you are not on the all inclusive package. Next door, there is also a lovely bar/cafe which does fab food and drinks and is very reasonable! One last thing is you can claim 20 euros credit if you don't have housekeeping clean your room every day and this can be used against any food/drink purchased at the hotel not included in your package. We had our room cleaned every other day which meant we had 60€ credit which paid for all our drinks!
83laurenclaire - South Wales, United Kingdom
---
This is not my first review of this hotel but I can't help effuse about it. This is my "happy place" - any time I need a quick boost I look to see if there are any last minute deals available. It isn't cheap - even booking direct under the Melia rewards scheme. However if you are lucky and flexible you can sometimes find amazing deals with TUI (previously Thompson) as it is one of their Sensatori hotels. Although we last visited in September 2017, when friends wanted us to join them for a last minute winter sun trip after Christmas I didn't hesitate. We were lucky to find a great deal under £800 pp including flights on a full board plus basis. (meals including wine/beer/soft drinks). I have said it all before and nothing had changed for this visit - still fabulous service and food (plus great weather thankfully). However I know I am biased so was thrilled that our friends were equally impressed. Read my previous reviews for further detail.
---
This is the third time I have stayed here and prior to my arrival I sent an email asking for a south facing balcony if possible. On the booking in form under purpose of stay I put peace and quiet. On arrival I asked Miquel for a quiet south facing room. He said follow me and took me to a room. On entry the balcony faced east and over looked the kids pool. I immediately phoned Miquel and said the room was unacceptable. He said the hotel was full and I could not be moved. I am sure if I had a famous name I would have been moved. Ten minutes later Miquel phoned me and I thought he was going to move me. No he had phoned to say there was a complaint of banging coming from my room, No there wasn't. Yes I did hit the floor twice to kill a large cockroach. They take some killing. so every afternoon when I returned to my room there was the din of screaming children whilst in the room. The balcony, irrespective of orientation, was totally unusable due to noise. Why do solo travellers get poor rooms compared to couples. we are not second class citizens and we get hit with a hefty supplement. There will not be a fourth stay
jojo880 - Norwich, United Kingdom
---