Please select your dates to see prices:
---
Gran Meliá Palacio de Isora in Canary Islands, Spain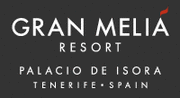 The aquamarine swimming pools of Gran Meliá Palacio de Isora are a stark splash of color against the volcanic peaks of Spain's eternally sunny Canary Islands. In this vast compound, both couples and families find the epitome of a perfect beach holiday. Opting for Red Level Service adds a personalized aspect: Couples enjoy adults-only access to pools and lounges, special rooms with a terrace hydro massage bathtub and VIP access to resort activities. At night, chill out with lounge music on the beach or more lively fare at the disco or piano bar.
Walk along the shoreline in the shadow of Mount Teide. Snuggle into a sandbank – the afternoon sun warms the dark granules into a natural spa treatment. Swim across some of the property's 25,000 square feet of pools. Order a frozen coconut concoction with an extra shot of rum. Reserve a teppanyaki table for a culinary dinner show.
Location of Gran Meliá Palacio de Isora
Gran Meliá Palacio de Isora
Avenida Los Océanos, s/n, Alcalá Tenerife - Guia de Isora
38686
Canary Islands, Spain
Nearest Airport: TCI, TFN
Amenities for Gran Meliá Palacio de Isora
General Information
579 Rooms and Suites
Handicap Accessible Rooms
Handicap Accessible Facilities
Dining
Pool Bar
Cafe
Coffee Shop
Snack Bar
7 Restaurants
8 Bars
Sushi Bar
Deli
On-Site Amenities
Concierge
Spa on Property
Spa Services
Billiards Table
Housekeeping Service
Laundry Service
Gift Shop
Fitness Center
Private Beach
Game Room
Sauna
Boutiques
Garden
Nightclub
Multilingual Staff
Valet Parking
Hamam
Tennis Courts
24-Hour Front Desk
Beach Access
Rooftop Terrace
7 Pools
Laundry Facilities
Beach Amenities
Private Concierge
Barbeque Area
Arcade
Health Club
ATM
Tennis Court
Wedding Planning Services
Elevators
In-Room Amenities
Turndown Service
Air Conditioning
Direct Dial Telephones
Hair Dryers
In-Room Safes
Mini Bar
Satellite Television
iPod Docks
Iron/Ironing Boards
Flat-Screen Televisions
Luxury Linens
Luxury Bath Amenities
Rain Showers
Bathrobes & Slippers
Complimentary WiFi
Activities
Tennis
Pilates
Tai Chi
Yoga
Table Tennis
Archery
Meditation
Aqua Fitness
Business
Meeting Rooms
Conference Facilities
Family
Waterslide
Playground
Kids Pools
Children's Clubs
Nearby
Golf
Beaches
Scuba Diving
Interests
Beach
Honeymoons & Romance
Reviews for Gran Meliá Palacio de Isora
---
Average hotel with small rooms. The service is good, location is not bad but other facilities are not that good. First time in this hotel in Madrid. Many other five stars hotels are better. I don't know how it's part of the leading hotels of the world
---
My husband, my one year old son and I travelled to the Gran Melia Palacio de Isora Resort & Spa booked via TUI last July. We had such a fantastic time on our one week holiday that we are returning for 10 days this June (2018). However, there were a few negatives, although the hotel is stunning our room was run down and had no view as we were behind the bushes on the main path. The furniture was all quite dated and we had a broken glass table with a toddler, which was replaced by staff with another broken table and when we complained again and asked for it just to be removed altogether we were told that this request could not be accommodated and the broken table remained in the room, with us having to be ultra-careful when ever in the room with our little one (who was walking and same height as the table with the broken glass). I hope this year we have a nicer view of say the swimming pools or the gardens as there wasn't any option to choose a view when we booked through TUI. I also hope there isn't anything broken in the room. The rest of the holiday was fab, the food was amazing from the restaurants we tried, as we ended up eating in the buffet every night bar one, because the TUI booking system made making a reservation near impossible. You could only book tables from 11:30pm, which meant one of us had to go and queue at the machine at this time of night, whilst the other stayed in the room with our toddler and hoped there was a table free at the restaurants we wanted to try, which there wasn't the three times we tried this, so we gave up and went for the buffet the rest of the nights. I hope this system has improved as we would like to try all the restaurants we can this year. At lunch times we went to all the restaurants available and our favourite was the one overlooking the main infinity pool. I would highly recommend the pools, as the kid's pool with the pirate ship is lots of fun for all the family and well supervised by lifeguards. The main pool with the infinity view is phenomenal and really enjoyable for a proper swim. The staff were very friendly and warm and even had my one year old speaking Spanish. He could say: "Ola" and "Gracious" by the end of the holiday.
l1sa123928 - London, United Kingdom
---
We had an amazing 1 week holiday at Gran Melia Palacio de Isora booked through TUI Sensatori. We stayed in a Deluxe room that had a balcony and a view over the gardens. The room had a very large size bed and the kids were on a sofa bed (they were fine with this but it wouldn't have been comfortable older kids (ours are 5 and 9). The room was a good size and we were given the option to upgrade to a suite when we booked in (initially c €800, then we were offered €600) however for the time we were there we felt this was not needed. The hotel staff were always polite and friendly. Drinks service in the bars could be a bit slow at times but this didn't spoil the holiday. We primarily ate in the Pangea restaurant (main one there) but also ate in the Italian themed one which was really nice. Most restaurants need to be booked (part from Pangea) using one of the kiosks in reception which are notoriously slow, plus you can only book 2 days in advance and you tend to find most of the bookings have gone by 9am each day - our TUI representative was great in getting us the Italian booking. The restaurant booking system is the same in other Sensatori hotels we have stayed in (Crete and Ibiza) and is the only downside on using one of these hotels. However the Pangea restaurant provides a variety of food, themed differently each night. We spent several evenings after dinner relaxing in the free beds by the Ocean bar (near the Italian restaurant) and there are waiters that will come and take your order. There are multiple pools including an adult only one which we didn't use, others included the infinity pool (which used sea water and could be quite chilly when you initially get in) and 2 heated pools (family pool and a younger kids pool with a pirate ship). Evening entertainment was good - younger kids had the Playhouse Live sessions each night and the hotel entertainment put on shows from 10pm including the amazing Theatreland (featuring songs from the big musicals)! Also the entertainment staff did smaller performances in the bars on some nights. The hotel was beautiful especially the main reception and indoor / outdoor area near reception - see the fountain photo. Pools had sun loungers which were free although you really had to get to them quite early to secure them especially near the kids pools. Also you need to be aware that if you leave a towel on a lounger before 1030am it will be taken away unless you are present - this does help to stop people grabbing loungers before going to breakfast. We managed to get loungers every day but this was primarily around the infinity pool. We asked about the Bali beds but the ones by the infinity pool were charged at €185 / day which was extortionate - we had hired these at Ibiza Sensatori for c €40/ day. We stayed there 8-15 April 2018 during the 2nd week of Easter school holidays (UK) and didn't feel it was too busy which was nice. Weather was very good with only 1 day being overcast - please remember not to trust weather reports as Tenerife is an island and the weather can be very changeable We went with TUI and paid £4.2k - 1 week, 2 adults, 2 children including flights from Gatwick. When ordered online the default option was Full Board (which we took), it would have been c £800 extra for All Inclusive for the week. At the end of the week we probably spent £400 on drinks (outside of meals) - most drinks tended to be €8-10 each) so full board for us was the better option. There is a local town but there is not much present apart from the typical gifts shops and some restaurants. We spent most of the time in the hotel. In summary, we loved it and certainly would come back to this hotel again and would recommend it to others. Pricing on some things are expensive (e.g. Bali beds) and just be careful when booking on whether you feel you would benefit from the All Inclusive - Full Board may be a more cost effective method
MS10101 - Burgess Hill, United Kingdom
---
My wife and I came to get a week of well earned rest from work and kids. We've never stayed in a big resort before and we only chose this resort because it meant we could just switch off completely. If you don't have children then you should definitely choose 'Red Level Adults'. It's adults-only, but it also gives you access to the Terrace outdoor restaurant for breakfast, Happy Hour and the use of the restaurant in the evenings. (It was the best of the restaurants we used.) Staff were extremely polite and very helpful. Pools were excellent - and the Red Level pool was much quieter than other pools in the resort. The 250m long infinity pool was also a great pool for having a proper swim in. Some of the restaurants were not of the same standard as the Terrace - although we didn't use them all. All the restaurants were expensive for what they are and we did find a fantastic restaurant jus five minutes away called 'Sauc' which did great Spanish-Italian. Their seafood was superb. The suite we had was great. Very comfortable bed, brilliant bathroom, but the minibar was ludicrously expensive. (It was far cheaper to order any drinks we wanted as room service.) All in all, a very restful week.
---
Just back this morning having stayed here 9th - 15th April. We booked this holiday as a family celebration of 36 years of marriage and my husband's forthcoming 60th Birthday, taking our 3 grown up children, partners and 1 year old grandson. TUI travel agents notified the hotel in advance that this was the case and we did expect that maybe we would be given a bottle of Cava or something in our room when the anniversary cards appeared, but no recognition at all! Having stayed here on 3 previous occasions, all booked through TUI Sensatori, the hotel had become our favourite winter sun destination but there was a huge difference from our holiday in March last year. TUI Sensatori guests have definitely become 2nd class citizens, this hotel seems to want to banish Sensatori and become only Gran Melia. TUI guests are only able to pre-book restaurants up to 2 days beforehand, instead Gran Melia guests can book up 5 days before! Being a party of 8, we really struggled to get tables and were left with eating buffet more than we would have liked. I found I struggled to find things to eat, being gluten free, at Pangea Buffet and my desert option was basically fruit! Other restaurant menus were very clear re food allergies but again I had a very limited choice of one or two dishes. Food when it did eventually arrive was often just warm, never hot. There was often a problem of food running out and not being replaced, and lots of flies buzzing around the buffet! The service has become a joke, it's no longer 5 star! On previous occasions we remember the staff were brilliant, topping up drinks without needing to be asked and being very attentive generally. However, many times we were left for ages without any attention from a waiter. Again in the bars at night, previously there's been waiter service and this week we have had to order from the bar and take our own drinks to a table. The entertainment used to be first class and now seems to be the resident team each night, which looks like a cost cutting exercise! The rooms were not adequately cleaned (ring marks from glasses and dried up contact lenses left all week) and, having 4 rooms between us, none of them were fully equipped! Two were missing the table and chairs, 3 had no bathroom hand mirror, and I don't know what we have to do to get the Clarins toiletries (which we have always had previously) - maybe these are now only for Gran Melia guests? However, top marks must go to the Clarins Spa where my youngest daughter and I enjoyed our best ever soft tissue massage - amazing! Also, what hasn't changed is the WOW factor you get when arriving at this hotel, it certainly looks 5 star. The reception, main palazzo area, glass restaurant, salt water pool and beautiful gardens are fabulous. Having holidayed here once per year for the last 4 years I don't think I will be hurrying back. I did think that by showing our family this hotel they would all become regulars but I'm not sure that this week has convinced them.
Helen C - Bedlington, United Kingdom
---