Please select your dates to see prices:
---
Azul Beach Hotel in Cancun, Mexico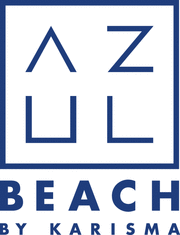 Situated on the beautiful Riviera Maya beachfront, just 20 minutes south of Cancun International Airport, the newly renovated Azul Beach welcomes you with style. Featuring a signature Gourmet Inclusive concept, your stay is carefree and comfortable in every way. The 148 contemporary guest rooms and suites feature Caribbean décor and high-end amenities, including satellite televisions, daily stocked mini bars, iPod docks, wireless Internet access, and private balconies with views over the tropical gardens or Caribbean Sea. Reserve a swim-up suite to enjoy direct access to the pool, spread out in a multi-bedroom floor plan if you are seeking extra space, or opt for the romance of an in-room whirlpool for two. Families can take advantage of available cribs, strollers, changing tables, beach toys, and more. There is even a Kids Club for children 4 to 12, offering daily activities like face painting, sandcastle building, movie nights, and pińata parties. Keep up with your workout routine at the full fitness center, or participate in one of the resort's programmed activities, like yoga, aqua aerobics, and dance lessons.
Azul Beach boasts an impressive seven swimming pools, with two swim-up bars, and dedicated beach & pool butler service to tend to your every request. Reserve a beach bed to relax on a four-poster oasis in the sand, complete with retractable drapes and plush oversize pillows. Make a splash with hobie cat sailing or kayaking, and discover the colorful sea life with the hotel's complimentary snorkeling equipment. Vassa Spa provides an array of treatments designed to ease you into complete relaxation, including hydrotherapy, facials, massages, and body wraps - all incorporating natural elements and ingredients like chocolate, honey, and aromatic essential oils. The resort is home to an array of delicious and lively restaurants, and with all-inclusive dining, you can feel free to try a little bit of everything, any time of day. The open-air oceanfront Chil serves up burgers, salads, and tacos in a breezy beach environment, Roma features a menu of Northern Italian specialties in a friendly atmosphere, and Tainan is an exotic venue offering spectacular Asian-inspired cuisine. Then sample over 30 varieties of tequila at Agavero Tequila Lounge, which also hosts table games and mood music. Find the best of Mexico and the Riviera Maya, at Azul Beach.
Location of Azul Beach Hotel
Azul Beach Hotel
Carretera Cancun - Puerto Morelos
77580
Cancun, Mexico
Nearest Airport: CUN
Amenities for Azul Beach Hotel
General Information
148 Rooms and Suites
Connecting/Adjoining Rooms
Non-Smoking Rooms
Dining
Private Dining
24-Hour Room Service
3 Bars
Wine Cellar
Swim-Up Bar
Room Service
5 Restaurants
Snack Bar
On-Site Amenities
Beauty Salon
Concierge
Shuttle Service
Spa on Property
Laundry Service
Beach Butler
Gift Shop
Fitness Center
Currency Exchange Service
Live Entertainment
Gazebo
Boutique
Limousine Service
Lazy River
Car Rental
Theater
7 Pools
In-Room Spa Services
Outdoor Spa Treatments
ATM
Wedding Planning Services
In-Room Amenities
Private Patios or Balconies
Air Conditioning
Direct Dial Telephones
DVD Players
Hair Dryers
In-Room Safes
Mini Bar
Satellite Television
iPod Docks
Coffee & Tea Facilities
WiFi
Activities
Deep Sea Fishing
Kayaking
Scuba Diving
Snorkeling
Yoga
Boogie Boarding
Dance Lessons
Aqua Fitness
Business
Meeting Rooms
Business Services
Catering Services
Family
Children's Programs
Cribs
Babysitting
Kids Pool
Kids Club
Playground
Children's Menus
Strollers
Baby Amenities
Interests
All Inclusive
Beach
Family
Kids' Club
Reviews for Azul Beach Hotel
---
This was our second time at Azul Beach, we loved it so much 2 years ago we just had to return, this time with our 8 month old baby and we were celebrating our Honeymoon. We knew Azul Beach was the only place for us. This was our first time travelling with a baby, we'd packed every basic we needed but then to be offered a pram /travel cot/steriliser/Baby listening monitors at check in just made life easier for us and reassured us they know what they're doing to cater for families on holiday. The restaurants catered for our baby food needs we just asked for main meals (chicken/veg/potatoes) and they blended them for us. This was a great relief and meant I didn't need all the pouch/jars of baby food I'd packed just incase! I'd like to give a special mention to some amazing team members working at Azul Beach who made our holiday extra special... Juan Carlos & Armando: always kept us topped up with ice cold drinks by the poolside and the beach, thank you. Audi @Nickelodeon Audi was so welcoming and such fun to share some of our holiday with, this is my first experience of a children's club/entertainment and she has set the bar and standard so high. Our baby only had to hear her voice and he was smiling and looking for her :) thank you so much. The kids club itself is great and caters to all ages, our baby and I enjoyed some time out of the sun there most days playing with the sensory themed toys and soft play zones. We rented a toy for the room too- great idea. Joaquin- what a lovely guy. He made the days so fun, all the activities and enthusiasm he had for them and the guests, he even put on a pool volley especially for my husband who enjoyed it so much he made sure it was on every day for him which was so kind. Evening entertainment: Angel & Valerie. Angel is a credit to the hotel, he was always making sure people knew the evening entertainment schedule and always made time to chat with us, his assistant Valerie was lovely also. Restaurant: Melissa. Every day Melissa had a warm smile and spent some time with our baby- He adored her too! Thank you. We were delighted to see and be remembered by some of the legendary waiters: Antonio, Noel, Daniel. We were so surprised you remembered us, this meant a lot thank you for your excellent service as usual. We will definitely return and can't wait to see you all again. My only criticism is the evening menu options, after 2 weeks I found myself struggling to choose, I think a "specials menu" would be a nice option to help break up 2 long weeks with a different choice from the standard menus. Maybe a "daily special" would help. You host theme nights which helps with this change of menu however they are very busy and were self service buffet style. Thanks to all of you for an amazing honeymoon love Jenny, Sam & Archie xx
---
Best resort ever! Shout outs: Angel (nic) Joaquin Joan avalino Angie Audi Mauricio Valeria Bernardino Javier Wilbert Armando Adrian Ruben Cesar Fidel Noel Jesus Juan Isa Antonio Ivan Kevin, LEO Thania
Ljarvis17 - Fort Collins, Colorado
---
Long trip from South West UK however the moment we arrived we hooked up with our daughter, son in law and two young grandchildren who had flown in from Calgary. The hotel was so immediately relaxing and invigorating we loved it straight off. From then on staff were so attentive in all areas from pools to beach and all restaurants, especially Blue. They catered to all our family needs from little baby Freya to Grandpa with hearing problems. We loved it catered for three generational family groups with such ease. Small hotel but felt so spacious and intimate at the same time would love to return. Should name staff but you were all so wonderful. Many thanks hope to return.
LizzyP100 - Dartmoor National Park, United Kingdom
---
My husband and I have vacationed at AZUL Beach every year since 2012! We got married at AZUL Beach in May 2013 and had over 55 family and friends join us for our special day! EVERYONE loved it!!! We have returned every year to celebrate with friends! AZUL Beach has the friendliest staff of any resort we have ever visited and we travel a lot! Please continue to take care of your precious staff! They are a huge reason why we continue to return and why we recommend AZUL Beach to everyone else! When we travel to AZUL Beach, we feel like we are at home and we are surrounding by wonderful people. Audi, Juan, Armando, Leo, Alian, Shirley, Wilbert and many others (please forgive me for not listing all of our favorites) are truly rare jewels! We think of Audi, Leo & Juan as family! We love to visit with their families as well when we travel to Mexico. Audi is full of energy and has a genuine zest for life. She is truly an outstanding young woman who desires to be the best at whatever she does! She is extremely talented and has a genuine concern for others. We adore Juan and his beautiful family! Juan has a smile on his face at all times and is willing to go above and beyond the call of duty to make sure our stay is absolutely perfect!! Wilbert takes care of us in the Tequila Lounge every year! He is so patient with us....even when some of my friends may act a little unruly... ha! I cannot say enough about your wonderful staff and this amazing boutique resort!!
Amanda H - Montgomery, Alabama, United States
---
This is my 5th fifth time coming to this resort and this time has been the best time out of all of them. What really made this experience so amazing was all the amazing employees that have become just like family over these years. Another factor is the amazing animation and entertainment because I have seen how it has changed from last year and the hotel has made huge improvements from the shows during the night to all the games during the day including water polo, volleyball, soccer and horseshoes. This includes the animation group and the Nickelodeon staff: Joaquin, Ana, Angie, Audi, Valeria, Angel, Saul, Leo, Thania at kids club and boss man, Aldo. To me, the most important part that made this hotel feel like home is the service and hospitality that the beach butlers, waiters, and bartenders provided to not only me and my family but to everyone around us. This includes Joan, Adrian, Fidel, Noel, Jesus, Juan Carlos, Antonio, Ivan, Ruben, Cesar, Javier, Wilbert, Armando, Bernardino, Alberto, Perla, Mauricio, Isa, Heriberto, Moises, and Juan (bartender). A huge thanks to everyone at the Azul beach hotel for my making our stay the best it could possibly be.
---