Please select your dates to see prices:
---
JW Marriott Cancun Resort & Spa in Cancun, Mexico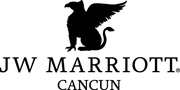 Nestled along the beach in Cancun's hotel zone, the JW Marriott Cancun Resort & Spa constitutes a quiet refined oasis among the surrounding din. Elegant details set the resort apart from its peers. A delicate flower scent permeates the welcoming lobby and guests can frolic around four outdoor swimming pools. The infinity-edged main pool threads through the landscaped grounds and fronts the pristine powdery sand. Jump the diving pool's deep end and explore the built-in artificial reef. Dotted with beach chaise loungers and shady palapas, the 700-foot beach beckons to linger. The cerulean ocean is the resort's ubiquitous backdrop and all 448 rooms have private balconies where to take in the view. Appointed in classic style, roomy accommodations (the smallest measures 465 square feet) feature sitting areas with lively color accents, wireless Internet access, 32-inch flat-panel televisions and twice-daily maid service. Bathrooms are exquisitely marble-bedecked with separate tubs and showers.
At the heart of the JW Marriott Cancun Resort lies its Mayan inspired adults-only 35,000 square foot spa, which includes an indoor pool, Jacuzzi, a cutting-edge fitness center, and spectacular sea views. Among the comprehensive array of services are healing saltwater treatments and Kin Ahau aromatherapy massages which combine elements of Thai, Swedish, Deep Tissue and lymphatic drainage. No one goes hungry at this property. Feeling peckish while sunbathing? Ultra-prompt poolside wait staff has guests set up pronto with drinks and light lunch fare. During more formal dinner, the resort boasts outstanding cuisine at all three of its gourmet restaurants. Enjoy pan-Mediterranean cookery at Gustino Italian Grill or feast on creative Caribbean-Southwestern U.S. fusion dishes like coffee-rubbed tender filet mignon accompanied by Peruvian potato purée at Sedona Grill. Head to exclusive five-diamond Club 91 (named after the number of steps to ascend Chichén Itza's pyramid) for happy hour libations or after-hours party time. The JW Marriott Cancun Resort & Spa is a paragon of luxurious serenity and the warmth of Mexican hospitality enhanced by stellar amenities.
Location of JW Marriott Cancun Resort & Spa
JW Marriott Cancun Resort & Spa
Blvd. Kukulkan, Km14.5, Lote 40-A-Zona Hotelera
77500
Cancun, Mexico
Nearest Airport: CUN
Amenities for JW Marriott Cancun Resort & Spa
General Information
448 Rooms and Suites
Connecting/Adjoining Rooms
Handicap Accessible Rooms
Pets Not Permitted
Non-Smoking Rooms
Dining
Poolside Dining
24-Hour Room Service
4 Restaurants
Deli
On-Site Amenities
Beauty Salon
On-Site Car Rental
Concierge
Shuttle Service
Spa on Property
Fitness Center
WiFi
Sauna
High-Speed Internet Access
Indoor Pool
Valet Parking
4 Pools
Wedding Planning Services
In-Room Amenities
Private Patios or Balconies
Turndown Service
Air Conditioning
Direct Dial Telephones
Hair Dryers
In-Room Safes
Mini Bar
Satellite Television
iPod Docks
Iron/Ironing Boards
Built-In Power Adapters
Marble Bathrooms
Flat-Screen Televisions
Bottled Water
Work Desks
Bathrobes & Slippers
Activities
Tennis
Jet Skiing
Business
Meeting Rooms
Business Center
Family
Cribs
Kids Pool
Kids Club
Rollaway Beds
Nearby
Historic Sites
Shopping
Restaurants
Golf
Interests
Beach
Cool Pools
Reviews for JW Marriott Cancun Resort & Spa
---
We arrived in Cancun Saturday morning, 1/6/18 and were met by Prestige travel. Our driver was great (sorry we lost track of his name). Our check-in was smooth and even though we were there around 11 am we were settled in our room in no time. We headed down to the lobby and grabbed some slices of pizza for lunch and then headed to the beautiful beach and incredible blue water! Next morning, I got up early to get a palapa on the beach (stayed at Marriot Stellaris Tradewinds Club in Aruba the last couple of years and had to get up very early to get a good palapa). As I came down into the pool area I was met by Quenni! He had a big smile on his face and he asked if he could help me. I said I needed a few towels to take to the beach. He got several towels and asked where we wanted to sit. We had my choice of palapas! Quenni said it should not be a problem getting one each day. Each morning I came down Quenni would see me coming, grab some towels, and meet me and my wife and daughter with a big smile and a warm Hola. We would talk about the area or his three-year-old son as we walked. Each day, he not only got the towels on our chairs but created "pillows" for each of us. It was a pleasure to see him each morning. The great service he provided and getting to know Quenni was wonderful. He just made us feel so welcome. What a great young man to have on the Marriot Team! We had breakfast each day at the Sedona grill. The first day Luis was there to assist us. He is another great Marriot Team Member. The service and the food were very good at the buffet. There was a large selection of quality food that was prepared and presented well. A couple of days we had Maldondo and Arias to assist us. Again, the service was great and they were extremely attentive. Our housekeepers were great also. Everything was made up quickly every day and the turndown service was excellent. Even with all the great staff, Quenni stood out to us as just amazing. We just wanted to thank Quenni in particular and the whole Marriott team in general for providing us with a great vacation. Looking forward to seeing you again. Thanks
Kevin M - Rochester, New York
---
I can't over emphasize how great the staff are at the JW. My family of 4 with two teenagers stayed at the JW for a week. The pool staff, concierge, bellmen and the staff that assist with taxis were so pleasant and friendly that it really made a difference in our stay. I am a platinum member and stayed on the 12th floor which is the top floor before club 91. I slept like a baby and if it weren't for reading trip advisor would have never known that the hotel was under renovation. I did not hear nor see any construction going on. It does appear that the rooms closest to the elevators have been renovated and then some random rooms along the other main hallway. The fitness area was nice with about 10 treadmills, weights and other cardio equipment. The fitness center also gives you access to an adult only indoor pool and huge hot pool. The outdoor pool was great- plenty of seats and there are many shade umbrellas. There are also two hot tubs. The buffet at Sedona grill was plentiful: you could have a Mexican, Asian, European or American breakfast. It was also very nice to have the Marriott Cancun just a short walk through an enclosed corridor-we ate several times at the Marriott Cancun restaurants (sports bar and Japanese steakhouse). We booked two excursions (Chichen Itza and Xplor) through the in house tour agent- which was convenient. The only issue we had during our week long stay was that our all our keys got deactivated twice (they said it was an electrical problem). Hate to leave paradise!
---
Everyone at the resort is just so friendly. All the pool servers, restaurant servers, bars, shops, front desk and bellmen are just the nicest people. The hotel is to be commended for maintaining such a pleasant atmosphere. The only hung keeping it from 5 stars is the property and rooms are aging.
RalphmL - Margate City, New Jersey
---
Stayed here for a week during 2nd week of March. This is our first time in Cancun and 2nd time vacationing in Mexico (Cabo was the previous destination). First of I must admit Cancun is way way better nicer greener and advanced place than Cabo. JW Marriott is my wife's first choice whenever we look for hotels just because we just assume the place will be nicer and have its own class compared to most other places. For this Cancun trip we also did the same. We booked the hotel through Costco travel.. price may be the same but it included airport transfer both ways which was very nice and and very well organized. Costco used BD travel for the transfer which was smooth and glitch less both ways. We arrived at the hotel around 4 pm local time. The crew at the counter was nice, a little weak in English but she was nice. We asked for a higher floor room but she said nothing else is available than the one room she allocated for us which was at 5th floor. I repeatedly asked her that I don't care if 5th or at top floor but is the view to ocean is obstructed by other structure or not and she assure all room has ocean view etc. anyway once we get to our room guess what the view was semi blocked by the roof of one of the restaurant of the hotel. Anyway I decided to love with it. The room was ok nothing extra ordinary.. 2 double bed, patio bathroom shower bathtub, mini fridge and s safe. The fridge was full of stuff which we took it out and put on the side so that we can later put our water bottle alcohol etc. the hotel has few restaurant and the connected building is the Marriott which has restaurants of its own . We tried almost all of them and they were all great except for the the hotel bar where food was bad. The outside the pool area, swim up bar were all super nice and the view from the infinity pool to the clear blue Gulf of Mexico Was just too good, we spent almost 3 days at the pool and beach area without doing anything other than eat drink swim hot tub and beach! The food at the pool was awesome very tasty, cocktails were around 220 peso which is around 12 dollars, beer around 85 peso and food around 300 peso. Service was top class very nice with lots of condiments and sides ..food got delivered at the pool where ever we were sitting on that day. We did not rent any cars . We did few trips with tour companies. There is a convenient store close to hotel just across the hotel on the other side of the road about 10 moonwalk from the lobby. Beer price there is way way cheaper .. 6 packs of Corona was 136 peso where at the hotel convenient store one can of beer cost around 85 peso. Overall we loved the place, very nice hotel gorgeous all around view. Huge pool area with private beach where only hotel guest can go so outside public or people trying selling stuff. Bus stand is just 5 min walk from the lobby. Any bus ride to anywhere is 12 peso and the hotel is about 15 min bus ride from the main hotel zone of cancun
Papillon_xcape - Phoenix, Arizona
---
This is an amazing hotel. We've stayed at other pricier luxury resorts, Bora Bora, Lanai, However, this one which is closer to home and less expensive is wonderful. We've stayed for a week and have enjoyed the friendly warm service and beautiful amenities. Gorgeous ocean view, beautiful pool with plenty of chairs poolside and at the beach with impeccable service in both places. Easy to find chairs with shade. When not windy the current is gentle enough for those afraid of heavy currents to swim. Plenty of beach life guards. Our room is cleaned/ serviced twice per day with thoughtful touches like slippers put next to the bed, rose petals one day, chocolate turn down service, towel animals, spiffy Illy espresso coffee maker in room, fluffy towels enough shampoo etc. They clean your room when you want. The people working at the hotel are super friendly and help set the low key relaxed tone here. It's a gorgeous place with a friendly atmosphere among guests. Not show-offy, spring -breaky or crowded feeling at all. The pool area is cleaned all day and not a disaster area at the end of the day like at some places. We've loved our stay! I think it won an award in 2016 for treating it's staff well. I know they are required to hire at least 30% people of Maya heritage. I wish I could remember all the names in the restaurants here as well which we thought wonderful, especially Gustino which had live saxophone music and impeccable service. Thank you Norma Edith (housekeeping), Arodi, Benjamin (pool/ beach, Ximena (cafe) and the rest of the staff who work hard to provide an amazing experience! I hope to return one day!
---