Please select your dates to see prices:
---
NIZUC Resort & Spa in Cancun, Mexico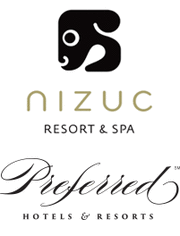 One of the hottest new luxury destinations in Mexico is the secluded enclave of Punta Nizuc, located just 20 minutes from the Cancun International Airport, yet miles away from ordinary. Here in this idyllic oasis, NIZUC Resort & Spa welcomes guests seeking something fantastic and sophisticated on the shore's of Mexico's Caribbean. Protected mangroves, lush foliage, and the white sands of two gorgeous beaches surround this Preferred Hotels & Resorts property, part of the Preferred Hotel Group, which houses 274 suites and villas throughout its nearly 30 acres. Within these lavish suites, enjoy panoramic ocean views from floor-to-ceiling windows and expansive private terraces—nearly 250 outdoor square feet in size or more—all furnished with the most exquisite modern décor. Egyptian cotton linens drape king beds, spacious bathrooms feature deep soaking tubs and rainfall showers, and modern tech amenities abound, including flat-panel televisions, iPod docks, and wireless Internet access. For even more indulgence, NIZUC SPA by ESPA offers 30,000 square feet of bliss, with a wellness concept and integrative programs to renew and restore. From the NIZUC Thermal Experience—which includes an aromatic steam room, experience showers with chromatherapy, and an ice fountain with cool mist showers—to the meditations garden, fitness center, spa café, and beauty salon with nail bar—it is a destination in and of itself. Find your personal sanctuary at NIZUC Resort & Spa.
A trio of infinity pools are a the perfect place to sun and relax, as are the spectacular beaches just steps outside your door. The 24-hour concierge can arrange a round of golf on the nearby championship course, or help you plan a local excursion to Chichén Itzá, Coba and its otherworldly cenotes and caverns, or Tulum for snorkeling and lunch by the beach. On-site, six gourmet restaurants provide a premier dining experience day and night. Discover an enchanting Peruvian meal at Ni, with its small plates and big flavor, traditional Mexican cuisine at Ramona, and Asian fusion using fresh ingredients and modern twists at Indochine. Top off your nights with a cocktail at one of the sultry lounges, as NIZUC Resort & Spa brings you into a world of pleasure. If you are seeking a memorable special experience, try the sushi & tequila tasting night, or a wine pairing dinner. Regardless of your personal preferences, the resort is able to cater to you and your desires. Find something more than just a Mexico beach vacation - find excellence and modern luxury in one of the most beautiful beaches on the coast, at NIZUC Resort & Spa.
Location of NIZUC Resort & Spa
NIZUC Resort & Spa
Boulevard Kukulcan KM 21.26 Punta Nizuc
77500
Cancun, Mexico
Nearest Airport: CUN
Amenities for NIZUC Resort & Spa
General Information
274 Suites and Villas
Dining
Private Dining
6 Restaurants
Rooftop Bar
Lounge
Oceanfront Dining
On-Site Amenities
Beauty Salon
Spa on Property
Fitness Center
Sauna
Butler Service
Cigar Lounge
Beach Access
Steam Room
Mineral Baths
24-Hour Concierge
Infinity Pools
Wedding Planning Services
In-Room Amenities
Direct Dial Telephones
Mini Bar
iPod Docks
Flat-Screen Televisions
Luxury Linens
Coffee & Tea Facilities
Luxury Bath Amenities
Floor-to-Ceiling Windows
Private Terraces
Bathrobes & Slippers
Business
Meeting Rooms
Conference Facilities
Nearby
Historic Sites
Golf
Reviews for NIZUC Resort & Spa
---
You will not be disappointed! My 9 year enjoyed the paddle boarding, kayaking, and snorkeling they offered right off the beach. The lifeguards made it so easy and convenient. We would definitely come back!
khua3553 - Sugar Land, Texas
---
Room was beautiful. Service including housekeeping, butler service, responsiveness of staff was mediocre at best. More often than not I had to request service multiple times until it actually happened. I did not try any restaurants.
Elliott212972 - New York City, New York
---
We'd stayed at the resort for 5 days the first week of March to celebrate birth days for 3 generation of women and a 7 year old. The resort was absolutely beautiful, probably the most impressive hotel we've stayed in the Caribbean but it failed to meet the service standard for a 5 star hotel. List of my issues: Hidden charges and rude service at the spa - to use the spa, there's a daily rate of $135 which no one tells you upfront. I booked a spa service for my 74 year mother and called ahead to make sure that she could come earlier than scheduled to use to facility. When she arrived at the spa, she was told she was not allowed and sent her back to her room (I was mad and mortified). It's also the most expensive spa service for a 50 minute massage I've received ($253 to be exact and they put the gratuity without letting me know. Also, during check out, I was given a credit card receipt for my hotel room without any itemized charges and didn't understand why my final bill was a lot more than the estimated cost by Amex. I finally got the answer - there's a 10% resort fee on top of your 16% IVA fed tax and 2% lodging tax. It would have been nice for someone to let me know. Broken thermostat - my daughter ended up getting a cold from a freezing room. I've asked to move to a different room but did not accommodate me until I threatened to send a picture of my daughter sleeping with a robe, three sweaters and a blanket because it was too cold. We ended moving to a different building over an hour later and she become ill during dinner the following night at Indochine. Spotty service - Some were good but some were really terrible. Front desk service really needs to improve. Chaselle at guest services listened to my annoyance/complaints and rectified some of the mistakes made. She moved/upgrade our room to a higher floor with a better view and no mosquitos and allowed my mother and I to use the spa facilities for one extra day without a charge. Overall, the resort is beautiful, we've enjoy our stay and will likely to visit again in the future but hoping for a better service.
---
We stayed in Nizuc from 2/17/2018 to 2/24/2018. Overall it is a good experience. However, we had not so good experience with their trip planner. We sat down with one of the trip planner when we first got there. We selected Tulum express tour. The trip planner told us that at the end of the trip there will be no bus to bring us back to the resort. We have to wait for several hours shopping before we can be brought back to resort. My wife was not happy about that. Then the trip planner suggested us to boot another tour in the afternoon. So we booked a snorkeling tour. On the day of the trip, we found out the tour bus would come back to resort right after the tour and it is always like that. By chatting with other tourists on the bus, we found out if we said not booking this tour, the trip planner would change story saying, "Oh, there will be a bus coming back at 1pm". So trip planners are using this strategy to book more trips. Afterwards, we found out the snorkeling tour the trip planner recommended was more expensive and less good than the other snorkeling tours listed in their book. We did complained to their manager and customer service. I know they knew this practice but pretended they had no idea. My advice: more research and compare before commit. The trip planners always want to sell you the more expensive tours because they can earn higher commissions. In addition, you can talk to different trip planners. Some time you can get better information. Another thing, if you are a beach person, their beaches (maybe all Cancun beaches) have seaweeds. Now the good thing, remember to check out their bike ride, mini golf, tennis and basketball. All are free. We found this out kind of late in our stay, right before we left the resort for home.
USAEastCoastGuy - West Hartford, Connecticut
---
I did not like to be charged for a tip before the service. How would you know if you liked it or not. The service turned out ok at the end but I think a bit overpriced for what it was. Facility very nice and clean. Snack used to be better
---