Please select your dates to see prices:
---
The Ritz-Carlton, Cancun in Cancun, Mexico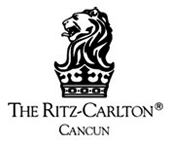 Listen to the gentle sound of the waves washing ashore, feel the warm breeze swirling the sand at your feet, and gaze out over the crystalline stretch of the Caribbean from the beachfront of The Ritz-Carlton, Cancun. On a gorgeous strip of land on Mexico's Yucatan Peninsula, between the sea and glittering blue lagoon, this luxurious resort welcomes you to embrace paradise and breathe in the refreshing atmosphere. Soothing colors and warm style create a tranquil ambiance in spacious rooms, while furnished terraces are the perfect place to sip a cocktail and immerse yourself in the natural beauty of your surroundings. Elegant marble bathrooms offer deep soaking tubs and separate rain showers, while plush beds and lounges keep you in the lap of luxury day and night. At The Ritz-Carlton, Cancun you will enjoy the best of the best in accommodations, as well as the bright and sunny beachfront that awaits just outside your door.
Stroll down the beach to find your perfect spot or private cabana and settle in for a fabulously relaxing day. Sun yourself on the white sands, dive into the refreshing waves, or even take a yoga lesson. Take a scuba or snorkeling excursion just off the coast and be amazed by the Great Maya Barrier Reef, or the vibrant underwater worlds of Cozumel and Isla Mujeres. Head out on the open ocean for a leisurely day trip aboard a luxury yacht, or aboard a sport fishing boat destined to catch the big prize. Take a day to go sightseeing at the breathtaking architectural sights of Chichen Itza, Mayapan or Uxmal, and marvel at the astounding pyramids and ball courts. Take a dip in one of the incredible cenotes, within the clear beautiful waters of these underground limestone pools, then return to the resort for the perfect dinner. Delight your palate with wonderful, fresh Mediterranean cuisine at Fantino, delve into the local flavors of Cancun at El Café Mexicano, or even sample the edible works of art from the sushi bar. With the day coming to a close, sip a glass of champagne on the beach, watch the sun flare brilliantly in the sky, and toast to the good life at The Ritz-Carlton, Cancun.
Location of The Ritz-Carlton, Cancun
The Ritz-Carlton, Cancun
Retorno del Rey #36 Zona Hotelera
CP 77500
Cancun, Mexico
Nearest Airport: CUN
Amenities for The Ritz-Carlton, Cancun
General Information
365 Guest Rooms
Connecting/Adjoining Rooms
Dining
Outdoor Dining
24-Hour Room Service
Beach Wait Service
Sushi Bar
Pool Wait Service
On-Site Amenities
Beauty Salon
On-Site Car Rental
Concierge
Spa on Property
Fitness Center
WiFi
Currency Exchange Service
Live Entertainment
Boutiques
Valet Parking
Art Collection
Tennis Courts
Outdoor Whirlpool
Culinary School
Beach Cabanas
In-Room Amenities
Turndown Service
Air Conditioning
Bathrobes
Hair Dryers
In-Room Safes
Mini Bar
Satellite Television
Iron/Ironing Boards
Marble Bathrooms
Flat-Screen Televisions
Luxury Linens
Luxury Bath Amenities
Rain Showers
Activities
Cooking Classes
Kayaking
Sailing
Tennis
Windsurfing
Scuba Diving
Snorkeling
Yoga
Boat Excursions
Fitness Classes
Wildlife Viewing
Business
Business Center/Services
Meeting Rooms
Family
Cribs
Babysitting
Kids Club
Children's Menus
Rollaway Beds
Beach & Pool Toys
Nearby
Historic Sites
Shopping
Golf
Nightlife
Reviews for The Ritz-Carlton, Cancun
---
We stayed on the Club Level at the Ritz Carlton Cancun. My husband and I had been there many years ago. This time we were with our kids. I booked the stay through the Ritz Carlton preferred line as we are members. The price I was quoted was not the price we were charged upon checkout. We were charged about $400 more. (This only included the base rate plus taxes.) We received a $100 credit for our stay which was predetermined. This was not reflected upon checkout. My husband went to discuss with the club concierge and he said "that's on another page." Then print the page! Be transparent! Well, 3 drinks and 2 smoothies was not $100. We made a gift shop purchase for $23 USD and that was then added to the $100 credit. Had we not asked, it would have gone unseen. The Club level was unlike any we've ever experienced in that the manager of the Club DID NOT CARE about the guests. Normally the Club manager circulates among the guests and gets to know everyone. This NEVER happened. The waitstaff was friendly, but the experience was not as familiar as in the States. We thought that perhaps that's how they want it in Mexico--the boss is just that, the BOSS. The gentleman who checked us in upon arrival was completely ineffectual. He stated the base rate plus $150 per night for extra people on Club and didn't mention taxes. He also didn't mention anything else--the spa, the pools, the restaurants, the surrounding area. We were just a transaction to him and nothing else. All he wanted or cared about was our money. The property is lovely but not for long. The hot tub is falling apart. We have declined to submit photos so as not to embarrass the Ritz. The hot tub was dirty and there were SEVERAL tiles missing from the floor. There was a layer of scum along the top of the water and along the sides. My son got a middle ear infection once at home. The doctor said it was likely due to dirty water. The waitstaff at the pool was completely inattentive. At every other property we've visited, the staff was anticipating your needs. You couldn't even find someone there to order a drink!!! At all other properties there are activities at the hotel--music, or kids' events, hotel events. There was nothing special at this Ritz. We could have stayed at the Marriott down the way and not known the difference but for the elaborate lobby at the Ritz. On the positive side, the rooms were cleaned the best I've ever experienced. They SMELLED clean. Have to love that. The beach was lovely. The water was clear (as expected). The food on the Club level was amazing. I have digestive issues as a colon cancer survivor and every day is challenging. I did not have any issues. There was plenty of fresh fruit, excellent food choices, etc. In summary, I wish we would have stayed in the states. We could have saved a lot of time and energy and been treated like real guests at home. We will not return to Cancun.
---
My family came to Mexico for the week. We've been before and seen all the sights. This was a getaway targeting sun and rest and the Ritz doesn't disappoint. The property, service and food are just what you'd expect and exactly what we were looking for. Great proximity to restaurants off property and an informative staff enhanced out visit. I highly recommend!
Pittman3 - Upper Saddle River, New Jersey
---
I have never had such mixed feelings about a hotel. There were things I loved including the incredible service, friendly staff, attention to some little details and things that were totally out-of-place for a Ritz Carlton like a lack of hot water everyday and heavily worn out furniture. My wife and I used up a slew of Marriott points to spend a week at the Ritz Carlton Cancun in April 2018. As a platinum Marriott rewards member I have gotten used to some added perks--most of which don't really manifest themselves at the Ritz. We were kindly upgraded from an ocean view room to ocean front, but Ritz Carlton does not upgrade to suites or club level without paying more. Arriving at the hotel we received cool drinks and scented towels to clean up after our travels. Our bellman showed us to our room that overlooked the beach and pool area. Soon after we received a complimentary cake for our celebration week. The service started out second-to-none. After the rush of service and carribean surroundings had sunk in we started to look closer at the room and property. Issues included peeling paint in many places (which to their credit they were fixing in some place during our stay), a toilet that easily clogged and smelled of sewage, a shower that had excellent pressure but rarely any hot water (lukewarm at best) and a sink that would plug up on its own. The doors creaked incredibly loud and wouldn't stay shut. The pool area was fairly quiet and pool/beach service was great. Elevators were slow, small and too few. There are on-site ATMs that dole out pesos. The indoor courtyard area at the center of the hotel was an unusual and dated waste of space that didn't really add to the ambiance. We never ended up eating at the hotel restaurants since the combination of menus and prices didn't match up. We were encouraged to pay the $40/day resort fee which we declined to do since it provided very little value--especially since internet access is free for Marriott rewards members. If you are interested in seeing iguanas then you are in the right place since a whole family of them hang out during the day right by the parking garage. I almost stepped on one in the shadows of the sidewalk. We never saw more of them then we did on the hotel grounds (attraction or infestation?). If you are looking to use your Marriott points in Cancun I would recommend considering the JW Marriott which appears much newer with more facilities and better restaurants between the JW and connected Marriott hotel.
---
Pros - Amazing beach, apart from the line of seaweed which they couldn't do much about. Clean. - Good rooms with great views - 2 nice pools with small outdoor jacuzzi - Breakfast: Amazing! Not as much selection as some of the other 5 star hotels I've stayed in but it's great as it has a Mexican twist. They made food without meat for us and were receptive to specific orders. - Spa was amazing.. One of the best in terms facilties (hot tub, cold pool, amazing showers, steam room, relaxation room) - prices are very high! - Dinner on the beach at Casitas hiring a private cabana was nice (85 usd just for hire) - Restaurants made effort to wish us a happy honeymoon Cons - Service around the pool was poor! Very slow and staff just didn't seem to come around to you. Spent ages sitting up trying to make eye contact. We also lost our goggles by the pool and asked 4 different people to check lost and found and NOT ONE of them them got back to us. Annoying that we had to keep chasing them, not what you expect from Ritz (ended up leaving without an answer as to whether they found them or not). Also a few occasions we had to put the towels out ourselves but then had to ask them to put the umbrella up because we couldn't figure it out. Pool area was also u little bit dated eg tiles etc. - Had some issues with chasing the main reception staff about a potential room change. Ended up calling them 4 times before they sorted it despite promising to call us back. - Spa prices way too expensive but I guess this is a common Ritz theme! - No draught beer! Only cans of beer. These unfortunately made it from a 5 star to a 4.5 star. For the amount you pay these shouldn't be issues at this hotel. Despite this overall a good stay!
Footech231 - London, United Kingdom
---
Ritz is always best of the best!! Nothing compares to the Ritz . This Cancun Jen will not disappoint. Renovated rooms and 5 star food service. The will do whatever you ask ( as long as it is legal ) . Service with a smile . I have been to Cancun 6 or more times and rate this as number 1.
worldtraveler21nj - New Jersey
---