Please select your dates to see prices:
---
Cap Maison in Cap Estate, Saint Lucia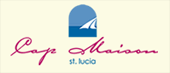 The moment you arrive at Cap Maison Resort & Spa, located on the sublime island of Saint Lucia, you will feel as if you are a privileged castaway. The natural beauty and airbrushed ocean bluff setting is what makes this hideaway a true standout. The design is equal parts rustic and refined, coupled with Spanish-Caribbean flair. Behind a collection of white-washed structures are one, two and three-bedroom suites with varied floor plans that include split-level designs, spacious bedrooms and private rooftop pools. Folding doors push back to seamlessly mix the outside with the indoors. As for the views and service, both are deserving of high marks. The gardens are beautifully manicured and the secluded sandy beach, which rests several feet below, seems practically deserted even when the resort is at full capacity.
One of the island's most spectacular dining locations is located within Cap Maison. The Cliff at the Cap features a sumptuous menu, and an even more delicious setting with al fresco tables and ocean views. When you feel like dining on your private terrace, allow the resort's valets to attend to your every culinary need. Sip a "Cliffhanger" - the resort's signature drink - at The Cliff Bar, named for its precipice position. While your suite has all the amenities you could ever want, Spa Maison provides some added pampering with a menu of soothing head-to-toe treatments that can also be administered in the privacy of your room, atop the ocean bluff or on the windswept beach. The resort also offers an abundance of aquatic activities as well as terra firma recreation to suit your every desire.
Location of Cap Maison
Cap Maison
Smugglers Cove Drive
Cap Estate, Saint Lucia
Nearest Airport: SLU
Amenities for Cap Maison
General Information
49 Villas and Suites
Ecologically Sustainable Practices
Dining
Outdoor Dining
Private Dining
Pool Bar
Restaurant
Wine Cellar
Bar
On-Site Amenities
Spa on Property
Fitness Center
WiFi
Personal Trainers
Outdoor Whirlpool
Lounge
Outdoor Spa Treatments
3 Outdoor Pools
In-Room Amenities
Air Conditioning
Ceiling Fans
Direct Dial Telephones
DVD Players
Mini Bar
iPod Docks
Flat-Screen Televisions
Coffee & Tea Facilities
Outdoor Showers
Private Pools
Activities
Deep Sea Fishing
Hiking
Kayaking
Sailing
Windsurfing
Scuba Diving
Snorkeling
Sunset Cruises
Tai Chi
Yoga
Boat Excursions
Yachting
Nearby
Shopping
Restaurants
Golf
Marina
National Park
Interests
Beach
Family
Spa & Wellness
Summer Getaways
Reviews for Cap Maison
---
My husband I spent ten days at Cap Maison in February, and I am just getting round to writing this now, pleased to see so many more recent visitors echoing our satisfying experience. We took the all-inclusive which meant three meals a day at either of the two restaurants on the property. We would cheerfully do that again. The food at the Cliff or the Fisherman's restaurant on the beach was consistently superb. After a week we saw the same menus coming around again but didn't mind a bit. My only small complaint is that the waitstaff were sometimes a bit slow with our courses, and particularly distracted at breakfast, but they work hard and we don't want to add to what must be a pretty demanding job, pleasing tourists all day. When we were there some powerful high winds pretty much wiped out the small beach but we also didn't mind that because the pools dotted around the hotel grounds are all so lovely. We had a large, beautiful room overlooking the gardens and the sea, and spent every evening on our balcony toasting the sunset. As everyone notes, the grounds are exquisite, with some of the finest Caribbean vistas we have experienced. Attention to detail is everything one would expect from a five-star resort. Cap Maison is also just the right size, not overwhelmingly large, no sense of it being a circus. It hit all the right notes for us and we definitely intend to return.
Raisinbread - St John's, Newfoundland
---
I was thrilled to go back one year later to Cap Maison, which enchanted me in 2017. Keizah was amazing at making all my transport and excursion requests with personal attention and elegance. Joella made me feel like family as a returning guest which I truly appreciated. Ross, in his polished way as GM, leads this property in "enlightened hospitality." I must say, the restaurants are like no other, in presentation, creativity and absolute delight. Look forward to my return and thank you to all for a wonderful time at Cap Maison!
361beverly - New York City, New York
---
We had a great week at Cap Maison last week and would highly recommend this resort to anyone looking for an upscale/boutique place with tremendous views and amazing food. The style of this place cannot be overstated. The grounds, the architecture and the rooms all have a tropical feel infused with a French Mediterranean look. It's quite nice. The pools are very quiet and comfortable with an adequate level of service and the private beach (while sometimes having choppy waves) is a perfect spot free from all distractions. But one thing that probably sets this place apart is the food. You can tell they pride themselves in their food, and they should. The one negative might be the bugs can find you in the middle of the night (not really Cap Maison's fault) but they do provide a mosquito net that came in handy. Overall we were very pleased. We've stayed elsewhere in St. Lucia and this was better. We'll be coming back.
travellightly89 - Charlotte, North Carolina
---
This is the most relaxing resort. It is such a pleasure not to have to plan a thing. My only decision to be made was pool or beach or which restaurant. Everywhere we went at the resort the staff was pleasant and ready to help with anything you need. Our room was comfy and the bed and pillows were dreamy.
---
Thoroughly loved our stay at the Cap Maison! The grounds are lovely, with amazing views out over the ocean. The lounges by the pool were super comfy; we barely felt the need to leave the resort at all. The staff made our friend's birthday dinner extra special, and were always lovely. Strongly suggest going all inclusive so you can sit back, relax, and have whatever you want. Would love to come back for a nice relaxing "unwind" at this beautiful resort.
cmaus2018 - Sydney, Australia
---