Please select your dates to see prices:
---
Caesar Augustus in Capri, Italy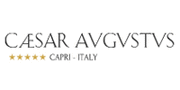 Regally poised on a cliff 1,000 feet above the sea, Hotel Caesar Augustus carries on a tradition of extravagance that once made Italy's Isle of Capri a playground for Roman emperors. At this stunning Relais & Chateaux property, you might stay in a suite named after its spectacular views of Mount Vesuvius or the Egyptian king who lived in it for a year. Guest rooms are equally enticing, with their private balconies gazing across the Bay of Naples. From the marvelous infinity pool to the celebration of regional flavors at Lucullo Terrace, each detail is a seductive celebration of good living.
From your base at this former 19th-century private manor, you will savor unparalleled tranquility, while at the same time enjoying access to the island's dramatic coastline, citrus groves and terraced vineyards. Trace ancient Roman routes as you explore the legacy of Emperor Tiberius, including the excavations of Damecuta and the intriguing Villa Jovis. The chairlift to the top of Mount Solaro boasts breathtaking views, while a boat trip around the island will take you to the famed Blue Grotto, where the refraction of light has long captivated artists.
Location of Caesar Augustus
Caesar Augustus
Via G.Orlandi, 4
80071
Capri, Italy
Nearest Airport: NAP
Amenities for Caesar Augustus
General Information
23 Guest Rooms
Only 10+ Years Permitted
Dining
Outdoor Dining
Restaurant
Wine Cellar
Bar
Room Service
On-Site Amenities
Shuttle Service
WiFi
Terrace
Multilingual Staff
Outdoor Pool
Gardens
Patio
In-Room Amenities
Air Conditioning
Direct Dial Telephones
Hair Dryers
Mini Bar
Satellite Television
Marble Bathrooms
Luxury Linens
Activities
Cooking Classes
Nearby
Historic Sites
Shopping
Art Galleries
Restaurants
Nightlife
Interests
Summer Getaways
Reviews for Caesar Augustus
---
My fiancee & I were lucky enough to get shown around the Caeser Augustus in october last year. Our wedding planner took us there with a view to staying there whilst we we're getting married elsewhere on the island - we were met by Nicole and a few others and we're blown away by the place. So after a glass of wine or two we started thinking...could get married at the hotel? So straight to the wedding planner the next morning to ask the question. Fast forward 6 months....and with our wedding just a month away it dawned on us that we'd not actually stayed at the hotel or met many of the staff etc So we we're lucky enough to get a long weekend over mid april to finalise a few things with our wedding planner and get to stay in the hotel. On arrival in Marina Grande, we had we're met as soon as we walk ashore, luggage taken and whisked up to the Caeser Augustus. We're we happy to see a familar face in Nicole when we got out of the car and she even recognised me now i've shaven off my ZZ-top style beard, also there to greet us was the General Manager and son of the owner Francesco - what a top guy! Right i feel like i'm rambiling on now so i'll give a quick summary Rooms - we stayed in a Sea View room Cliff side and it was spectacular, spacious, beautiful bathroom and a bed so comfy! Food - exquisite, is it weird to get emotional about food?? We had one of Chef Eduardo's taster menus on the first night accompanied by a local wine recommend by Allesandro - WOW Sushi one evening served on a bed of ice - WOW again then on the last day whilst sat in the the raised up seating area i had the nicest Calamari i've ever had (and i've had a lot) followed by a truly amazing Gnocchi dish!! Spectacular Breakfast - Everything you could ever want served down by the pool!! Service -second to none! The staff made our trip - Nicole, Gaetano (this guy is a legend), Pierpalo, Stefano, Allesandro, Francesco (bought us the best room service sandwich ever) ahhh and i cant remember the name of the lovely lady that looked after us on the terrace! it was a pleasure meeting Paulo the owner and his son Francesco was a top guy who always made time to speak with us and other guests - he is a passionate about this place. Facilities - Amazing pool, lovely litte gym over looking the gardens with a view of bay of naples, beautiful gardens to roam around Location -5 minute walk from anacapri centre or taxi ride to capri (the hotel will arrange taxi for you) or get a bus from anacapri centre. So to sum it up - if you're thinking of staying in capri and are looking for a real treat, you MUST stay here. We will be having our wedding on the 21st May 2018 on the terrace and are so exicted to visit the Caesar Augustus and see our now friends again (the staff). It feels more like a home than a hotel Ciao Nick & Nicole
nick c - Prestatyn, United Kingdom
---
We went here for a 'special' anniversary dinner on a beautiful Sunday evening. The location is stunning and the ambience in the main hotel was just lovely...with a piano tinkling away in the background. We had a 6 course meal with personalised attention throughout. The food was simply superb, every single course. This is what top class dining is all about. Not cheap but a beautifully designed, varied and tasty menu.
---
We stayed at Caesar Augustus in April and had an excellent time. The property was gorgeous, the staff excellent, and the overall experience second to none. I would have to say, this was one of the finest resorts I have ever visited. Francesco and his staff provided a truly unforgettable experience. We can't wait to visit again soon. Thank you so much!
---
The Caesar Augustus should be on everyone's bucket list. The views are high on a cliff with 180 degrees of the Mediterranean Sea. It's breathtaking! It is so beautiful, peaceful and relaxing. The people are so hospitable and friendly. The food is delicious! They grow most of it in their own organic gardens that you can walk through also while viewing the sea. The room was so comfortable with every amenity. The owners welcome you with the warmest hospitality. This is the most beautiful place I've ever been!!
shannybsp - Little Rock, Arkansas
---
My new husband and I didn't have time for a honeymoon when we recently were married in the US so we booked a stay here when we returned to our temporary job in Naples. I'm so glad we did. Even without much sun we were able to enjoy the fabulous Infiniti pool and the wonderful hotel terraces. This luxury hotel is so charming and relaxing. We were given a wonderful room and met some of the most fantastic staff and owners even. A family run establishment run by son Francesco. Francesco and father Paolo were delightful to chat with and ALL of the staff are amazing including the two different drivers we had to bring us from the Marina. Driving professionals on the crowded mountain road! If you want to visit Capri, I highly recommend Anacapri for it's more relaxed, less crowded vibe and this property is THE place to stay!
Winecanine - Province of Naples, Italy
---