Please select your dates to see prices:
---
Hotel Borgo San Felice in Castelnuovo Berardenga, Italy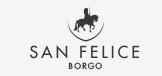 Borgo San Felice, in the heart of the Siena countryside, is much more than just a hotel in Chianti, it is a blend of magical sensations which unite to create a masterpiece of Tuscan hospitality where tourism, gourmet food and wine and well-being combine.
The chance to stay in one of the historic buildings in Borgo San Felice. Medieval cottages that have been skilfully renovated to become a hotel in Chianti, capable of uniting tradition and modernity, is made particularly intriguing by the numerous luxurious amenities. With its refined Poggio Rosso restaurant or the regional cuisine at Osteria del Grigio, the peaceful open air swimming pool, as well as the Wellness Centre. The priceless geographical position of our hotel, right in the heart of the Siena countryside, and the professionalism of our capable staff will guarantee you an incredible and pleasurable stay.
Location of Hotel Borgo San Felice
Hotel Borgo San Felice
Localita San Felice
53019
Castelnuovo Berardenga, Italy
Nearest Airport: FLR
Amenities for Hotel Borgo San Felice
Dining
Bar
Piano Bar
Restaurants
On-Site Amenities
Fitness Center
Wellness Center
Outdoor Pool
Tennis Courts
Activities
Tennis
Billiards
Bocce Ball
Wellness Programs
Interests
Food & Wine
Hotels
Spa & Wellness
Reviews for Hotel Borgo San Felice
---
Most likely on of the best resorts in Italy. Informal Tuscan style luxury where you feel relaxed in restored old village. Excellent restaurant Borgo Rosso 1 Michelin star, they also have trattoria which is perfect for lunch after sun bathing at the pool.
Mart T - Tallinn, Estonia
---
From the moment you arrive this place is breathtaking . A small Hamlet that has turned into a hotel. By day or by night the views are always exceptional. Two fantastic restaurants. Very friendly staff . A place you will never forget after staying there.
308herlindav - Bornem, Belgium
---
My partner and I stayed at Borgo San Felice for two nights, and overall, I thought this was a beautiful property with amazing rooms, character, and staff. The "hotel" itself is actually a former village. An actual village with a church and a school and houses that they've turned into the various facilities of the hotel. Thus, that character of the hilltop town is still there. Service was friendly throughout, and kept the Relais & Chateaux standard that I very much enjoy. The concierge was great, and she was able to book us more than a few tastings at well-known wineries around the area. They have existing relationships with a few wineries and so they certainly treat you better when the wineries know that you're coming from this hotel. Plus, the hotel is centrally located in the Chianti region, but the hotel itself has its own winery with very well-known and well-regarded wines. You should definitely do a tasting here as well. We were upgraded to a suite, and were informed that it has their new style of decorating. I'm not sure with the old style looked like, but everything I saw was very tastefully done and very luxury. Overall, I can't recommend this hotel enough. There was one slight hiccup with the pool bar, and it was taken care of and fixed three times more than was necessary, and the staff was very professional.
---
Every review you read about this property is true. It is serene, peaceful, beautiful and just lovely. The staff is amazing. They are all so kind and helpful, practically perfect really. The grounds of the property and the views are simply breathtaking. We went out to the old cities of Siena and San Gimignano but we could not wait to get back to the serenity of the hotel. You just feel good when you are here. They have everything you could want. The wine store offers wine tastings, the spa is very nice and the pool is perfect. Eating at the pool is as wonderful as is sitting out by the pool. Any excuse to be by that pool was good for us, it is that lovely. It is also great that you can get wifi all over the property, even at the pool. I am not going to speak to much about the rooms, ours was nice in that older european way with no view at all, but it worked out fine. Housekeeping was amazing too. I would definitely not hesitate in booking this hotel again.
Jeanette713 - Los Angeles, California
---
My wife and I stayed here for 6 nights at the end of our busy trip around Italy and this was the perfect place to just relax and unwind before our flight back home . The greeting when we arrived was sincere and lovely , Warmly greeted by the manager on arrival and departure the staff was friendly, accommodating and provided exceptional service.I think staying here is more of an experience than anything. It really fantastic, from walking around the grounds, having a glass of wine watching a great sunset or just waking up, drawing the curtains to an unbelievable landscape. Food and bar are spectacular the food at "osteria" is particulary good. . .but too slow. Almost felt asleep between servings.our suite a new one was lovely, spacious, the bathroom was just breathtaking and it smelled delicious very beautiful very very clean with many original fittings. The bed was probably the most perfect bed that i have ever slept on!....i slept like a baby. I am sure this hotel will be one of the lasting impressions of our trip, mainly because of the beautiful setting, but most of all because of the truly caring nature of its staff ; specially the bella lady caring of our room and us she's more than a chambermaid "Ines" a very warm and heartfelt THANK YOU ! she's a true gem always willing to go the extra mile, with a honest kindness that goes beyond simply doing your job well. Thank you for being you!We drove away with a little ball of emotion in our stomachs - of gratitude, for making us stay so much at home, and of longing, to come back some time soon( i've a jealous wife)(I'm kidding) We wish you all the best for the future, please stay the way you are! Congratulations Mr Guerrini!
---