Please select your dates to see prices:
---
Hotel L'Heliopic Sweet & Spa in Chamonix-Mont-Blanc, France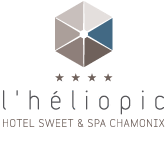 A stay at Hotel L'Heliopic is an ideal destination for those seeking to relax in the beautiful French Alps. This hotel aims to offer their guests a variety of spa services that cannot be found anywhere else, and if guests also seek adventure, Hotel L'Heliopic offers ski equipment and locker rooms so guests can hit the slopes. Whether calm or excitement is what you're looking for, be sure that this alpine retreat will give you a trip to remember.
Guests can start their day by having breakfast with a gorgeous view of the Aiguille du Midi mountains. After, guests are free to either rent or purchase ski equipment and go spend the day skiing in the fresh air of the mountains. If preferring to stay indoors, guests can head over to the Spa by Nuxe, which offers unique treatments and services such as the hot bath in their Ice Grotto. In the evening, enjoy a meal of classic French cuisine with a glass of wine, and after cozy-up around the fireplace for a comforting end to the day.
Location of Hotel L'Heliopic Sweet & Spa
Hotel L'Heliopic Sweet & Spa
50 Place de l'Aiguille du Midi
74400
Chamonix-Mont-Blanc, France
Nearest Airport: GVA
Amenities for Hotel L'Heliopic Sweet & Spa
General Information
Non-Smoking Property
Pet Friendly
On-Site Amenities
Spa on Property
WiFi
Sauna
In-Room Amenities
Private Patios or Balconies
WiFi
Interests
Ski & Snow
Spa & Wellness
Reviews for Hotel L'Heliopic Sweet & Spa
---
Do not visit this hotel, it's an utter rip off. Hotel costs in excess of £300 a night, nothing is included for this cost. Breakfast is very poor, over cooked rubbery scrambled eggs, tasteless pancakes, limited fruit, things frequently needed refilling which was done slowly and with very bad grace at €16 a person per day this is unacceptable. The rooms are small which would be fine but limited space for storing clothes which is a problem when skiing with all the gear needed. No shuttle buses to the slopes provided by the hotel, other high end hotels in the area do provide this service. Reception staff are happy to help with bookings for restaurants etc which is nice. The reception manager who checked us out was extraordinarily rude. Will never return to this hotel.
---
Vercy centrally located, this hotel has a wonderful spa set-up, Apart from the basics, the power is found in the great staff - one of the best massages ever. The hotel itself has a very relaxed atmosphere - one feels at home immediately.
CeesF - Glion, Switzerland
---
Don't want to say too much as you'll all be going but 2nd visit here and it's perfect Had a problem with first room we got to as it smelt fusty, no questions asked we were moved to the other building in minutes Pluses- Staff, location, facilities, Spa, comfort Minuses- Breakfast choice is the bare minimum for the cost
David_B187045 - Peterborough, United Kingdom
---
We ended up staying here as our travel agent had double booked our original trip and didn't we luck out! From the moment we arrived to the moment we left, there isn't anything we could fault. The hotel reminds me of the W in Verbier in style and quality and the staff really make the place. The best points are: Staff - really helpful and courteous. Great on daily recommendations on where to ski that day. Couldn't do more to look after you. Ski shop - literally in the hotel, good quality gear at the same prices as other rental shops. Brilliant not to have the faff of wandering round town to find your rental location Spa - great quality spa and the treatments were well priced too Location - 5 mins walk to the town centre and 100m from the Chamonix Sud bus stop Restaurant - exceptional food and value, see Akashon reviews I would say this hotel is ideal for pretty much anyone, whether it's a group of friends, a couple, a family or a business booking We'll be looking to book again next year
Geoff C - Eton, United Kingdom
---
Came skiing to Chamonix for 4 days for my wife's 40th birthday. The hotel was incredible from start to finish. Very modern design and decor, lovely spacious rooms with lots of storage shelves for ski gear. A ski hire shop within the hotel with lockers to keep your gear downstairs with bootwarmers so your boots are toasty warm in the morning. The hotel staff were really helpful, explaining the local bus systems and ski areas and sorting out lift passes for us. The spa was on another level, amazing facilities,hot tub, ice room, sauna, 2 steam rooms and a chill out area in front of a decorative fire with free fruit and mint teas and water. Robes and slippers were provided freshly laundered and free every day. The location was great for Chamonix Sud bus station about 5mins walk away for the daily buses out to the ski areas and around a 10min stroll into the main centre of Chamonix. Breakfast was great value at 16euros each, all you can eat with a huge spread of choice you could ski all day on a big breakfast. The bar area was really relaxed and homely yet modern with live jazz musicians on early in the evening. If I had to pick one very minor fault, there was no mini bar in the rooms and the dry mountain air made my mouth and throat very dry during the night. Some mineral water and a small fridge would've been great. All in all I think this is the best hotel we've ever stayed in. Worth every penny.
648neild - Warrington, United Kingdom
---