Please select your dates to see prices:
---
The Restoration in Charleston, South Carolina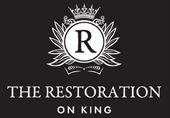 In beautiful downtown Charleston, amidst a mild climate and delightful southern charm, is The Restoration. Overlooking Charleston Harbor, where the Ashley and Cooper Rivers meet, this luxurious apartment-style hotel will take your breath away. With a modern metropolitan feel, each room is open and spacious with an inviting atmosphere created from warm red brick walls and deep wood accents. Amazing full kitchens and all the modern amenities will make you feel right at home while being far from it. Watch the sun rise over the harbor and city from the rooftop terrace at The Restoration on King.
Begin your adventure with a tour of Fort Sumter, Charleston's most famous and historic site, and see where the Civil War began and America's history changed. Walk through nearby Battery Park and view memorials and pieces of artillery set against beautiful trees and gardens. Shop on King Street, in the Antique District, and enjoy everything from old-fashioned jewelry, furniture and art, to the most modern luxury brands. Browse the Old City Market on Meeting Street and delight in wonderful arts & crafts and homemade snacks, or just stroll through the storied streets of Charleston and soak in the charming atmosphere. Hit the links at Patriots Pointe Golf Course, on the end of Charleston Harbor, and tee off overlooking the gorgeous city skyline. As you make your way back to the hotel, stop for an amazing dinner at Peninsula Grill, and tempt your palate with fresh seafood and haute southern cooking. Or try the famed Charleston Grill and have a personalized meal created for you with the Chef's Tasting Menu. As the sun sets over the bay sink into the plush comfort of The Restoration on King, and dream of your next great day in South Carolina.
Location of The Restoration
The Restoration
75 Wentworth Street
29401
Charleston, South Carolina
Nearest Airport: CHS
Amenities for The Restoration
General Information
16 Suites
On-Site Amenities
Complimentary Newspaper
Laundry Service
WiFi
Valet Parking
Rooftop Terrace
Provisioning Service
In-Room Amenities
Private Patios or Balconies
Turndown Service
Bathrobes
iPod Docks
In-Unit Laundry Facilities
Flat-Screen Televisions
Luxury Linens
Coffee & Tea Facilities
Luxury Bath Amenities
Fully-Equipped Kitchens
Family
Cribs
Rollaway Beds
Nearby
Historic Sites
Shopping
Art Galleries
Restaurants
Antique Shopping
Parks
Reviews for The Restoration
---
almost didnt!!! ~~~~~had a rez at another top rated hotel in charleston~~~looked further, and cancelled at the last min......so glad we did, the restoration is a totally top class hotel, i should know, i grew up in the hotel biz, family had a small chain some yrs ago, well the suite we had #301, is so 1st class, plenty of room, over 1200 sq feet, killer kitchen (we didnt cook! the fab part is the outdoor balcony, room for 8 easy for entertaining, very comfy bed & pillows! rooftop bar is great mixologists! trust em! , the entire staff is VERY PRO and very friendly, kudos to the front office mgr miss heather chambers! she made our stay, get to know richard in the library! oh! the breakfast amenity ! doesnt get any better!....who else does it! cant wait to go back.....larry jaffe & cathy kiley
---
We spent the last two nights of our low country bike trip (with Great Bike Tours) here. Room was great, staff was great, the continental breakfast delivered to our room was great. What more can we say. Oh, yea, location in the middle of King Street was great too, you can walk anywhere on the peninsula. Also, great bed for a clunky back!
TLCbikes - Littleton, Colorado
---
The Restoration is a boutique style hotel in a great location just off of King Street. We stayed here for five nights celebrating our honeymoon. The hotel was the thing I was the most excited about for our trip, but it ended up being just an OK experience for the price point. The room itself was very nice with an exposed brick wall and a comfortable sofa and living area. There was a sizable kitchen (which we didn't use much because we went out for lunch and dinner every day). Bathroom was on the small side, though, with only one sink (a minus for me, as I really like spacious bathrooms). One of the big perks of the hotel is that you receive a complimentary breakfast basket every morning with coffee and "assorted pastries" from the hotel coffee bar (we were quite excited about this). Unfortunately, the first day, our basket arrived and the pastry assortment we had looked forward to turned out to be two English muffins and some prepackaged cream cheese and butter. My husband got dressed and went to the front desk to ask about this, and the hotel said we could go into the coffee bar and get whatever we wanted on the house. We were surprised to see that they had plenty of delicious danishes, cinnamon rolls, and other goodies in stock. I don't know why they advertise the pastry basket as a perk of staying at the hotel when they don't actually put any of the good pastries in the basket! This happened every morning - one day we just got bagels, and the next days some muffins which were stale. On the last day we wrote on our door card specifically that we wanted pastries, and they finally sent up a cinnamon roll and a pecan danish, both of which were very good, but they charged us $7 for them! A few other comments: the walls and ceilings here are very thin, so if you're a light sleeper, bring earplugs and ask for a room on the top floor. The restaurant on the rooftop was very good, and we enjoyed a nice meal there. They offer wine and cheese in the evening and the turndown cookies were very good. The manager, Heather, was helpful when we had questions or issues during our stay. However, we did mention upon check-in that we were celebrating our honeymoon and the hotel did nothing special for us (no one asked if we were celebrating anything when we booked, but they did ask on check-in). When we come back to Charleston, we will definitely try a different hotel. The Restoration was fine overall, but nothing special for the price.
MJ0008 - Washington DC, District of Columbia
---
Firstly, let me say that I would absolutely stay here again. The room was lovely. The location was perfect. The ideas were all there. That being said, I think many of its attempts at luxury fell a little short. For instance, they offered a complimentary picnic basket every morning, delivered to your room with various breakfast treats. Cute, right? I thought so. Then, I opened the basket (instagram at the ready) and the contents felt more like those of 6 year old's lunch box than a boutique hotel's breakfast spread. Another amenity offered is their daily wine and cheese hour, where guests are invited into their lovely library space to partake. Again, these complimentary treats, suffered from the "you get what you pay for" affliction. The wine was "..." and the cheese cubes and grapes felt more Radisson than Ritz Carlton. The spa services were grossly overpriced and the rooftop bar was perfectly adequate. All this said, I'd like to reiterate that the rooms were lovely (stocked with Beekman 1802 products in the bathrooms and the kitchens were stocked with various local sundries). The location, right off King Street, was absolutely perfect and completely central to everything we wanted to accomplish in Downtown Charleston. Overall, my impression was just that it was trying too hard (excluding the front desk staff, whom, I think, could try a little harder at being a bit more genial). Design details were labeled, as if they were the first people to put black lacquer on equestrian sculptures to make them modern. We had a pair of riding boots on the floor of our room, also labeled to point out how clever they were. It felt rather braggadocious, in a city that is effortlessly elegant. Old money doesn't need to brag. It simply is. If we've learned anything from our trip to Charleston, or from the current administration, it's that...if you need to brag, you're probably overcompensating for something else. In this case, it might have been the lobby.
ryspeaks - New York City, New York
---
Stayed here for a long weekend. Overall I like the hotel. The location is hard to beat if you're a leisure traveller into exploring downtown Charleston on foot. The concept of the hotel is cool and they do have some chics and quirks. Come in with the right expectation, and you should be able to enjoy your stay. My fault might be coming in with high hopes. Here comes the details. The pros: - interesting breakfast basket (though limited options); - nice sparkling wine (although it brought up as champagne) gesture for special occasion (we were there for a birthday celebration); - spacious bathroom; - the library is a nice common area with events like wine and cheese; - the cookies at turndown are delicious; - the bathrobe is superb; - nice rooftop restaurant. The cons and not-so-pros: - I contacted concierge but never heard back nor receive any acknowledgement; - the room door is so thin and guest rooms are located right next to office, supply room, and facility rooms. You can hear every conversation going on in those rooms. If you're a light sleeper, I'd recommend bringing earplugs; - There's a lack of attention to details in the room design. For example the trash can in the bathroom was placed far away from the counter. Given how spacious the bathroom is, you'd have to walk across the room to get to it. Another example is that there's no pen anywhere to be found in the room. How am I suppose to make breakfast selection on that beautifully designed menu? Good thing I always pack a pen in my backpack. - The biggest letdown was probably the housekeeping. It's just so lacking giving the price point and the rating of this hotel. Just to give you a couple examples: there was no glass placed by the sink. We used the mouthwash in the first day and it was never replenished. I have to call to ask for coffee mugs because housekeeping never brought new ones after our first breakfast. The same with forks and knives. By the third day, we ran out of clean knives. Water bottle was left half-empty. Bathrobes tossed over suitcases. Checked in around midnight and bed wasn't turned down. Trash was left on the counter. To sum it up, there doesn't seem to be a housekeeping checklist. Bed will be made and towels will be refreshed. Other than that, it's a question mark; - They will call before your indicated breakfast time to let you know your basket is on the way. I appreciate the gesture but I was also startled when the phone rang before my alarm. - I visited the pool (which is small but nice) around 3 PM. I dipped in, I got out, then I realized there's no towel! I had to ran back to my room (wet) to dry off. Wouldn't it be nice to check on the pool regularly and make sure there's always fresh towels available? I came in with high hopes, thought I was delighted by some experience, I was a little bit disappointed. I really wanted to love this hotel. I can see where the management is trying to go. There are some fancy icings (wine and cheese events, breakfast baskets, etc.), but the cake is left a lot to be desired (poor housekeeping and lack of attention to details).
Ruizhi L - Chicago, Illinois
---