Please select your dates to see prices:
---
Anantara Chiang Mai Resort & Spa in Chiang Mai, Thailand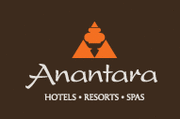 Anantara Chiang Mai Resort & Spa's minimalistic luxury quietly complements the eclectic mix of traditional and contemporary elements in Northern Thailand's most culturally significant city. The meandering Mae Ping River sets the pace here, and the 112-foot pool that flanks it is chill-out central. However, Anantara's central location – in the midst of Chiang Mai's quirky cafés and galleries, near quaint markets and in the foothills of virgin rainforest – invites exploration.
Take a complimentary bicycle on a ride out of town to reflect among the 700-year-old spires of an ornate mountainside Buddhist temple. Return to Chiang Mai to wander through the Old City and fuel up on stir-fried street food. Back at the resort, take a traditional Thai massage lesson, learning how to access pressure points and direct energy in an age-old cultural practice. Take afternoon tea at the Colonial House, which was once the British Consulate. After dinner, practice those massage techniques on someone special.
Location of Anantara Chiang Mai Resort & Spa
Anantara Chiang Mai Resort & Spa
123 Charoen Prathet Rd Changklan, Muang
50100
Chiang Mai, Thailand
Nearest Airport: CNX
Amenities for Anantara Chiang Mai Resort & Spa
84 Rooms & Suites
Thai Style Pyjamas Provided
Private Balconies
Rain Shower & Deep Terrazzo Bathtub
Spice Spoons Cooking School
Spice Spoons Fruit Carving Class
Traditional Thai Massage Lessons
Yoga
Tai Chi Class
Personal Trainer
Muay Thai Boxing Class
Fitball Class
Box Step Aerobics
Countryside & Culture Bike Tour
Streetwise Guru City Tour
Zip-Lining
Bicycling
White Water River Rafting
Sunset Cruise
Wedding Planning Services
Reviews for Anantara Chiang Mai Resort & Spa
---
What an absolute delight our 4 day stay here has been! Staff are wonderful, polite, patient, and have made our stay really special. Our deluxe suite overlooking the river is absolutely enormous and the super king bed fantastic. Breakfast outside on the rivers edge have been perfect with an enormous selection of food to chose from. The pool, and wrap around verandas all make this the perfect spot to stay in Chaing Mai Of course I can't sign off without mentioning Mr. Tam in charge of the downstairs restaurant...he is a great asset to the Anantara. Peta and a George Passalaris
---
We had a lovely four day stay here. The hotel rooms are spacious and gorgeous. The hotel itself has a boutique feel. The old embassy building is interesting and makes for a fantastic dining setting by the river. Grounds are beautifully landscaped. Pool is very inviting. The hotel is in a great location. Fantastic staff throughout the hotel. Top notch service, including accommodating our 8:30 am arrival. Hands down, the best hotel experience I've ever had. I highly recommend staying here.
isabeltmccusker - Vancouver, Canada
---
We have stayed a lot of 5* star hotels, but I think this one truly desires the 5* recognition! Upon entry, in their cool, open environment, welcome with a refreshing drink and a neck massage in bustling Chiang Mai, it was a smoothing start. The room was generous but not large & we had asked a room away for the traffic which they accommodated very nicely. The beds were very comfortable with sink in pillows. Their small touches from turndown to notes, slippers at the bed every night, extra water bottles in our room at our request even when leaving on a day trip (no charge) were truly outstanding. It was an oasis to return to every day. We had dinner the last night there which was just as good, their service was impeccable and a simile by Anna every morning at breakfast with different stations to suit all tastes with even an energizing juice shot to get you going! We were sorry to leave, but it made us want to return and the gauge to judge other hotels by. Worth the stay!
Magellan24 - Loveland, Ohio
---
OK we didn't stay here but wished we had. We arrived in Chiang Mai and organised a taxi at the airport - we were staying at the Aruntara - but the driver took us to the wrong hotel. We were met and taken to a beautiful arrival area the concierge took our passports and went to sort out our booking. We were given a welcom snack and drinks, the concierge came back and advised that we had been delivered to the wrong hotel - but that was ok - she had organised our hotel to come and collect us. Told us to sit back relax and finsh our drinks and snacks. Advised us of their restaurant and then gave us her email if there was anything else we needed whilst in Chiang Mai. This is service that the hotel should be very proud of - suffice to say we did take her up on the offer and sent her an email to book the restaurant - which was lovley. Next time we will stay here.
John and Deb K - Karratha, Australia
---
We loved everything about Anantara Chiang Mai. Staff was exceptional from the front desk to the grounds keepers. Rooms are well appointed with spacious terraces. We thoroughly enjoyed our stay, very relaxing. Breakfast buffet was everything you can imagine and more...and all delicious. We also ate dinner in the hotel restaurant one evening and the soft shell crabs were awesome. Highly suggest you consider staying here, you will not be disappointed.
Rhonda R - Columbus, Georgia
---