Please select your dates to see prices:
---
Anantara Golden Triangle Elephant Camp & Resort in Chiang Rai, Thailand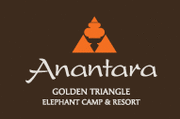 You might have company when you settle in for your morning cup of coffee at Anantara Golden Triangle Elephant Camp & Resort. Here elephants take center stage, and your luxurious digs are in the midst of their natural habitat at the convergence of Thailand, Myanmar and Laos. Anantara paired with a traditional mahout village that works alongside the Golden Triangle Asian Elephant Foundation, which performs street rescues, provides employment and gives more than 25 elephants and 60 people a comfortable living. That means the once-in-a-lifetime experience you'll get by interacting with these gentle creatures is life changing for them, too.
Learn the basics of elephant command from a skilled mahout, whose strong bond with his animal is based on a language of verbal cues and light touches behind the ear. Take a ride through nature trails through indigenous forest and guide your new friend to a bathing ritual in the river. Have a rewarding soak of your own in the infinity pool overlooking the tree canopy leading to the Mekong River. Savor a private meal at Baby Elephant Camp, followed by a cup of the world's most rare and expensive coffee (which also involves elephants in its production).
Location of Anantara Golden Triangle Elephant Camp & Resort
Anantara Golden Triangle Elephant Camp & Resort
229 Moo 1 Chiang Saen
57150
Chiang Rai, Thailand
Nearest Airport: CEI
Amenities for Anantara Golden Triangle Elephant Camp & Resort
General Information
77 Rooms and Suites
Ecologically Sustainable Practices
Dining
Outdoor Dining
Private Dining
2 Restaurants
Wine Cellar
Private Chef
Bar & Lounge
Picnics
Bar & Restaurant
On-Site Amenities
Concierge
Shuttle Service
Spa on Property
Laundry Service
Gift Shop
Fitness Center
Sauna
Bicycle Rental
High-Speed Internet Access
Butler Service
Terrace
Valet Parking
Boutique
Outdoor Pool
Pier
Gardens
Jogging Track
Steam Room
Outdoor Whirlpools
Tennis Court
Infinity Pool
Wedding Planning Services
In-Room Amenities
Private Patios or Balconies
Air Conditioning
Bathrobes
Ceiling Fans
Direct Dial Telephones
DVD Players
In-Room Safes
Mini Bar
Satellite Television
iPod Docks
Flat-Screen Televisions
Luxury Linens
Coffee & Tea Facilities
Luxury Bath Amenities
Mini Refrigerators
Work Desks
High-Speed Internet Access
WiFi
Activities
Bicycling
Cooking Classes
Cultural Classes
Educational Programs
Excursions
Hiking
Tennis
Mountain Biking
Ecological Excursions
Nature Walks
Yoga
Boat Excursions
Wildlife Viewing
Cultural Tours
Elephant Trekking
Bird Watching
Meditation
Squash
Sightseeing
Nature Hikes
Business
Meeting Rooms
Business Center
Catering Services
Nearby
Historic Sites
Shopping
Museums
Parks
Monuments
Nature Reserve
Interests
Culture & Arts
Family
Reviews for Anantara Golden Triangle Elephant Camp & Resort
---
Highly recommend this hotel, and there all-inclusive plan. The elephant orientation and ride was "exhilarating," 3 countries in one day,and spa package was incredible! Nor far from Chang Rai if you are looking to include some temples in your vacation.
---
This resort is such a special property! We booked through our Virtuoso travel advisor and were upgraded to a suite, and what a suite it was! It is beautifully laid out with a sitting area, great bathroom, and a fabulous balcony. The only drawback for me was that it had a funny smell, however maintenance came right away and actually cleaned out our air vents, and lit amazing smelling candles. We did the VIP arrival. It was a once in a lifetime experience! We were picked up in a lovely van, then transported to the river where we boarded little speedboats for a ride up the river. We arrived at the resort's dock to be greeted by fresh coconuts and four elephants! After we finished the coconut water, we fed the coconuts to elephants. Then we each got on an elephant and did a 30 or so minute ride through the sanctuary right up to the front entrance of the resort. It was absolutely incredible! We also enjoyed the Three Country Tour and the Walking with the Giants. The tour was interesting from the perspective of seeing how people live in these areas. Walking with the Giants was great...very informative and you spend a few hours with the elephants. We ate both nights at the onsite Italian restaurant. We all loved our dinners. Breakfast and lunch were at the Thai restaurant. Breakfast was nice, lunch was ok. The pool area is gorgeous. I wish we had one more day just to enjoy it. One of the most incredible moments was having breakfast with the sun rising, the mist over the mountains, and the birds and elephants sounding off throughout the property. Just breathtaking! I cannot recommend this property and experience enough!
DiveInHeels - Lancaster, Pennsylvania
---
I very much enjoyed my three night stay at The Anantara Resort & Elephant Camp. The resort is reminiscent of lodges in Africa, which serve its jungle setting very well. The service was lovely. They offer many options for activities in the area with the focus on interaction with their elephants. Their handling of the elephants was ethical and humane. The rooms are large and comfortable with a sizable balcony overlooking the jungle, the Mekong, Lao, and Burma. Quite a site. The region is rich in history and points of interest. Anantara is well situated for exploration.
pam10000 - Seattle, Washington
---
Firstly, so thankful to Anantara Golden Triangle for our amazing stay and experience....and i would like to enumerate the below who made our stay a wonderful and memorable one. 1. From the booking itself, Khun Tuk was very efficient and quick to respond my mail. 2. Arrival experience, the conceirge was very helpful of our luggage. Khun Tan was very accommodating in the reception and took good care of our massage booking and especially the "sunset with the elephant" where it was fully booked, however he managed to inform us on the same night that the our booking is available. 3. We had drinks in Elephant Bar "cozy place" and the staff politely suggested their signature drinks, which it was very good and refreshing. Pizza too was delicious. 4. The next day, we had an early breakfast in "sala mae nam", where you can see the beautiful sunrise in the hills of Thailand, Myanmar and Laos; quite fascinating with the chill weather and breathtaking nature-Perfect! Breakfast food selections are good and its with quality. I had a big breakfast every day. 5.Our morning activity was walking with the giants. Wow! finally i touched them....i was enchant, such a beautiful creature. The Mahouts are good, as they can speak and make the elephants understand-salute! 6. We went to the pool after to relax and had a fried rice and chicken satay-very tasty. 7.Then in the afternoon, we experienced the sunset with the elephants. We went up to the hill and "Ben" my elephant was very friendly-so the Mahout; perhaps my elephant doesn't mind to carry me on his back as i was so light. :) Up in the hill, waiting our butler preparing our canapés and sparkling wine for aperitif. The scenery is fantastic! Duke offers us an excellent service, very polite fellow. 8. In the room, i noticed that its only early grey and english breakfast available; i asked room service during arrival night, if theres a Jasmine. So since its late, i didn't bother. But the next day, i found out that they added Jasmin Tea. Staff are taking into details of guest preference. 9. The spa was heaven...so good and thanks to Mimi, she's wonderful. 10. Khun Tuk was always available and very friendly, manage to always say hello to us and asked hows our day. 11. Thanks to all the staff who renders an excellent service. 12.Thanks to the Chef for the delicious food. ....Thank you once again for the unforgettable and amazing experiences we had. It's perfect! Definitely a place to come back.
---
We only stayed 2 nights at the Anantara, but they were the best 2 nights of our trip to Thailand. Our package included pick up from the airport in a luxury mini-van with leather massage seats. We had arranged our itinerary before we arrived. We did the Golden Triangle 3 country tour on one day, and found our guide to be very courteous and knowledgeable. The second day we did an elephant experience, where after feeding bananas to the elephants, we then rode them down to the river and back. The restaurants were excellent, with a good selection at breakfast, and an excellent Italian for dinner. The infinity pool had a fabulous view. All of the hotel staff were helpful at all times. Definitely a hotel to stay a night or two in if you can.
---