Please select your dates to see prices:
---
Villa Marsili in Cortona, Italy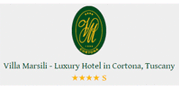 Just an hour or so southeast of Florence, the magnificent medieval village of Cortona provides an ethereal setting for Villa Marsili. This exquisite establishment is one of the town's most elegant residences, and a favorite of celebrities such as Diane Lane and Josh Brolin, Gwyneth Paltrow, and Geoffrey Rush. Villa Marsili is truly an enchanting Italian retreat, boasting refined lounges and frescoed bedrooms whose atmosphere retain the grace of the building's original historic character. From public sitting rooms, views embrace the scenic pergolas of the outdoor gardens, and from your elegantly furnished accommodations you can gaze across the gentle rolling hills of Valdichiana.
Soothing landscapes and warm hospitality are hallmarks of Tuscany. You will find this and so much more in Cortona, which boasts an amazing wealth of art treasures. Every street and piazza brings a cultural delight, from the centrally located Duomo to the 15th-century San Niccolo church. Along with olive groves and Etruscan tombs, the region also yields traditional ceramics, golf, horseback riding and tennis. Experience it all at Villa Marsili.
Location of Villa Marsili
Villa Marsili
Viale Cesare Battisti 13
52044
Cortona, Italy
Nearest Airport: PSA
Amenities for Villa Marsili
General Information
27 Guest Rooms
Interests
Hotels
Summer Getaways
Reviews for Villa Marsili
---
Could not have chosen a nicer hotel. Yoanna was the perfect host...always available and friendly. We were upgraded to a suite, spacious and clean. An uphill and brisk walk into the main piazza in Cortona. Restaurant suggestions were excellent. Breakfast was quite a spread with several unusual homemade offerings. Afternoon bits and proseco a treat. Would return to Villa Marsili tomorrow
Steve23451 - Virginia Beach, Virginia
---
My musical compatriots and I spent 8 nights at the Villa and didn't want to leave. I think Marvin and the ladies noticed us lingering around our last go at the impeccably delicious breakfast buffet and offered us an adorable, insulated to-go satchel that we stuffed full of sweet and savory pastries. But enough about breakfast. The staff was incredibly charming and helpful. The rooms are beautiful and cozy. My room was not ready when we arrived and they swiftly put me in a smaller room to catch a few z's. That small room was so cute I almost wanted to stay in it. If I could I'd give this hotel all the stars in the midnight sky. #dopehospitality
---
Located a slight distance from the town center down a steep hill. The staff was very helpful and friendly. They serve an extensive European style buffet breakfast of fruits, cheeses, meats, etc. Rooms were clean and well serviced. The rooms and bathrooms were not large, but comparable to other European boutique hotels. We enjoyed our stay very much and highly recommend.
AMBFLYER - Long Grove, Illinois
---
Wow, what a great place! We loved our stay at Hotel Villa Marsili - the staff is outstanding, every request was met with great attention and friendly service. The room are very nice, we had a beautiful suite with tons of room, great view of the valley and wonderful furnishings. Every night they serve snacks that are wonderfully prepared. If you are going to stay in Cortona then you have to stay at Hotel Villa Marsili. Absolutely loved everything about this place.
barrynoah - Buffalo Grove, Illinois
---
My wife and I recently toured the lovely Hill Towns of Tuscany with the Villa Marsilli as our base. This area of Italy was as if fashioned from a dream, and the hotel was the perfect place to wake up to in the morning and to return home to each evening. The breakfasts defied the imagination with all of the multitudinous items fashioned by the amazing kitchen staff each night. There were hot items, cold meats, cheeses and fruits, delightful pastries -- every morning without fail, and juices of your choice and coffees made to order. It would be very difficult to single out any one member of the staff in their excellence at their function, simply because they were all so gracious and performed their respective tasks with such concern, friendliness and flair. It was as if you had a new, delightful family and a home away from home from the moment you walked in until the moment you departed. Bravo and Grazie Mille to each and every one of our new friends at the Villa Marsilli!
---