Please select your dates to see prices:
---
Grande Bay Resort & Residence Club in Cruz Bay Quarter, St. John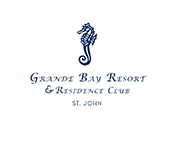 Where shimmering, crystalline waters caress golden sands, and the scent of tropical flowers drifts through the air and swaying palms, Grande Bay Resort & Residence Club invites you to enjoy paradise in the tropics. On the beautiful island of Saint John, where the Atlantic meets the Caribbean, this fabulous all-suite resort seamlessly blends contemporary luxury with the serene ambiance of the beach. Each room is spacious and warmly designed, with separate living spaces that are as plush and comfortable as the king-sized beds. Stylish full kitchens are expertly done in stainless steel and dark woods, while elegant bathrooms offer a tranquil escape. Step out onto your private balcony and gaze out over breathtaking Cruz Bay, and soak in the sunshine. At Grande Bay Resort & Residence Club, enjoy the beauty of the Caribbean with every moment, night and day.
Venture out in the early morning and find your perfect spot on the beach, then dip your toes in the warm surf and dive in to start your day. Enjoy a scenic trip along the coast as you glide through the waters in a kayak, or head out on a fun-filled catamaran sail across the bay. Come face to face with the amazing underwater world of the Caribbean with a snorkel or dive expedition, and visit reefs, the wreck of the legendary RMS Rhone, and even go on a magical night dive. For an amazing day on land, hike the stunning trails through the lush tropical forests of Virgin Island National Park, and take a guided tour to learn about the local wildlife and blossoming flowers. In the evening, delight in an exciting helicopter tour high above the island, or unwind and melt your stresses away with a trip to the spa before dinner. With the sun setting over St. John, stroll into the town of Cruz Bay and discover the mouthwatering local cuisine. With a refreshing cocktail and a magical sunset, sit down to fresh seafood and exciting traditional Caribbean cuisine, and laugh the night away with family and friends. At Grande Bay Resort & Residence Clubeach day truly is this exciting, and each night as magical.
Location of Grande Bay Resort & Residence Club
Grande Bay Resort & Residence Club
Bay Street
33908
Cruz Bay Quarter, St. John
Nearest Airport: STT
Amenities for Grande Bay Resort & Residence Club
On-Site Amenities
Concierge
Fitness Center
Beach Access
Car Rental
Rooftop Pool
Rooftop Sun Deck
Complimentary Local & Long Distance Calling
Rooftop Whirlpool
In-Room Amenities
Flat-Screen Televisions
Luxury Linens
Coffee & Tea Facilities
Luxury Bath Amenities
Complimentary WiFi
Activities
Excursions
Hiking
Sailing
Snorkeling
Sunset Cruises
Nature Walks
Boat Excursions
Yachting
Four-Wheel Drive Excursions
Bird Watching
Boating
Sightseeing
Nature Hikes
Water Sports Programs
Nearby
Historic Sites
Shopping
Restaurants
Beaches
Marina
National Park
Nature Reserve
Market
Reviews for Grande Bay Resort & Residence Club
---
Excellent trip post Hurricanes Irma and Maria, the island is beautiful and Grande Bay is perfect in walking distance to town and everything you would need is a phone call away. Place to park your rental (as long as you give per notice) which is great parking is tough to come by in town. You can hear the boats come in and the water rush against the coast from the beautiful deck great view of St Thomas sunsets. Pool is great too if you want to take an easy after a day at the beach.
---
Was moved to Grande Bay after a fiasco at our first rental, and although very noisy, I have few other complaints. Great location, our unit was well stocked, tidy, and had plenty of room for the 3 of us to get our own space. Parking is an absolute nightmare, as trying to squeeze a Jeep in a tiny space between 2 poles in a garage setting just isn't for the faint of heart. Pool Area is teeny tiny, but mostly adequate. Wish there was more soundproofing from the bars on the roads, to neighbors a floor above.
---
Grande Bay Resort is absolutely beautiful. My husband has been working to restore power to St. John, after hurricanes Irma and Maria, since early November, and he was staying at Grande Bay. I had the good fortune of being able to visit for a few days and words cannot express how truly beautiful this place is. Even after the devastation, St. John is one of the most spectacular places I have ever seen and Grande Bay Resort is stunning. It is walking distance to shopping and dining. The rooms are well-appointed and the views are breathtaking. If you get the chance to visit this island, do it! Just watch out for sand fleas on the beaches (they're terrible!).
---
We stayed in an upper unit on the third floor, studio and one bedroom together which was perfect for 5. We had wonderful views, great breezes and super quiet! We loved the location for exploring and walking to drinks, dinner and shopping! Our unit was perfectly stocked with chairs, towels, cooler, etc but also all the necessities and a binder full of menus, rentals, maps, etc. We had a great experience and will always stay here from now on! See you next summer!
ER5White - Starkville, Mississippi
---
My husband and I recently stayed in the Sunswept Studio at Grande Bay. It was a special occasion, so I was nervous booking, especially considering it would be our first time to Saint John. Anna, the owner, responded quickly to all my questions, making every decision very simple. Upon arrival, we were greeted at the Ferry Dock and shown to our room. It exceeded our expectations. The views were just as shown and we enjoyed them daily. The room was a perfect size for just the two of us and the bed was very comfortable. Everything was so clean and had it's place. We enjoyed the colors of the room and the dark wood furniture complimented everything. Between the owner, the staff and amazing property management, we weren't in need of anything. The studio has a hotplate, dishes, washer and dryer, nice size bathroom and we loved the courtesy of other guests who left items behind so we did the same. There is a locker assigned to you with items for the beach and if you rent a jeep, they will have it waiting for you in the garage. Honestly, we couldn't have been happier with the room, the views and the proximity to everything in Cruz Bay. We love hiking and took advantage of the trails close by. Lind Point Trail was an easy hike to Solomon and Honeymoon Beach. Wow....can't say enough about the water and the many beaches St. John has to offer. Taxi's are readily available to take you to ones that aren't as close. We enjoyed snorkeling almost daily and exploring. All of Anna's recommendations were wonderful and we truly enjoyed Uncle Joe's BBQ Ribs, their homemade punch, Margarita Phil's, and Joe's Rum Hut for lunch and dinner. The beach bar is so close and allowed us to meet people from all over and enjoy music nightly. We took a day trip by ferry to the British Virgin Islands to visit the Baths. The snorkeling there was truly amazing. If you take a taxi to Hog Heaven for lunch, you will not believe the views. It is a restaurant on the side of a mountain/hillside overlooking the entire island. The food was very good and our taxi driver made it even better. He stopped along the lookout points and gave us the history of the island. If we had it to do over again, I would stay one night there to have more time to explore. Thank you to Orville, with Blessings Taxi for making our day even better. I am thankful for those who shared their reviews of this room and I would love the chance to stay again sometime.
---