Please select your dates to see prices:
---
Anticavilla Hotel & Spa in Cuernavaca, Mexico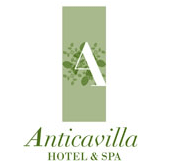 Imagine a pristine tropical land where royals and nobles once vacationed, and immerse yourself in the lush beauty of the "City of Eternal Spring," finding true comfort and luxury at Anticavilla Hotel & Spa. On the southern slopes of South Central Mexico's Sierra de Chichinautzin mountains in Cuernavaca, this fabulously redesigned hotel invites you to relax in complete luxury and style. Seamlessly incorporating elements of chic modernity, '60s retro cool and colonial tranquility, each room is as vibrant and stylish as it is relaxing and quiet. Pure whites are complemented by eclectically brilliant accents, furniture and artwork, while each space is bright, open and comfortable. Enjoy large picture windows, breezy private terraces, deeply plush king-sized beds and wonderful cordiality, all as you enjoy the complete serenity of Anticavilla Hotel & Spa.
Under the brilliant morning sun, stretch out by the pool with your favorite cocktail and relax on a cabana bed or plush chaise lounge. Pamper yourself with a visit to the spa, where deep massages and relaxing therapies leave you refreshed and rejuvenated, then venture out into the city for a day of exploration. Enjoy a tour of the palace-museum Palacio de Cortes, stroll through the delightful wonderland of the Morelos & Juarez Gardens, then explore the fascinating 15th century archeological site of Teopanzolco. In the afternoon, take a peaceful boat ride on the lake at Borda Garden, and refresh yourself in the pleasant weather and serene grounds of the Chapultepec Ecological Park. In the evening, return to Anticavilla Hotel & Spa for a fabulous Italian dinner at Verdesalvia Ristorante as you watch the sun turn the sky gorgeous shades of red and purple before you retire to the plush comforts of your room to dream of your next amazing day in Cuernavaca.
Location of Anticavilla Hotel & Spa
Anticavilla Hotel & Spa
Río Amacuzac #10, Esquina Chilpancingo
CP 62290
Cuernavaca, Mexico
Nearest Airport: MEX
Amenities for Anticavilla Hotel & Spa
General Information
15 Guest Rooms
Only 12+ Years Permitted
Dining
Restaurant
Wine Cellar
Bar
Room Service
On-Site Amenities
Spa on Property
Garden
Valet Parking
Pool Cabanas
Lap Pool
Infinity Pool
Complimentary WiFi
In-Room Amenities
Air Conditioning
DVD Players
In-Room Safes
Mini Bar
iPod Docks
Flat-Screen Televisions
Luxury Bath Amenities
Rain Showers
Interests
Culture & Arts
Food & Wine
Holiday Hotel Deals
Reviews for Anticavilla Hotel & Spa
---
Great rooms, wonderful grounds, and great food. Even when it's "busy," it's quite empty and private experiences can be had for all. If you really want to experience the best of Cuernavaca, you can't look much further.
---
My sister and I stayed in Anticavilla during Easter. From the very beginning, the staff was courteous and extremely helpful. Aurelia was the best. She helped us organize transportation for our visits in and around Cuernavaca. Truly customer service at its best! We loved every single part of our stay [restaurant, hotel room, and spa] and will definitely be returning in the future!
Cinthya G - Richmond, Virginia
---
We stayed there over Semana Santa. What a beautiful hotel...Thank you! The staff is EXCELLENT and provided us with excellent food and service in the restaurant. Aurelia at the Front Desk was wonderful! She connected us with a driver who took us to Taxco and back and drove us back to Mexico City...MUCH CHEAPER than UBER. The hotel was the best part of our stay in Cuernavaca!
---
If you plan to stay in Cuernavaca, Anticavilla is the place to have the most amazing food & every type of drinks you can think of! The rest I have not enjoyed anything else. Place was under construction & no way to get any rest. Very ordinary place. The least management can do is to advise guests before getting there if any construction or move you away in another room especially when the hotel is empty!! Never wrote any negative reviews in the past but I'm just so disappointed about this place!! Especially after 3 days of total havoc!!!! The bellmen, restaurant, bar & security staff absolutely wonderful people but management, if any, not impressive. Simply constructive criticism & definitely better places to stay in.
---
This hotel is located in an upscale neighborhood. We stayed here for 7 nights and it was fantastic. The room was very spacious with great amenities. Garden was well maintained and the restaurant serves great food. Staff are well trained, too! Aurelia helped us with the transportation from and to the airport as well as the tours. We also tried their spa. We also discovered plenty of nice restaurants few steps away from Anticavilla.
Peanutg32 - Davao City, Philippines
---