Please select your dates to see prices:
---
Anticavilla Hotel & Spa in Cuernavaca, Mexico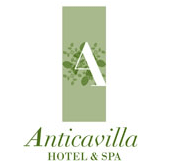 Imagine a pristine tropical land where royals and nobles once vacationed, and immerse yourself in the lush beauty of the "City of Eternal Spring," finding true comfort and luxury at Anticavilla Hotel & Spa. On the southern slopes of South Central Mexico's Sierra de Chichinautzin mountains in Cuernavaca, this fabulously redesigned hotel invites you to relax in complete luxury and style. Seamlessly incorporating elements of chic modernity, '60s retro cool and colonial tranquility, each room is as vibrant and stylish as it is relaxing and quiet. Pure whites are complemented by eclectically brilliant accents, furniture and artwork, while each space is bright, open and comfortable. Enjoy large picture windows, breezy private terraces, deeply plush king-sized beds and wonderful cordiality, all as you enjoy the complete serenity of Anticavilla Hotel & Spa.
Under the brilliant morning sun, stretch out by the pool with your favorite cocktail and relax on a cabana bed or plush chaise lounge. Pamper yourself with a visit to the spa, where deep massages and relaxing therapies leave you refreshed and rejuvenated, then venture out into the city for a day of exploration. Enjoy a tour of the palace-museum Palacio de Cortes, stroll through the delightful wonderland of the Morelos & Juarez Gardens, then explore the fascinating 15th century archeological site of Teopanzolco. In the afternoon, take a peaceful boat ride on the lake at Borda Garden, and refresh yourself in the pleasant weather and serene grounds of the Chapultepec Ecological Park. In the evening, return to Anticavilla Hotel & Spa for a fabulous Italian dinner at Verdesalvia Ristorante as you watch the sun turn the sky gorgeous shades of red and purple before you retire to the plush comforts of your room to dream of your next amazing day in Cuernavaca.
Location of Anticavilla Hotel & Spa
Anticavilla Hotel & Spa
Río Amacuzac #10, Esquina Chilpancingo
CP 62290
Cuernavaca, Mexico
Nearest Airport: MEX
Amenities for Anticavilla Hotel & Spa
General Information
15 Guest Rooms
Only 12+ Years Permitted
Dining
Restaurant
Wine Cellar
Bar
Room Service
On-Site Amenities
Spa on Property
Garden
Valet Parking
Pool Cabanas
Lap Pool
Infinity Pool
Complimentary WiFi
In-Room Amenities
Air Conditioning
DVD Players
In-Room Safes
Mini Bar
iPod Docks
Flat-Screen Televisions
Luxury Bath Amenities
Rain Showers
Interests
Culture & Arts
Food & Wine
Holiday Hotel Deals
Reviews for Anticavilla Hotel & Spa
---
This hotel is located in an upscale neighborhood. We stayed here for 7 nights and it was fantastic. The room was very spacious with great amenities. Garden was well maintained and the restaurant serves great food. Staff are well trained, too! Aurelia helped us with the transportation from and to the airport as well as the tours. We also tried their spa. We also discovered plenty of nice restaurants few steps away from Anticavilla.
Peanutg32 - Davao City, Philippines
---
We came to Cuernavaca for a wedding and wanted to stay in a romantic hotel. We loved it! It is quaint and the staff very accomodating. The restaurant and bar are in the courtyard to enjoy the wonderful climate. Definitely worth another trip!
Stacie N - San Antonio, Texas
---
Anticavilla is located in the Vista Hermosa neighborhood, a nice oasis of calm and elegance only 5 minute cab ride (50 pesos) to El Centro. We finished a 7 night stay on February 27, 2018 in the Clemente Junior Suite. I can't say enough about the quality of the staff and their hospitality. We received great assistance setting up tours to Xochicalco and Tepoztlan and nearby haciendas built (in part) shortly after the Conquest. The restaurant is high quality and the massage/spa was worth the splurge. This was our first visit to Cuernavaca. It is a lovely place with amazingly mild sunny weather.
---
Anticavilla was the perfect spot for a warm getaway from Mexico City. The staff was incredibly attentive and went the extra mile for all of our needs. Our room was gorgeous and the restaurant was delicious. Would highly recommend!
---
We love going to Mexico City for thanksgiving week, almost every year. This time we decided to relax and stay some days in Cuernavaca, morelos, MĂ©xico. What a place! Not for nothing is known as the place of Eternal Spring. In November, sun is shining, can get a bit cool at night but very comfortable. Just for any other place to visit and relax around the world, location and customer service is the most important in my opinion. Well, if you are looking for both, you will get the best location and the best customer service in this Hotel, Anticavilla. Oh wow! And what a place it is! The premises are espectacular. With a great garden, which of course they keep pristine, home to one of the best restaurants in Cuernavaca. Open to the garden and the lush vegetation and with delicious Italian and Mexican menu. The hotel and rooms is something so original. Weekend home of a family in the past, this hotel kept the old architecture impeccably preserved, and matched it with modern elements and Italian art. Gorgeous. Rooms are so spacious and furniture is perfectly customized to each room. And take all this with fantastic customer service! We thank Aurelia and all her stalk for such a great time with them. They were all incredibly attentive to what we needed and helpful. If you are visiting Cuernavaca, no doubt this is the place you want to stay and relax. Thank you Aurelia! We will be back next year!
132gabriela - Bryn Mawr, Pennsylvania
---