Please select your dates to see prices:
---
JW Marriott El Convento Cusco in Cusco, Peru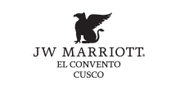 In the Centro Historico quarter of Cusco, the gateway city to Machu Picchu and the wonderment of Peru, JW Marriott Cusco offers stunning accommodations and modern luxury. Beautifully constructed, with antique exposed bricks, dramatic archways and columns, and Peruvian cultural artifacts throughout its pair of exhibition halls, this acclaimed hotel brilliantly integrates age-old design with contemporary amenities. Rooms and suites reflect the local region in their warmth, décor and furnishings, with gleaming hardwood, colorful textiles, and lavish details throughout. With no room less than 320 square feet, and all accommodations featuring intelligent oxygen systems to offset the city's ultra high altitude, you are supremely comfortable and well taken care of at every moment. Stay connected with wireless Internet access, LCD televisions with satellite channels, iPod docks, and stay pampered with your room's plush robes, 24-hour room service, and mini bar. Step into a contemporary time capsule that ideally inspires cultural exploration, and allow JW Marriott Cusco to be your key to Peru.
Should you find yourself tired after a long journey traveling, or simply in need of some relaxation and indulgence, the Spa at JW Marriott Cusco is available and at the ready. Blending ancient techniques and locally sourced ingredients to provide a menu of magnificent treatments, this oasis of wellness is not to be missed. Renew yourself with a signature spa ritual, inspired by the Incas, including a diamond scrub, gold wrap, and customized massage - or try the Chcolate Wrap for an incredible tension-releasing experience. The hotel further draws on local culture to influence its signature dining venue, Pirqa Restaurant, which serves modern Peruvian fare in its striking dining room. Qespi Bar and Nina Soncco Lounge offer additional places to enjoy a handcrafted cocktail or snack in a cozy spot, including of course the iconic pisco sour. With your central location in the city, you are within a short distance of the main square, cathedral, and San Blas Neighborhood, and of course also have access by three-hour train to the majestic Machu Picchu. Spend your time in Cusco well and surround yourself with the architecture and art that this destination is known for around the world, at JW Marriott Cusco.
Location of JW Marriott El Convento Cusco
JW Marriott El Convento Cusco
432 Ruinas Road
Cusco, Peru
Nearest Airport: CUZ
Amenities for JW Marriott El Convento Cusco
General Information
153 Rooms and Suites
Non-Smoking Property
Handicap Accessible Rooms
Pets Not Permitted
Dining
Restaurant
24-Hour Room Service
Bar & Lounge
On-Site Amenities
Concierge
Spa on Property
Laundry Service
WiFi
Currency Exchange Service
Sauna
Indoor Heated Pool
Indoor Jacuzzi
In-Room Amenities
Turndown Service
Air Conditioning
Direct Dial Telephones
Hair Dryers
In-Room Safes
Mini Bar
Satellite Television
iPod Docks
Iron/Ironing Boards
Marble Bathrooms
Flat-Screen Televisions
Coffee & Tea Facilities
Bottled Water
Work Desks
Bathrobes & Slippers
Business
Meeting Room
Business Services
Family
Cribs
Rollaway Beds
Nearby
Historic Sites
Museums
Public Transportation
Interests
Culture & Arts
Hotels
Reviews for JW Marriott El Convento Cusco
---
My husband and I were in Cusco this week and stopped in at the hotel's restaurant for dinner and dessert and were blown away at the food and the service. We had Danitza as our server and she made the experience even better! We will definitely be back if in Cusco again.
Melanie W - Washington, DC
---
Spent a few nights here, simply incredible property, preserved ruins and a staff that will bend over backwards for you. Brian at front desk was so accommodating and friendly. The concierge Abel may be the single best hotel staff employee I've met in my 30 years of business travel. Trust me, stay there.
chicagosoxfan2014 - Round Rock, Texas
---
We had a wonderful stay at the Marriott during our recent stay in Cusco. The hotel is beautifully decorated and historical as a former convent. All of the employees were extremely helpful and made us feel welcome. The location was right off of the Plaza de Armas so central to all of the major sites. Carmen at the front desk especially stood out and went out of her way to make us comfortable with tips on how to adjust to the altitude. We stayed here before and after our Machu Picchu trek and all of the extra touches like the pisco sours and breakfast buffet were an especially nice touch. We also felt extremely lucky to meet Panchito the resident baby alpaca and take a picture with him. Would highly recommend to others and hope to return one day soon!
islandgirl574 - San Francisco, California
---
Staying at the El Convento Cusco was a really exceptional experience. I've been a frequent guest at Marriotts for several years and racked up enough nights to stay at dozens of their hotels. I believe this location might be the best at which my family and I have ever stayed. First, the hotel is far from cookie-cutter chain. It is built in a historical building (I'm sure you can read more in the description linked to in this profile). It really had a unique, luxurious feel with outdoor courtyard space and a large indoor living room space. We didn't get time to partake, but I don't believe I have ever been to a Marriott where they offer a tour of the facility as an activity. The service was also excellent. The hotel was helpful with directions and luggage storage. I caught a bug in Cusco and was under the weather for part of a day and they brought me a blanket and moved the room cleaning time around to accommodate my illness. (Note: I 100% didn't get sick because of the hotel). The breakfast was probably the best Marriott buffet ever. No concierge lounge, and I imagine the breakfast might be pricy if you need to pony up separately for it, but was well worth the convenience for us. Funny story, the day I ended up getting sick, I was starting to feel a little off at breakfast and didn't eat quite as heartily as the day before, and left looking a bit pale. As I was leaving breakfast, a maitre d asked if everything was OK. I said I was fine, and he asked me cheerfully, "What can I do do make your experience exceptional?" In print it might sound odd, but in person my impression was of top notch customer service.
Severe - Milwaukee, Wisconsin
---
We love hotels with history & this one comes with lots of it. Several factors went into my booking the Marriott in Cusco: availability of "family rooms" with enough space for 4 people (2 adults & 2 boys, ages 11 & 13), central location and overall value. The Marriott was the answer to all of these. Walking into the hotel, we immediately knew it was a special place. The staff were on point at every turn from getting our bags from the car to the room, checking us in, fixing us our 1st cups of coca tea and making sure we felt at home. We were only staying 1 night to start, then returning for a couple of days after our 4 day/3 night Inca Trail trek. Our 1st night was Easter eve, a Saturday, and we took advantage of the hotel tour. The history there is amazing and the tour is a fun experience. We also took advantage of our daily pisco sours from the bar. We were excited to be just blocks from everything we wanted to do. We took it easy on the 1st day and it was so nice to be able to walk around the historic district and be in close proximity to the hotel. On Easter morning, our boys discovered there were chocolate eggs hidden around the hotel - what a fun touch! When were left for our trek, the staff took care of storing our bags and had them in our room upon our return. We were completely spent and it was so nice to have that taken care of in advance. The staff was also very helpful getting us a driver to take us to Moray, Salinas de Maras and onto our stopover destination of Ollantaytambo. It was a last-minute request and fulfilled so quickly we didn't even have to wait around. The food at the Marriott is outstanding. We enjoyed breakfasts each morning with great varieties of food and delicious juices. The night we returned from our trek, we ordered room service. We wanted carbs & comfort food and the Marriott delivered on both counts. Monday-Friday, the hotel has a baby alpaca come to the courtyard for free photos. You will see these all over the streets and it was nice to have a calm, safe spot to take our photos and extended time to pet the alpaca. My boys loved it! The spa is a relaxing retreat. Post-trek, we needed to stretch & soothe our tired muscles. The pool was perfectly heated, the hot tub just hot enough, the sauna and steam rooms enjoyably relaxing. The environment down there was so soothing we didn't want to leave! I highly recommend the Marriott to anyone visiting Cusco.
---