Please select your dates to see prices:
---
The Seagate Hotel & Spa in Delray Beach, Florida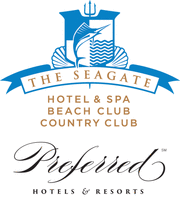 Face the sea and you might catch a breeze from Grand Bahama, just 85 miles offshore. Island ease is a way of life at The Seagate Hotel & Spa, sandwiched between a private beach and the boutique- and gallery-lined main street of what USA Today named America's Most Fun Small Town. Delray Beach – and Seagate's PGA-caliber country club down the road – may be a temptation, but indulging in the resort's understated luxury holds equal pull. Guests who choose to wander can do so with a complimentary chauffeur to destinations up to three miles away.
Greet the morning with a stroll by the ocean, accessed through the British Colonial fašade of Seagate's private beach club. Continue to unwind in a cabana by the beachside pool, watermelon daiquiri in hand. Rekindle your afternoon energy with a private tennis lesson, then get ready for an al fresco dinner in the company of sharks (and Garibaldi damselfish – the property's reef-sized tropical fish tanks are award-winning). The night is young, and Atlantic Avenue's nightclubs await. That cabana is waiting for you tomorrow.
Location of The Seagate Hotel & Spa
The Seagate Hotel & Spa
1000 East Atlantic Avenue
Delray Beach, Florida
Nearest Airport: PBI
Amenities for The Seagate Hotel & Spa
General Information
154 Guest Rooms
Dining
Pool Bar
24-Hour Room Service
6 Restaurants
Cafe
On-Site Amenities
Concierge
Spa on Property
Complimentary Newspaper
Fitness Center
Boutiques
High-Speed Internet Access
Pool & Beach Cabanas
Valet Parking
Beach Club
Beach Amenities
3 Outdoor Pools
Beach Cabanas
In-Room Amenities
Air Conditioning
Bathrobes
DVD Players
Hair Dryers
In-Room Safes
iPod Docks
Flat-Screen Televisions
Luxury Linens
Coffee & Tea Facilities
Activities
Kayaking
Tennis
Scuba Diving
Snorkeling
Yoga
Fitness Classes
Surfing
Golf
Business
Meeting Rooms
Business Center
Nearby
Shopping
Art Galleries
Museums
Golf
Interests
Beach
Spa & Wellness
Reviews for The Seagate Hotel & Spa
---
This hotel was really nice, super luxurious, friendly staff and expensive. We were there on 4/20-4/22 for "bachelorette weekend". When we arrived valet was efficient and the bellman was swift in getting all of our things up to our room (we had a lot of stuff- huge thanks to the blonde bellman with glasses, I think his name was Michael). We had two rooms, one wasn't ready when we checked in but it was shortly after (30-60min later) so it was not a huge issue. What did bug me was that once it was ready we still had to go back down to "check-in" and after checking in and getting the key and coming back up, turns out the key didn't work and this was a drag. We called, they came and opened it for us and since our rooms were adjoining we just kept the shared door open. The rooms were large, the bathrooms were gorgeous, and the beds were comfortable. We had turn-down service only on the first night. I loved this and wish they had done it both nights- they put chocolates and orchids which were a super nice touch, but those orchids happened to be my favorite flower so I did want to see more. Maid service only came to one of the two rooms (strange). When we wanted to go out their cars took us which was pretty nice, just wish they were a bit more efficient on that end. At times we would have to compete because we were a group of 5 even if we called ahead. We visited the spa which was very nice (Carolina gives a fantastic massage), and we went to the beach club. Just FYI if you eat at the beach club you can only pay by charge to your room or membership. It was about a 3 minute drive but out of the way and the pool was packed. This pool seemed really small considering that the beach club has separate membership and is available for use by hotel guests. The pool at the hotel is very small. All in all I think the hotel really hits a lot of the marks but missed a few and for that I gave them 4 stars (issue with key not working, turn down on one night only, no maid service on one of the rooms, and the beach club seemingly out of the way). Not sure if I will return because I am not sold on the value of this hotel. I expected it to be flawless and perfect given their reputation and price, but we did have a pretty nice experience overall.
---
Just returned from 3 AWESOME nights at The Seagate. We stayed in a Superior King room on the 3rd floor. Check in was completely seamless with zero issues. They gave us a very nice beach bag and a couple of beach towels as well. The room was really nice. The king sized bed was very comfortable. The room had a large TV and a sitting area. The balcony was our favorite place to drink coffee in the morning. The room had a safe and a Keurig coffee maker. The bathroom had a separate shower and jacuzzi tub. We spent the days at the Seagate Beach Club. It is about a mile south of the hotel and they will take you there anytime. This place is fantastic. You have access to your own little piece of paradise. There is a restaurant and bar located right next to the pool. They won't allow you to eat on the beach due to the birds, but you can eat next to the pool area. When you are out on the beach, there are servers bringing you drinks. The pool at the hotel was great as well. We would spend the afternoons there. It is not a huge area, but shaded and quite relaxing. The bartender Matt was just awesome. We also visited the spa for a massage. It was very relaxing and worth the extra money. The locker rooms and sauna were exceptional. My massage was a little rough but I survived and felt fantastic afterwards. We never had lunch or dinner at the hotel. There are number of restaurants within walking distance so we would walk over the canal and grab some dinner. Luna Rosa, Lemongrass, and Deck84 Bar area were some of our favorites. Also, we went to the Sandbar for drinks and it was awesome. While this hotel is definitely not the cheapest, it does come with lots of services you don't find anywhere else, you just have to take advantage of them. This will probably be our "go to" hotel when we visit the area.
---
Beautiful hotel with lots of charm. From the moment we arrived, we were greeted with warm and friendly smiles. The hotel is very well kept. I have to say that housekeeping was outstanding - every evening they turned down our beds and left chocolate and a beautiful orchid. The hotel has a pool on site and a beach club with restaurant. They have chauffeured SUV's to take you to the beach club and pick you up. They also will drive you and pick you up from anywhere in a 3 mile radius. The drivers were professional, friendly and courteous. In the valet area, there are bellman who meet and greet you, they are extremely friendly and always made you feel welcome especially Conor. I had a few items that needed pressing and steaming (last minute) and April the concierge saved the day and had my garments delivered back to my room perfectly pressed. Thank you to the entire staff for making our stay extremely enjoyable.
---
We were on a girls weekend and had 4 rooms, the hotel is quaint in size and curb appeal. The rooms are very spacious!!! You can fit 5 comfortably, so if traveling with a family or odd number keep this in mind. The escalades that were first come first serve were so wonderful for us, we JUST fit in, ok we squeezed but going to and from dinner this was ideal. This hotel would be a 5 star and a 10 but the pool is a huge disappointment, the beach club was a bonus, but you can't wake up and be on the beach- or sit by the pool. It is lined with a concrete wall, maybe updating this look would make it not feel so stale. It is a small pool and the beach club pool is not much better. Having access to a private beach area and a server ( drinks only) no food can be severed to the beach... another small downfall. I am not 100% sure I would return, which really stinks. When I go to florida it is for a beach and pool relaxing vacation. My kids would be disapppointed with lack of pool and even with just my husband you can't relax on beach ( without a 3 minute trolley) and then 3 minute walk down beach.... I love prefered hotels, so hoping they upgrade the pool
S H - Norwell, Massachusetts
---
Delray Beach Seagate is the nicest hotel in the area. Its a couple of blocks from the beach and right by all the restaurants and shopping. Our room was a deluxe king and was very nice, clean and spacious. The Atlantic Grille onsite was a very good restaurant. Would definitely recommend this hotel!
pupdog224 - rochester, Mi
---