Please select your dates to see prices:
---
The Seagate Hotel & Spa in Delray Beach, Florida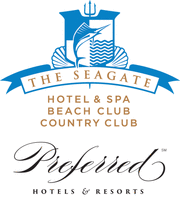 Face the sea and you might catch a breeze from Grand Bahama, just 85 miles offshore. Island ease is a way of life at The Seagate Hotel & Spa, sandwiched between a private beach and the boutique- and gallery-lined main street of what USA Today named America's Most Fun Small Town. Delray Beach – and Seagate's PGA-caliber country club down the road – may be a temptation, but indulging in the resort's understated luxury holds equal pull. Guests who choose to wander can do so with a complimentary chauffeur to destinations up to three miles away.
Greet the morning with a stroll by the ocean, accessed through the British Colonial façade of Seagate's private beach club. Continue to unwind in a cabana by the beachside pool, watermelon daiquiri in hand. Rekindle your afternoon energy with a private tennis lesson, then get ready for an al fresco dinner in the company of sharks (and Garibaldi damselfish – the property's reef-sized tropical fish tanks are award-winning). The night is young, and Atlantic Avenue's nightclubs await. That cabana is waiting for you tomorrow.
Location of The Seagate Hotel & Spa
The Seagate Hotel & Spa
1000 East Atlantic Avenue
Delray Beach, Florida
Nearest Airport: PBI
Amenities for The Seagate Hotel & Spa
General Information
154 Guest Rooms
Dining
Pool Bar
24-Hour Room Service
6 Restaurants
Cafe
On-Site Amenities
Concierge
Spa on Property
Complimentary Newspaper
Fitness Center
Boutiques
High-Speed Internet Access
Pool & Beach Cabanas
Valet Parking
Beach Club
Beach Amenities
3 Outdoor Pools
Beach Cabanas
In-Room Amenities
Air Conditioning
Bathrobes
DVD Players
Hair Dryers
In-Room Safes
iPod Docks
Flat-Screen Televisions
Luxury Linens
Coffee & Tea Facilities
Activities
Kayaking
Tennis
Scuba Diving
Snorkeling
Yoga
Fitness Classes
Surfing
Golf
Business
Meeting Rooms
Business Center
Nearby
Shopping
Art Galleries
Museums
Golf
Interests
Beach
Spa & Wellness
Reviews for The Seagate Hotel & Spa
---
Met up with some friends from NJ for a few drinks and dinner. Had to beg for our drinks, waiter went missing for 2 hours. Just not the service I expected in a place like this. Don't think will be visiting again.
marilynben - Boynton Beach, Florida
---
Checked to the Seagate on May 3 for 4 days. I was told at check in that the beach club and pool are closed for renovation. The beach club was the reason I chose the Seagate. I should have been informed of that before check in. Secondly, the hotel pool was extremely crowded with not enough chaises due to beach pool closed. Had to wait 30 min to find a place to lay. Thirdly the TV's in the room twice requiring an engineer twice. Fourthly, the closet in room would not close properly. They said that would be fixed but never came. The entire stay was ruined, especially with the beach club closed and pool over crowded. Not happy at all, Dr. Douglas Pravda
docdjp48 - Westfield, New Jersey
---
Wouldn't really say my wife and I took a "trip" here as we are both locals and frequent attendees of the Coffee Shop for breakfast, however I could not find another forum to post on, so here we are. Fantastic deals on breakfast, especially the omelettes!! We have been coming in for about two years now and the service as always been acceptable. However my wife and I have noticed the service becoming slower. We are aware our breakfast is coming from a back kitchen and that there are orders that have been placed before ours. The other week when I went in to inquire about the status of our order I was greeted by a very hostel young woman who seemed to be barking at me that the order would come when it was delivered and that it was coming from a back kitchen and out of her hands, telling me that my wife already came in and was told the same thing (which she had not, she was reading the paper the entire time). She then told me to go sit (like a dog) and she walked away before I could respond. A little caught off guard, I didn't say anything and returned to my table outside to wait. When I arrived my wife was talking to an employee name MAT who was clearing the plate she had her muffin on. I said I wanted to leave and he asked if anything was wrong. I told him what had happened and he immediately apologized and told us he would personally go to the kitchen and check the status of our order. Based on my experience a few minutes earlier I wasn't going to hold my breath. To mine and wife's delight he appeared a minute or two later letting us know there was one order ahead of us and he would make sure it was brought out as soon as it was off the grill. He offered to refill our coffees for us and check again. When he came back the second time he had fresh coffee in our cups and let us know that the omelettes had arrived and he would go run in and grab them. When he brought them to our outside table he had a white bag in his hand. He apologized again for our negative encounter, handed the bag to my wife, and said he knew bran muffins were her favorite and hopefully she could enjoy it later. We were so surprised by the kindness of the employee and quite frankly felt relieved that our misfortune was met such candor. Despite the increasingly longer wait times at breakfast and less than appropriate attitudes of some; it is moments like that, that make us look forward to coming back to our weekly breakfast spot. Certainly one of delray's best kept secrets!
westindelano - Delray Beach, Florida
---
I left behind a few clothing items in my room when I checked out. I contacted the hotel that afternoon to alert them. I stopped by the front desk the next morning (I was staying in the area but at a less expensive hotel)and was told they'd have to wait til the new occupants checked out before they could look for my belongings. And that they'd contact me. OK. I understand. But since then, March 9, I've called them multiple times and left messages with Security. They've never called me. On 2 occasions I spoke with a person; he was very friendly and assured me he'd call back after checking the laundry. He never did. Today I talked with the manager. He had the Security man call me. What he said was he didn't find my stuff... "maybe it will turn up in lost and found." (After 2 months? Really?) Neither he nor the manager ever said anything with the words "I'm sorry." Why? Would it be admitting some responsibility for the loss? And would that be a bad thing? I can accept the loss but I am surprised by the manager and security officer's dismissive view of my loss. While I was a guest at the hotel, I found the accommodations very comfortable and spacious. But this place is not a good fit for me because they do not allow food to be brought in (ie no take out; just their room service).
---
Yeaterday I checked in to this hotel at 3:00 pm and now they were asking me to checkout at 9:00 am today and they are talkin in a very bad way and saying that its the hotel policy since we have taken a half board package. As far as I know the difference between the full boad and half boad is only the lunch. Also had to take our car out from car park for them to take photos.
---